September 2010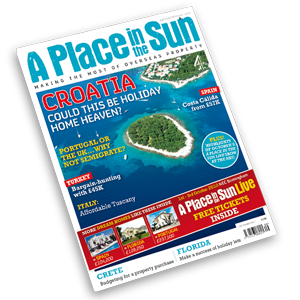 In this issue...
The September 2010 issue of A Place in the Sun magazine asks, could Croatia be holiday home heaven?
With its stunning coastline, easy access from the UK and non-euro currency, there are a multitude of property options on offer in this jaw-dropping country as editor Richard Way found on a recent trip there.
We look at why Italy now has so many more property options to offer than just the traditional stone farmhouses in Tuscany and tell you where to look for an affordable bolt-hole.
It was only a matter of time before developers fused the best bits of Argentian life - polo, wine and golf - with property. We take a look at the resulting smart new estates where you could own a home.
We check our several some new developments in Morocco and find out how one British couple went about furnishing their pad in Cyprus.
Plus, there's the usual round-up of overseas property news, advice and we find out what A Place in the Sun: Home or Away? presenter Jonnie Irwin has in mind for his perfect property.