May 2010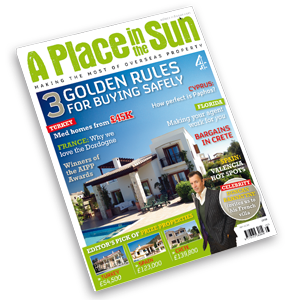 In this issue...
The latest issue of A Place in the Sun magazine runs through the three golden rules for buying property overseas safely, with an outline of the most talked about tangles that British buyers unwittingly find themselves in and tips on how to avoid them.
We continue our tour of Turkey with a look at the popular Fethiye area and visit Dragon's Den entrepreneur Duncan Bannatyne in his home on the French Riviera. There's a look at this year's winners of the prestigious AIPP (Association of International Property Professionals) Awards and an explanation of how buying property works in America.
We feature a selection of property bargains in Crete and help David and Pam Winks find their dream retirement home in Cyprus with a budget of £300-£450k. This month's 'Fly me to...' investigates the options near Valencia airport and in 'France by ferry' we hunt for some properties easily accessible from the port of Le Harve.
We mix things up a bit with Jonnie and Jasmine finding out where Jonnie's dream overseas property home would be and where Jasmine would love to live in the UK. There's the usual round-up of news from the world of overseas property and thousands of properties for sale from around the globe.