July 2009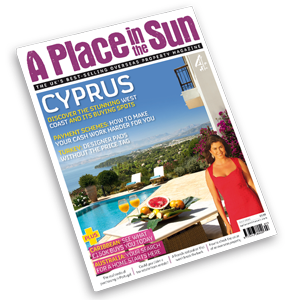 In this issue...
The latest issue of A Place in the Sun magazine features a focus on Cyprus with a delectable mix of the traditional and the modern in Paphos and the west coast of the island. We show you where you can find a jaw-dropping designer home at a price you can afford on the south-west coast of Turkey and break down all the buying and running costs of owning a villa in the central Algarve, Portugal.
We look at the changes in April's Budget that mean if you let out a property overseas, you could be in line for a tax rebate.
In the first of our two regular new features, we take a look at whether offshore banking is just for the rich and in the second, our new column Manana Post, our man in the Costas keeps us up to date with life in sunny Spain.
Plus as always, there's a round up of all the latest goings-on in overseas property, including getting a mortgage across the Channel and the readers who bought the Turkish property we found! Hot Properties features a sizzling selection of homes well within your price range and the usual line up of experts panellists answer some of your queries on finance, legal, emigration, mortgage, currency and health issues.