February 2012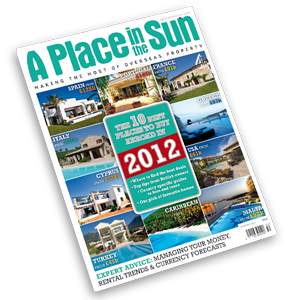 In this issue...
After our 100th issue last month, we haven't rested on our laurels. The February 2012 A Place in the Sun magazine is our 'Top 10' issue, detailing the top ten destinations to buy abroad in 2012, as voted for by you the reader.
As well as country guides for each of your top ten destinations, there are also inspirational case studies and our pick of the best properties on the market in each country. We also have property ladders for each location, breaking down the typical buying costs associated with an average property in that area, in order to give you an idea of how far your money will stretch.
And we ask the experts to gaze into their crystal balls and foresee what the euro and the dollar are going to do in 2012 and which rental destinations are going to take off this year.
It won't be a surprise to many that Spain has been voted your favourite destination. However, you may well be surprised at some of the other results in the shortlist. Has your favourite destination made the cut?