February 2010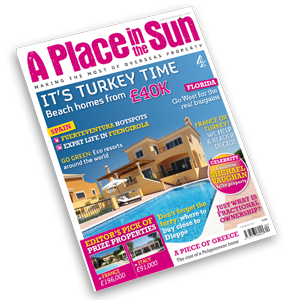 In this issue...
In the February issue of A Place in the Sun magazine we continue our tour of Turkey with some amazing property bargains in the resorts of Kusadasi, Altinkum and Didum on the popular Turquoise Coast. We search out the deals on offer on Florida's west coast and help a reader and her friends decide whether to buy their adjacent properties in Turkey or France.
There's a look at some green property options where we investigate six of the best eco resorts around the globe and uncover the myth of the different types of fractional ownership.
We talk to former England cricket captain Michael Vaughan about his properties in Barbados and the French Alps and search out some properties near the French port of Dieppe and Spanish homes within striking distance of airport on the Canary Island of Fuerteventura.
Plus there's our pick of the best properties available to buy around the world this month, some thoughts on mountain homes from A Place in the Sun: Home or Away? presenters Jasmine Harman and Jonnie Irwin and hundreds of properties for sale.