December 2009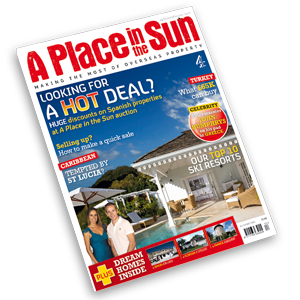 In this issue...
This month's issue continues our coverage of an improving Spanish market and looks at the bargains to be had along the Costa Almeria. With it having been such a tough time for agents and developers for many months, now's the time to look again as it's certainly now a buyer's market.
Our property hunter is looking for a three-bed, two-bathroom villa on Turkey's Aegean coast in Altinkum. We show him what you can get for just £65,000.
Mastermind question master John Humphrys faced his own challenge when he bought land and a half-built villa in Greece with his son – find out how he managed to avoid a Greek tragedy.
And if quirkier homes are your thing then our feature on historic homes in out of the way places, from caves in Galicia to trulli homes in Italy, will be right up your garden path.
We have a feature analysing market conditions in favourite property-buying destinations plus hundreds of properties for sale and expert advice on finance, legal, emigration, mortgage and currency issues and the regular comment from Jonnie Irwin and Jasmine Harman.