April 2010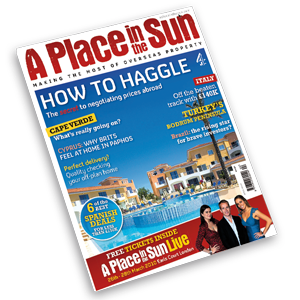 In this issue...
Are you looking for a bargain property overseas? Our 'How to haggle' feature in the latest issue of A Place in the Sun magazine gives you the low-down on where in the world you can get away with putting in a cheeky offer on the property of your dreams.
We help a reader hunt for a home in the lesser known Italian region of Abruzzo and break-down all the buying and running costs of an apartment in Turkey. We take a look at what's really going on in Cape Verde and weigh-up the property options within striking distance of the French port of Cherbourg and Malta airport.
Our tour of Turkey continues with a visit to the Bodrum peninsular and we find out why Paphos in Cyprus is so popular with British expats.
As well as the usual comment from A Place in the Sun: Home or Away? presenters Jasmine Harman and Jonnie Irwin, there's the editors pick of properties for sale from around the world and a special bonanza of sub £100k homes in Spain.