Where to find a property for sale in Halkidiki
Some people suggest Halkidiki is one of Greece's best-kept secrets. It's not very well-known amongst British holiday makers - and did you know it's not even an island? - but a rather interesting section of north-east Greece.
Also known as Chalkidiki, it's a trio of peninsulas that stick out like three fingers -  or legs, or prongs of Poseidon's trident, as they are variously known - into the Aegean Sea. They are easily reached from Thessaloniki, the "Greek Istanbul" city that is served by direct flights from the UK (British Airways).
But why go? It's got great beaches backed by rugged red mountains, lovely little villages set amongst pine trees and you are not at the whim of ferries operating smoothly to get there (like some of the islands), and it's got that authentic, laid-back ambience that we love about Greece.
There are archaeological sites galore, and it's described by Thomson Holidays as an "up and coming" alternative to the popular islands and a bit of "old Greece".
Property there is also appealingly affordable - you can get an apartment for €50,000, or a two-bedroom maisonette or townhouse for €75,000.
The nearest (western) leg if the most touristy, Kassandra, and is a mix of superb beaches, resorts and traditional villages. It includes Sani, a resort you might have heard of for its thermal spa resort, and a great location for families with its gently shelving beach.
In the area there's kite surfing, water-skiing, and every July a major swimming event takes place in Toronéos, a 26 km competition attracts swimmers from all over the world. Music festivals are also a popular draw for the area.
A backbone of mountains and pine forests characterises the second peninsula of Sithonia (also known as Longos), plus a golf course, with many secret coves that look across to Mount Athos on the third "leg". For many, this is the best section, with around 100 white-sand beaches and plenty to do, from boat trips, cycling trips through the interior's vineyards and diving too. You might get a three-bed maisonette on Sithonia for around €115,000.
The famous site of Mount Athos, the famous Holy Mountain of 20 monasteries, is definitely worth a visit, if you are well organised (there's a lot of paperwork) and also if you are male (no women are allowed to visit).
If you love Greece then this area is definitely worth a research trip. It could be one for the long-term investor, or for anyone who loves the easy access, but for some might lack the unique charm of small island life.
Use the bar above to search for a property for sale in Halkidiki
Area Guides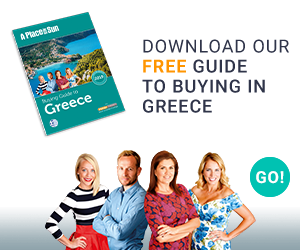 Recent Articles