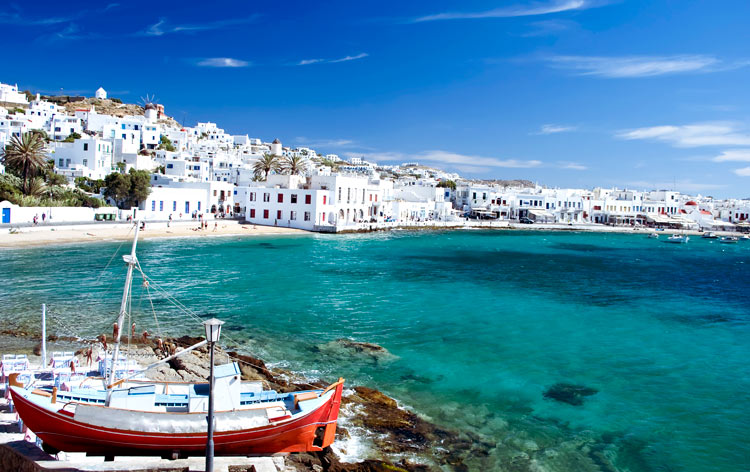 Updated in February 2016
Dozens of beautifully unspoiled islands fringed with quaint little harbours and topped with dazzling white-washed houses looking down to aquamarine waters. What's not to like about the Greek Islands?
 We all know about Greece's hefty debt levels – and that certain woes are far from over - but tourism has never really dipped for long, and the foreign property buyers have been back to those islands that offer an alluring cocktail of stunning beaches, ancient history and authentic fishing villages.
Prices down by 30 per cent in many locations have helped draw cash buyers (mortgages are not in abundance), along with the reduction of the purchase tax from 10 to 3 per cent, whilst the relatively low threshold of Greece's "golden visa" scheme (€250,000) has attracted non-EU investors to islands such as Rhodes. The recession has seen off the building of large holiday home developments but there are ongoing improvements in the flights to the islands – easy access is key for holiday rental properties. 
Where to Buy Property in Greece 
In terms of market volumes, Crete rules because large and diverse, it appeals to all price ranges.  Further south than most other islands, it's got the climate but also – on the north coast – the sort of infrastructure and amenities that appeal to retirees. Crucially, it is also well-supplied by airlines too.
Fancy a village fiver-upper? You can have change out of €60,000. Or a house with a pool, that will be €150,000; or a lovely three-bed home in trendy Elounda, you are looking at nearer €400,000.  
The north coast, especially Chania (west), or Agios Nikolaos (east) is popular, but the inland villages are also popular – Neopoli, for example, where a two-bed townhouse costs less than €100,000.
The accessible Peloponnese – connected to the mainland by the Corinth Canal - is also growing in popularity. Historically popular with Athenians, this large archipelago south-west of Athens is spectacularly unspoilt and offers some great beaches.
Whilst villas at Greece's most expensive new development, there, Amanzoe at Porto Heli, are an eye-watering €3 million, you can get a three-bedroom townhouse for around €150,000 at a less stellar location. Across the bay from Porto Heli, the chic island of Spetses has remained (relatively) pricy.
Better-known with most European tourists are the Cyclades islands, including the favourite honeymoon location of Santorini, and the party island of Mykonos. These aren't the cheapest islands for holiday homes but look away from the tourist hubs and you can get that traditional white sugar-cube house with beautiful blue shutters (and a cat lazing nearby), for around €150,000.  Mykonos is well known for its luxury contemporary glass villas that go for a couple of million euros if they have sea views.
Check out the Athenians' "secret" island of Kea for new-build villas for €250,000.
For yachties, the Ionians will always be king. Corfu has a fashionable edge – the chi-chi north-east coast where they have been several sales over €5 million in the past year; but it is not high-end villas, and you can get a three-bed cottage for €100,000 near Kassiopi, down by nearly 50 per cent from the 2008 peak. Nicely renovated townhouses might cost around €250,000.
There's also Kefalonia - still remembered fondly from Captain Corelli's Mandolin, with apartments from under  €100,000 but equally some stylish villas for and even some new-build developments. From summer of 2016 where will be some new flights from East Midlands airport.
It's Rhodes in the Dodecanese that's been, dare we say it, slightly booming again in 2014, with a strong demand for international buyers of high-end properties. Lindos is a hotspot but you can get a modest three-bed villa for around €250,000, or a detached one with a bit more space for nearer €400,000. 
How to Buy Property in Greece 
For most purchases, the notary prepares the contract and your lawyer checks for encumbrances and documents such as the build license. Generally a 10 per cent deposit is paid, which secures the property and binds both vendor and buyer to the contract. Using your funds, the lawyer pays the property transfer tax. The following day the conveyance is heard, read by the notary and attended by lawyers for the vendor and buyer, and the contract is signed, whereupon the balance of the purchase price is immediately paid. Only when the house is completed, and the final payment made, is the contract signed before the Government notary.  
More advice about buying in greece
Buying Costs 
To stimulate the market the Greek government reduced property transfer tax (on resale properties) from 8-10 per cent to 3 per cent of the value of the property. For new build properties you pay VAT of 23 per cent instead of purchase tax (some builders include this within the asking price – others don't! – check this).
The Government notary charges 2 per cent, your lawyer around 1 per cent, and the 2-3 per cent estate agent's fees are paid by the buyer (along with 2 per cent from the vendor) – but some agents may charge less to entice custom. The Land Registration fee of 0.3 per cent is charged, with VAT of 23 per cent on top.
To summarise, allow total purchase costs of around 10 per cent for a resale property, 8 per cent for a new-build.