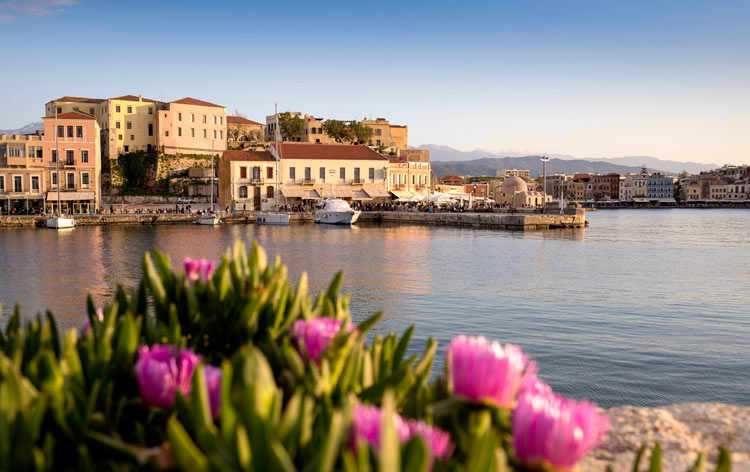 Crete is the most popular market in Greece for Britons buying holiday homes, or indeed moving there for good. It's large and diverse and appeals to all price ranges, and offers both large resorts, dozens of unspoilt little fishing villages, and exclusive hotels and villas too.
Further south than most other islands, it's got the climate but also – on the north coast – the sort of infrastructure and amenities that appeal to retirees. Access to the Greek islands is a key factor, and there are plenty of direct flights to Crete so visitors do not need to rely on ferries.  However one point to note is that mortgages are near impossible to get so most buyers pay cash.
Most of the expats are clustered around Chania, Rethymnon or Agios Nikolaos on the north coast, where the airport of Heraklion is located too, and the north-west coast is more developed than the north-east.
Like most of Greece, Crete was hit hard by the global downturn and property prices fell, but tourism is buoyant and there remains a steady demand for the hospitable and traditional Greek way of life.  Crete is steeped in ancient history, produces wonderful olive oil and also fabulous natural parks of mountains and deep gorges.
Where to Buy Property in Crete
In Crete there is something for everyone. Fancy a village fiver-upper? You can have change out of €60,000. Or a house with a pool, that will be €150,000; or a lovely three-bed home in trendy Elounda, you are looking at nearer €400,000.
Inland villages are also popular all over the island – Neopoli, for example, where a two-bed townhouse costs less than €100,000. But areas do differ in types and choice of property offering and there are the main areas of interest.
Property on East/North-East Coast of Crete
The east side of Crete (encompassed within the 'Lassithi' prefecture) is largely quieter than its western counterpart. Known for its relaxed pace of life, its 25 Blue Flag beaches (the most in Greece) and unassuming charm make a great case against mass-tourism.
The high rise developments that blight the likes of Rethymnon are nowhere to be seen here. Rather, the many traditional villages offer the chance to experience 'the real' Crete.
Many of the more expensive properties are located near the ex-fishing town of Agios Nikolaos. Capital of Lassithi and a hub for surrounding villages, this picturesque town is a must-see. Notably, it also provides ferry connections to mainland Athens.
The more upmarket new builds here can be significantly pricier – expect to pay closer to €450,000 for a three-bed villa. Note though that there are fewer expats here than compared to, say, Chania. The tempo of life here is considerably slower outside the summer months, where the 'resort' areas practically close down.
Further north, prices in sought-after Elounda reflect the resort's glitzy reputation. It's not unusual for modern properties overlooking the town to go for over €600,000 – though smaller, less spectacular homes are available for about €100,000.
Other villages and towns that hug this area of Crete's coast are well worth a look. Not far from Agios Nikolaos, sea-facing resort Istron and its hillside partner Kalo Chorio offer charming properties close to ancient ruins.
Istron has drawn considerable attention from expats in the last few years. New build villas here are stylish and come with infinity pools and extensive terraces. Of course, the price reflects these factors. Three-bed properties have sold from €800,000 upwards.
Central Crete
It's easy to get distracted by the number of Crete's coastal towns in the East and West. The two middle districts, however, have plenty to offer.
The capital of the island, Heraklion (the namesake of its prefecture) offers a number of attractions. Close to the ruins of the ancient Minoan Palace of Knossos, there is also the brilliant Archaeological Museum.
Those interested in living within access of these attractions can choose from a number of villages and small towns in the Heraklion area. Surrounded by rising mountains and overlooking the sea, Kato Gouves exemplifies the sort of town found in central Crete.
A busy port town (the fifth largest in Greece) between Heraklion and Malia, its proximity to the airport and fabulous beach means a premium on property prices. The quiet village of Gouves beside the bustling port offers three-bed homes for around €150,000. Hersonissos, Stalis and Hani Hokkini are vibrant resorts also worth researching.
Rethymnon
Similar to its adjacent prefecture, Rethymnon boasts a number of fantastic beaches and picturesque old towns. The town of the same name boasts museums, boutique shops and charming tavernas.
Property in the town ranges from traditional old villas to gaudy, new build designs (many of the latter doing little to benefit Rethymnon's aesthetic appeal).
Nearby villages – examples include Panormos, Bali and Mpali offer picture-postcard examples of 'old Crete'.
While this charm and proximity to beaches may reflect higher property prices (as much as €300,000 for a two-bed villa in some areas), a bargain is still a possibility slightly inland. For example, smaller one and two-bed apartments (as well as some villas) change hands for around €175,000.
Search for a property in Crete