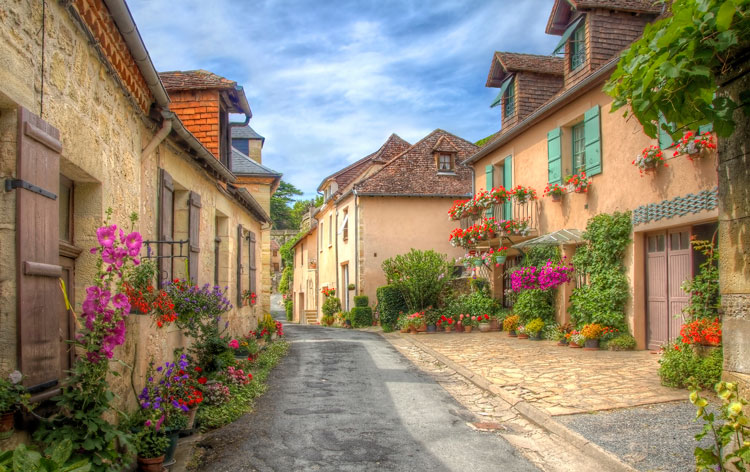 Sitting between the Loire Valley with its abundance of green vineyards, orchards and historic towns and the Pyrenees mountain range the Dordogne is one of the most beautiful parts of the country. Located in south west France's Aquitaine region.
The Dordogne boasts ten out of the 152 Les Plus Beaux Villages de France (most beautiful villages in France) and benefits from diverse natural landscapes – with enough appeal for everyone. There is a real romance to the Dordogne. Its towns with their cobblestone streets, castles, medieval churches and mix of renaissance buildings – hark back to olden times.
Moreover, many Brits find themselves wanting to own a piece of the area, which also has a strong gastronomic tradition – especially for duck confit and foie gras, as well as plenty of nature trails and an average of 2,100 hours of sunshine per year.  
The simplest way to get to the Dordogne from multiple locations in the UK is by air (about 1hr 30 minutes flight). The area is served by three airports: Bergerac, Bordeaux – the largest and only 90 minutes by car from Périgueux, and Brive la Gaillarde. You can also take the train from London St Pancras to Périgueux (with changes in Paris and Limoges) with journeys taking about nine hours. 
Where to Buy Property in Dordogne 
Most people want to buy character stone properties of between €150-300,000, and with prices quite static, there's plenty to choose from. But where to buy?
The Dordogne is divided into four areas: Périgord Vert in the north with its popular town of Nontron, Périgord Blanc which contains the region's capital Périguex, Périgord Pourpre that centres on Bergerac and Périgord Noir that houses the lovely but touristy Sarlat.
Although these towns are technically the 'hotspots' of the area, of the department's 557 communes – 498 are rural and it's these quieter, more rustic places that tend to appeal to overseas property buyers. Here are a few places to bear in mind.
Nontron
The largest town in the Périgord Vert area - named after the area's green ('vert') forests and meadows, Nontron's characteristic townhouses, cottages and farmhouses are surrounded by gorgeous rolling hills and great rocky plateaus.
Despite such exquisite natural beauty, the prices in the town are surprisingly competitive. A three bedroom townhouse can be picked up for under €100,000. Whereas, those looking for something more bourgeois could choose a maison de maitre (master's house) with 12 acres for under €400,000.
Bergerac
Famous for its wine, whose purple ('pourpre') grapes also give rise to the name of the area, Bergerac and its surrounding vineyards sit at the heart of the Dordogne's south west.
The area has become a common arrival point for visitors since the opening of Bergerac airport. And this convenience of transport, in addition to Bergerac's attractive countryside and proximity to a glorious stretch of the beautiful Dordogne River – means that it's a pricier property prospect for potential buyers.
Much of the houses available are of the desirable Perigourdine style and you'll be hard pressed to find much under €300,000, although for around this mark you could get a lovely three-bedroom stone house. Those with grander ambitions, however, could walk away with their very own nine-bedroom Chateau for under €1m.  
Eymet
Some people might call this "Little England" for the number of Brits every week at the market or buying PG Tips in the British shop. But it's a lovely Perigourdine town and liked by so many for good reason. You could get a barn conversion with a pool for €350,000 or a lovely restored farmhouse with pool for €550,000 - there are some high-quality renovations thanks to British owners in town.
Brantome
This historic town is currently very popular with British property hunters - you can get anything from a two-bed fixer-upper for less than €100,000 or expect to pay €250,000 to a lovely four-bedroom home readily restored.
Périgueux
The main town of the Périgord Blanc – named after its white ('blanc') limestone plateaux, Périgueux is also the department of the Dordogne's capital. It's a place steeped in history, with lots of Roman and medieval architecture still standing.
In terms of the types of houses on sale, there is some variety - you could pick up a four-bed property for less than €200,000, but on the whole properties tend to be older, more expensive renovations and unique homes, around €350,000 upwards.