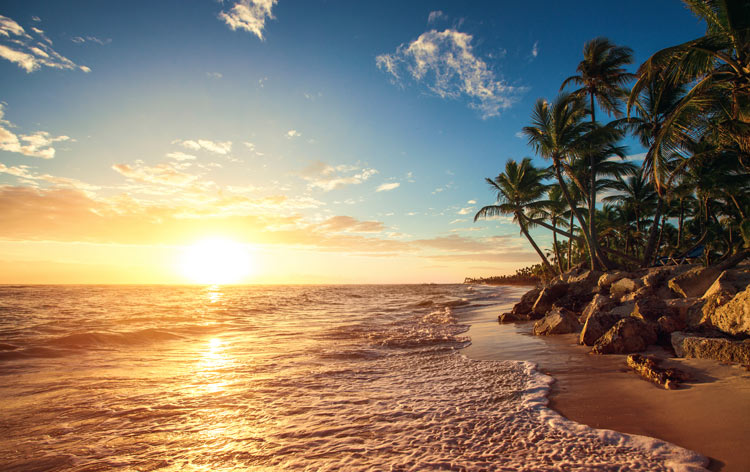 For the ultimate winter sun escape, the Caribbean is still hard to beat – if you can afford it. The white-sand beaches, warm nights, rustic-chic rum shacks – there's simply nowhere else like it when it's the middle of a damp, dark January in Britain. 
Of course, there's the year-round tropical climate and the laid-back culture. There's incredible natural beauty as well, and who could forget the fantastic array of golf and yachting on offer? From sporting greats to movie and music stars, there has never been a shortage of celebrities heading for their hammocks and those sugar-sand beaches.
Some destinations have a reputation for exclusivity: Mustique is a favourite of Mick Jagger, Richard Branson is often in the British Virgin Islands, Simon Cowell leads a long list of Barbados regulars. But there are also those that offer package tourism – St Lucia, the Dominican Republic – and those that also offer tax incentives – the Caymans, Bermuda and the Bahamas.
Finally there are residency incentives: Antigua, St Kitts & Nevis and the Bahamas have introduced 'residency for investment' schemes. Security also tends to be high on the agenda for those looking to buy in the Caribbean. The majority of modern developments tend to be situated within gated resorts.
Where to Buy Property in the Caribbean
Each island ultimately has its own charms, but culture, family connections or topography aside, access will probably be the main driver in your decision. Do you want regular direct flights from the UK? Then you are looking at Barbados, Antigua and St Kitts rather than the British Virgin Islands or Nevis, just to take several popular examples. 
Often the first country that springs to mind when thinking of the Caribbean is Barbados. With the bulk of its buyers British (over 85 per cent), there certainly won't be any language issues when settling in! Its market is currently favourable according to high-end agents, who state that since 2008, prices there "have relaxed by 10 to 15 per cent".
A younger crowd will be found on the South side of the island whilst the West coast of Barbados boasts the most famous locations in the country. With its luxurious beaches and multi-million dollar mansions, areas like Sandy Lane or Royal Westmoreland may be out of most people's price range. Bargains are available, however. Traditional resale properties in St. James can be found for less than £100k
One of the most exciting destinations right now, full of new projects and overseas investment, is Antigua. This island has emerged strongly from an era of corruption and downturn and with 365 beaches, it's still got plenty of scope for growth. The west coast of Antigua is experiencing an investor boom, with properties to suit all needs.
The run-down then revamped popular Jolly Harbour resort is worth researching as it offers a spectrum of different homes (resale townhouses from $200,000), whilst nearby Pearns Point is a new peninsula of projects, and Carlisle Bay is popular. Jumby Bay in the north is an exclusive hub of high-end homes whilst the rougher seas of the east coast are more popular with some –the popular resort of Non Such Bay is undergoing expansion, resale properties from $400,000.
Others are often attracted to the more understated nature of St. Lucia. With its luscious rainforests and breath-taking national parks (not to mention idyllic beaches as standard), the country is also well connected for transport (it has two airports). Popular areas include Rodney Bay, Marigot Bay and the area around the Pitons, the pair of peaks on the southwest coast.
A self-contained apartment here with sea views will usually cost under $400,000. In the north, the Cap Estate, with properties starting from $275,000-$350,000, but spacious villas with great views will be nearer $1m.
One of the cheaper options in which to buy property is the Dominican Republic. There are few restrictions on foreigners buying property here, while golfing fans will enjoy its world-famous golf resorts designed by golf legends including Jack Nicklaus. A four-bed family villa overlooking Sosua comes to just over $400,000. There are also some very high-end projects too, around Punta Cana, but also the new Aman golf resort, Amanera, with multi-million dollar beachfront villas, in Playa Grande.
Popular with diving aficionados, St. Kitts (home to Ian Botham) also offers good value properties amongst the multi million pound complexes. A small ocean-front unit can be purchased for under $500,000 in the developers' favoured southern tip of the island. In the last few years, the south area of Frigate Bay has seen a strip of hotels and bars, while the north still offers relative freedom from the crowds.
Buyers Need to Know
There can be hefty taxes for foreigners in the Caribbean, which differ depending on the island.
For instance, in Antigua, the Non-Citizen's License can be five per cent of the purchase price, plus 2.5 per cent stamp duty (and legal fees!). A £200,000 property in this instance can cost a whopping extra £10,000.