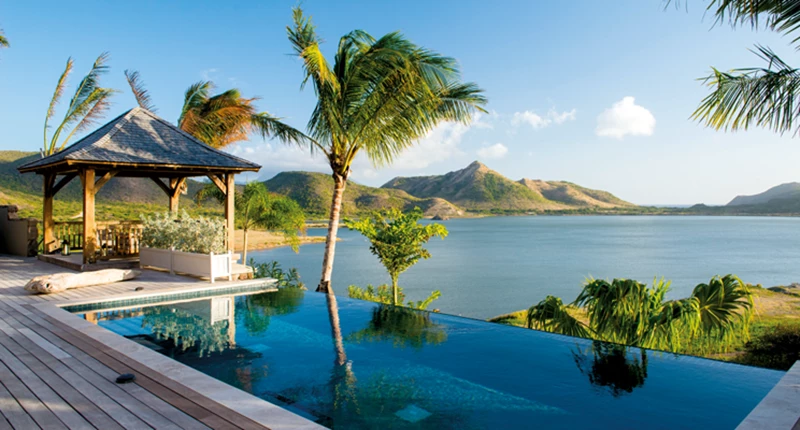 Liz Rowlinson reports from one of the eastern Caribbean's most unspoilt islands, Saint Kitts.
Where is Saint Kitts?
In the eastern Caribbean's Leeward Islands, just south of St Barths, and a lot further north than Barbados, St Lucia and Grenada. It's close to Antigua from where flights from the UK touch down en route – they are direct, apart from this half-hour stop. Nevis is its little sister island, accessed by ferry, motor launch (about 20 minutes) or a small aircraft.
Why go?
It's got the great features you might expect of a Caribbean island, yet remains wonderfully undeveloped in parts, especially in the south. The small island's tourism has only got going since 2005 when its sugar production ended, so it doesn't have the same level of infrastructure as islands such as Barbados. However, it can learn from the mistakes that other locations might have made.
Why not?
Its raw charm might not appeal to some people, and it doesn't have the designer shopping of Barbados (yet), or the golf resorts (although it does have two popular courses – one at the Marriott hotel and one at the Four Seasons on next-door Nevis). Some might find the twice-weekly flights from the UK a little restrictive.
So the most popular spots are...?
The capital, Basseterre, is the busiest hub, and the location of the international airport and the port that is plied with several cruise ships each day (especially while many are diverted from Puerto Rico until the hurricane damage is repaired). The main resort area is Frigate Bay nearby, home to the Marriott hotel and The Strip, a beachfront row of shack-style restaurants and bars.
Was it affected by Hurricanes Irma and Maria?
It got off relatively lightly although docks and pontoons were damaged, along with a handful of the beachside bars around Frigate Bay. Tourist attractions are gaining from the increase in cruise ships docking in Basseterre.
The potted history
One of the first islands to be discovered by the great seafaring European nations, St Kitts was spotted by Christopher Columbus in 1493, and it became known as St Christopher's Island, shortened to St Kitts.
The French and English fought over the island for many years and it was divided up into English and French sections. Its plantations of indigo and tobacco, tended by slaves, led to great wealth. In 1776 it was the richest British colony in the Caribbean. In 1967 it became an associated state of the UK.
Most famous Kittitians?
The singer Joan Armatrading hails from Basseterre, while the former 100-metre world champion sprinter Kim Collins is perhaps the most well-known Kittitian in recent years.
Who buys holiday homes there?
Many North Americans, as there are several direct flights to the US every week; Canadians, as there are flights to Toronto; and British, also due to airlift. Other international buyers – there are also Russians and a few Asians – will arrive via Miami from where they transfer, or by private jet or yacht.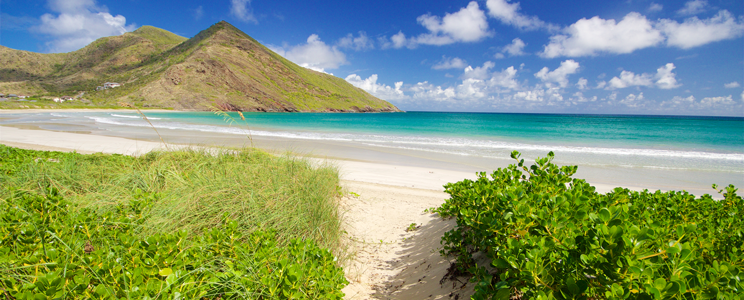 Can you get residency when you buy a property?
St Kitts and Nevis pioneered the Citizenship by  Investment Programme that is now offered across various Caribbean and European locations. You can get "economic citizenship" when you spend at least $400,000 on a Saint Kitts property. Certain real estate schemes have been created to offer properties around this threshold to attract this strand of buyer.
What can you buy there?
As mentioned above, you can find apartments for about $400,000 (or less),  or even a two-bedroom villa for around this figure. Property is generally more affordable than in Barbados or Antigua, for example. You can also buy detached villas on Nevis (where prices are static rather than increasing) for a similar sum, going up to more than $1 million.
So, what's new?
In the unspoilt southeast of the island, there is a beautiful undulating 2,500-acre peninsula that is being developed into an exclusive community called Christophe Harbour. It was acquired by the American entrepreneur and philanthropist Buddy Darby, who had created the beach resort of Kiawah in South Carolina and the five-star golf resort of Doonbeg in Ireland (now the Trump International Golf Links).
It's got a brand new marina, with room for a number of superyachts, a beautiful traditional-style custom house that will process yacht arrivals (it's also a port of entry to the island) and some stylish boutiques, with restaurants in the pipeline. There's a private clubhouse for villa owners on the gated development and a golf course in the pipeline, and in November a Park Hyatt hotel opened that is really putting the island on the radar of tourists with healthy budgets.
Bespoke homes and fractional ownership
The resort is built on the American model of offering custom-home sites (plots) for owners to custom-build their properties, with the help of a designated list of developers, which must pass certain style criteria. Plots start from about $700,000 and go up to several million for large pieces of beachfront. Large resale villas cost about $2 million, but you can also get two-bedroom bungalows for just over $1 million (see below, left), and fractional ownership shares (for five weeks per year) for $450,000 (see above).
Why buy there?
Christophe Harbour is unique in the Caribbean and is targeting wealthy, discerning buyers who might look at Nevis, Antigua or other islands further away. It is bringing a level of high service to the island that did not exist before and is hoping to attract yacht owners to base themselves there (some have bought berths in the marina already). Prices of the home sites have almost doubled since the resort was launched almost a decade ago.
Don't go without visiting...
Salt Plage beach bar for Sunday night sundowners, Brimstone Hill Fortress National Park for some history and take a trip across to Nevis for lunch at the Golden Rock Inn – the lobster sandwiches are worth it.