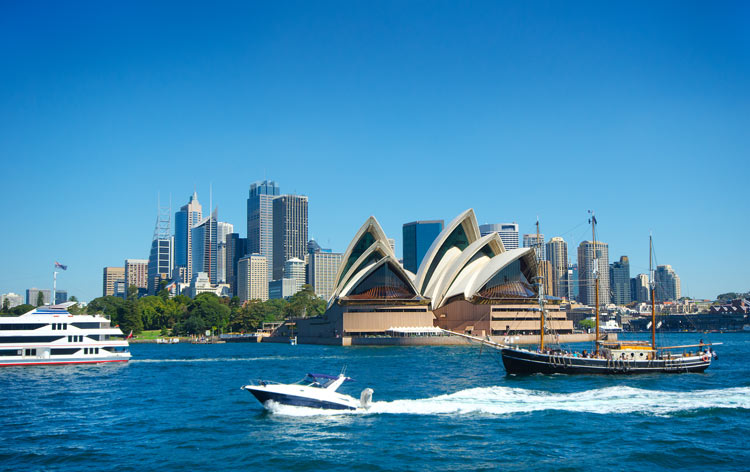 It has the largest population of British expats anywhere in the world (around 1.3 million) and remains a top emigration destination. But moving there requires careful planning and a realistic attitude.
The dream for many of families emigrating to Australia, is for a home with three or four bedrooms, a veranda and pool and maybe a little land.
However, one problem facing Brits who move to Australia is the high price of such homes, especially since the exchange rate has fallen from two dollars to the pound in 2009 to little over one and a half now, making houses considerably more expensive for British buyers.
There is also a shortage of cheaper priced homes, with the average property costing AUD$459,000 (£286,000), compared to an average UK house at £162,000. Struggling to pay that out of an average wage of around AUD$67,000, suggests that the Australian property market could still use some deflating.
To help people get on the ladder, the First Home Owner Grant pays AUD$7,000 to new buyers in Australia (though some people claim that starter homes are priced up accordingly), and this can be claimed by British buyers too.
The price of flats ('units') is not significantly cheaper, since Australia's baby boomer generation is heading for retirement and pushing up demand for smaller, more manageable properties.
For those detached houses that Britons value so much, there are two main types. 'Queenslanders' are traditionally built in timber, raised off the ground to encourage air flow, and endowed with wide verandas (usually shaded by purple jacaranda).
The more modern option is a redbrick house with a tiled roof, which tends to be cooler – an important consideration in such a hot, humid region – and easier to maintain.
Sydney is famous for its breathtaking beaches and famous landmarks including the Harbour Bridge and the Opera House. A cosmopolitan city, it is home to more than half of New South Wales' 6.9 million population, and the largest city in Australia.
It has good career prospects and was rated the 11th best city in the world to live by Mercers in the 2011 Worldwide Quality of Living index. Centrally located two-bed apartments start from around AUS$500k (£315k).
Melbourne, capital of the state of Victoria, is Australia's second largest city and another popular choice among British emigrants – perhaps thanks to it being Australia's city of sport.
It also has good job prospects for immigrants: the Victorian Government's Skilled and Business Migration Program provides free services for professionals, tradespeople, business owners and investors, who want to live, work and do business in the state.
Over on the east coast, Perth's attraction lies in its Mediterranean-type climate, laid-back city lifestyle and busy job market that has developed off the back of the state's success as a mineral and petroleum production base.
Adelaide, capital of South Australia state, is growing in popularity, and periodically the city launches recruitment drives to lure Brits there – especially tempting when you think that less than £200k buys you a four-bedroom detached house on the beach with space for a pool and barbie.
Where to Buy Property in Australia
Perth has long been a popular choice for British buyers, partly because it was the first port they reached from the UK. It's a beautiful city of 1.45 million people, at least 10 per cent of whom are British expats. The Economist ranked it as the fifth best city to live in the world in 2009, while Mercers had it at 21 (London was 38). The most British areas are the northern suburbs such as Mullaloo.
Brisbane is the capital of Queensland and offers tax advantages for companies locating there. As well as good job opportunities it has the country' best weather too, along the Gold Coast. Suburbs such as Redcliffe, on the coast 28 kilometres north-east of Brisbane, and Redland Bay have been popular locations for British buyers.
Down the coast in New South Wales the temperatures get a little easier to handle but the property is more expensive. Sydney has a population of 4.3 million, more than twice as many as Brisbane. Sydney is often a place the British buy in after they have found their feet in Australia and rented for a year or two.
The most popular area is Bondi, especially for working expats, aged 20 to 30. North of the harbour in Kirribilli is popular, for its apartments with views of Sydney Harbour.
On the water, Watson Bay and Rushcutters Bay are good options, though the prices are high, and on Bondi Beach for a good quality home you would pay AUD$1.4 million [£875,000] to AUD$2 million [£1.25 million].
Older people and families might opt for Mosman, which has some very pretty period homes. Budget-wise, AUD$500,000 should buy a one-bedroom apartment in the city or a three-bedroom, detached house an hour from the beach.
For families coming to Australia for the dream of the outdoors lifestyle, moving away from the coast may be the only way to do it for a reasonable price, around AUD$700,000 [£438,000] for a house or AUD$600,000 [£375,000] for a two-bedroom apartment in Sydney's suburbs.
Alternatively, inner-city areas like Paddington, New Town and Erskineville have been yuppified and are popular among young couples. In Melbourne, on the southern coast in the state of Victoria, the docklands are a trendy, bohemian area, though prices are high.
How to Buy Property in Australia
Australians have traditionally been more likely to buy a property at auction, with as many as 65 to 80 per cent buying in this way.
An alternative to finding a property yourself is to employ a buyers' agents who not only find your property for you, but also help to negotiate for it, in return for one to two per cent of the purchase price.
In some states buyers simply employ a conveyancing clerk rather than a lawyer; the process usually taking one to three months from start to finish. 
More advice about buying in Australia
First Home Owner Grant
The first homeowner grant (FHOG) is designed to help young people get on the property ladder. The grant is usually set at AUD$7,000 (£4,380), though it can vary. Still, it is a good chunk of the bill for a first-time buyer and is open to Brits, too, as long as they have never owned property in Australia before.
Property Buying Costs in Australia
Buying costs are about four per cent on houses and land and six per cent on apartments, but vary from state to state, as do the processes. The biggest cost is usually stamp duty, of 1.25 to 6.75 per cent.
Legal costs add up to two per cent; due diligence such as building inspection costs AUD$300- AUD$500 [£185-£310] and 'strata' inspections (on apartments) adds AUD$200-AUD$500 [£125-£310]. It adds to anywhere between two and nine per cent, not dissimilar to selling costs, where the highest cost is estate agent fees.
To secure your life in Australia you need to get a visa. It's worth applying for one through an emigration agent, one that is a registered with the Migration Agents Registration Authority (MARA) and/or is a member of the Migration Institute of Australia (MIA). There are three common visa routes.
First, there is the Skilled Independent visa: this is for under 50-year-olds who have skills that meet the Australian standard for an occupation on the Skills Occupation List – this currently includes accountants, healthcare professionals and bricklayers.
Second is the Skilled Sponsored visa: this is similar to the Skilled Independent visa, but to qualify you must be sponsored by a relative in Australia or be nominated by a state or government agency.
Third is the Skilled Regional Sponsored visa: this is a three-year visa for skilled workers who are unable to get a Skilled Independent visa although you can apply for permanent residency after two years and after working at least 12 months in a 'specified regional area'.
Visa eligibility is based on a points system.  There are also fairly steep charges for Australian visas, in excess of AUD$7,000 and the application process can take 2-3 years.
To find out more about visas and if your occupation is in demand in Australia visit www.immi.gov.au