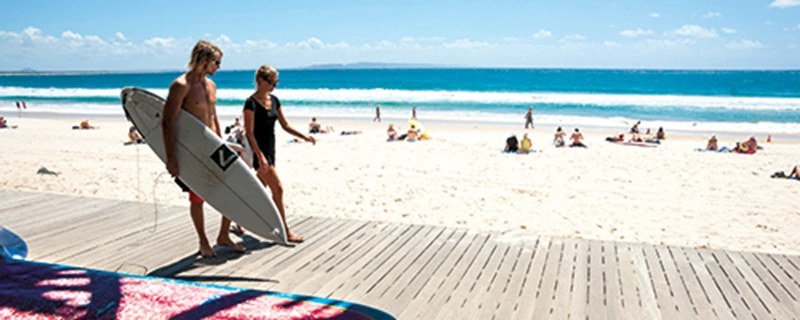 Some countries fall in and out of favour with Brits moving abroad, but there's one that has an enduring appeal: Australia.
Of the five million British people estimated by the United Nations to be living abroad, the largest group by far - about 1.3 million - are in Australia, which is some way ahead of the next most popular destination of the US, with about 750,000.
The desire for a new life Down Under shows no sign of abating, with Lloyds Bank Research last year showing that Australia remained the most popular destination for emigrating Brits, with more than 200,000 moving there since 2009.
So just what is it that makes Australia so appealing to Brits looking for a change of scenery? For a start, there's the sunshine, but the similar culture, good employment opportunities and lack of a language barrier are also big factors.
The huge expat community has become something of a drawcard in itself,< says Darren Chatt, migration agent at Visa Bureau. "The biggest pull for Australia is that most people have friends and family there. January is our busiest time of year as people who have been on holidays to Australia over Christmas come back and say 'I want to live there'."
Could you live there?
Unfortunately the days where Brits could become 'Ten Pound Poms' - so named because they were welcomed into the country with open arms solely because they were British and willing to pay £10 for their passage to Australia in the 1950s and 1960s - are long gone. But there are still plenty of opportunities to migrate to Australia for those with the right skills and experience.
"Tradespeople are in demand at the moment, as well as medical professionals such as doctors and specialist nurses. Anything to do with aged care, like physiotherapists, radiologists, social and care workers are also keenly sought after. Every country has an ageing population so there will be a constant demand in those areas. Engineering has dropped off a bit because of the global situation with the oil and gas industry. Mining has also taken a hit," says Chatt.
To move to Australia permanently and independently of an employer, you must meet other conditions apart from your occupation, including age, health and English language skills.
You can apply directly to the Australian government, but many applicants use migration agents due to the complexity of the process - if you decide to seek assistance make sure you choose an agent licensed with the Office of the Migration Agents Registration Authority, and do shop around.
"It is worth speaking to a few registered agents and getting quotes from them for their services. It helps to reaffirm your eligibility status and provides you with a breakdown of costs."
"The whole process is quite expensive so you need to be aware upfront of the expected outlay. A family of four should expect to pay around £7,000 for a full application and at the present time, most of our skilled visas are being processed in just under 12 months," says Chatt.
A much faster (and cheaper) way is to find an employer to sponsor you - this type of visa is sometimes issued in as little as two weeks, but the downside is that you'll be tied to your employer and the visa is temporary, not permanent.
If you're lucky enough to be under 31, you can also apply for a working holiday visa, which allows you to travel and work in Australia for one year and can be extended to a further year if you undertake certain types of work during the first year.
Retirement visas are an option for the over-55s, but there are significant asset and income requirements, and retirees are not able to access Australia's subsidised healthcare system, meaning private health insurance is a must.
The Practicalities
When people think Australia, many automatically think 'Sydney', then 'Melbourne', but there are lots of other areas that many migrants find are more suitable to their needs.
"Places like Melbourne and Sydney have a great social scene and are popular with young single people, while areas such as Perth and Brisbane are more family-focused," says Ben Tyrrell, head of relocation company MoveHub.
When it comes to property - whether buying or renting - areas other than Sydney and Melbourne are certainly much cheaper. Although clearly economists often get it wrong, many have predicted that prices may fall in these two cities after several years of rampant growth, with Brisbane being tipped as an alternate city ripe for further appreciation potential in the coming years.
While the cost of living has undoubtedly risen in Australia, the exchange rate finally seems to be heading back in the right direction for Brits looking to take the plunge. After several years of being at historic lows against the Aussie dollar, the pound rebounded last year. Although a high of AU$2.14 in late August hasn't been maintained, the pound has remained well above AU$2.00 since then, much closer to its historical average than the AU$1.45 it fell to in 2013.
And the change in fortunes is already having an effect, according to Robin Haynes, managing director at Currency Index. "The value of the Australian dollar fell against the pound by 51.2 per cent between April 2013 and its peak in August 2015, and unsurprisingly we started to see more British families looking to make the leap and move to Australia."
Investing in Australia
Australia is popular not just with those moving from abroad, but also with those investing from abroad.
"Australia is a great place to invest for British citizens because it has a very stable government and one of the world's best regulated property management systems, which provides security and peace of mind for landlords," says Ron Cross, chief executive officer at ParkTrent Properties Group, an Australian real estate company that specialises in helping people buy investment property.
Although prices in Australia have been rising in recent years, particularly in Sydney and Melbourne, for Brits in particular, in real terms prices in many places are significantly cheaper than they've been for some time.
According to Currency Index, an AU$500,000 investment would have set you back £342,700 in April 2013, but due to exchange rate movements this has now fallen to £244.141. For those planning on using mortgages, there's more good news. "Interest rates are at 60-year lows and it looks like they'll be staying at this level for some time," says Cross.
Non-resident foreign investors cannot legally buy existing dwellings, but they are able to buy properties in new developments so long as not more than half of the development is sold to foreign owners. In practice this means you'll have to invest in an off-plan or recently completed flat, but the good news for Brits is that most Australian flats come with lifetime ownership so there's no lease that's running down.
Letting agency fees are typically lower than those in the UK and there's more certainty when it comes to both landlord and tenant rights. And there are plenty of willing tenants for investors' properties, says Cross. "With immigration boosting our population there is increasing demand for more housing in capital cities."
If you are thinking about investing in an Australian development, make sure you check that any development you are interested in has secured Foreign Investment Review Board approval. There's one other thing you should prepare yourself for if you're planning a visit to look at properties, says Cross.
"There is one major trend we see within our business with our international investors who become involved in property investment in Australia - often after their first visit they decide they want to make Australia their permanent home!"
Help with moving to Oz
When moving to Australia it is possible to be granted a visa within a few months - if you have the right skills but it is wise to plan for a longer waiting time to avoid disappointment.
With your visa secured, make sure you choose a respected international removals company that offers FAIM, membership of the FIDI Global Alliance and BAR overseas membership. They will also offer crucial advice on the documentation needed*:
Australian Customs form B534
Removal inventory
Valuation form for Shipment Protection cover
Copy of your Passport and Visa
Purchase receipts (if you are importing any newly purchased goods)
*Information provided by PSS International Removals