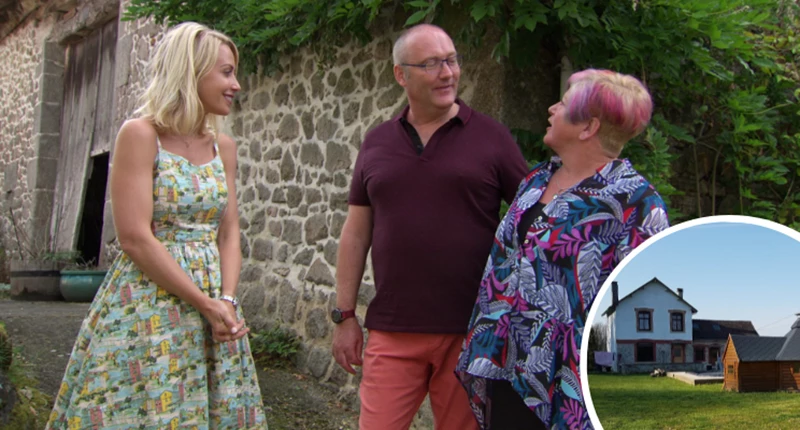 Karen and Alastair Shaw from Montrose in Scotland made tabloid headlines for refusing to step inside one of the properties that Laura Hamilton showed them on an episode of A Place in the Sun. They were looking for a very private home in the Dordogne nearly two years ago and knew instantly that the pretty rural property with green shutters was not for them. Whatever lay inside was not even worth a look, because the Scottish retirees who instantly saw the property was overlooked but also next-door to a popular public footpath. "I won't flog a dead horse," shrugged Laura, before moving on to property number four.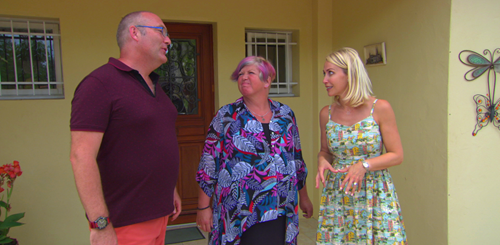 Yet the couple looking for a character farmhouse in the Dordogne with a budget of £175,000 did end up buying 'property number five' on the show, and are blissfully settled in their home, even though they moved in on the day before France locked down in March 2020. The two-bedroom farmhouse with a three-bedroom gite property is not actually in the Dordogne, but just over the border in Haute-Vienne, part of the Limousin.
In fact it was a shrewd move by the local Leggett agent Ann McCarthy who offered it up to the researcher from A Place in the Sun because it fit the bill in every other way. "It was only 10 minutes away and actually the area is a bit more affordable and there are fewer Britons than in the Dordogne which has parts that are full of expats," says Karen, a former nurse practitioner.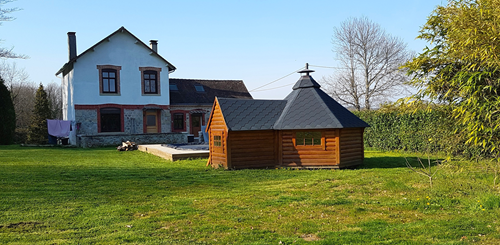 In a bizarre coincidence the owner of their new home had a Place in the Sun connection too: Jason Pedder had produced some of the music for the TV series, along with some for the sitcom Friends. "I really miss that house," says Jason from his Audio Network company near York. "Back then the internet connection in rural France wasn't good enough for the needs of some of my work so I moved back to the UK but I am now thinking of maybe a place in Spain." Well, he knows where to come for some help there…
Yet back in France the Shaws were unlikely to make some new friends instantly as the country was just about to go into deconfinement on 16 March for three months due to the coronavirus pandemic escalating in Europe. "We were actually set to drive out to France a couple of days later than we actually did; when it looked like the UK was heading for a lockdown we brought forward the trip. We wouldn't have got out there for very many weeks otherwise," says Alastair, a retired GP.
Starting lockdown in a five-bedroom farmhouse with a swimming pool in two acres, a fair few degrees warmer than Scotland, could have been a lot worse, he concedes. But it did mean they were slightly isolated, and they had to quickly do some food shopping, and Ann was very helpful in setting up the utilities and insurance. When things opened in May they were able to explore the local villages and discover the brocantes that Karen has come to love, and a great furniture recycling facility in nearby Saint-Yrieix-la-Perche.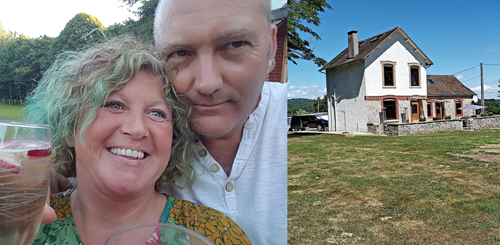 They'd chosen this part of southwest France because it is far enough south for the good climate yet still accessible within a day's drive from the UK, with elderly parents in mind. The couple have three children between them – aged between 25 and 31 – and the gite will be ideal for staying over now travel has opened up – there a quite a few bookings already, on the basis that the newly expanded swimming pool is going to be ready. "We won't let you the gite commercially, it's just for family and friends," says Alastair.
The couple managed to move over before Brexit so their residency and healthcare cover has been sorted out although supply-chain issues for brown sauce, PG Tips and Wagon Wheels has been a minor 'Brexit problem', he jokes. When they finally got to meet the locals they were very accommodating. "Nothing is ever a problem; or pas de probleme!"
The cost of living is generally more affordable than in Scotland and the only thing that has fazed them a bit is the language. "Our biggest tip if you are thinking of moving out? Duolingo!" says Karen, referring to the mobile app that offers bite-size language lessons. "Oh, and do as much paperwork as you can before you leave the UK: healthcare, car registration, informing the Inland Revenue of your move, etc."
Although they might not have been very impressed with one of Laura's property choices, the couple say they would probably have not made the move without the show. "Our own search methods before that had involved driving around looking for properties and getting lost and then going to a bar instead," laughs Alastair. "We needed somebody behind us to give us a push or we'd still be in Scotland now."
Download our new Buying in France guide here, find further advice on Relocation, search for properties in the Limousin, or catch up with the latest news on our TV series.