Miami, the good-time capital of South Florida, made its name on a heady cocktail of pool parties, beach life and beautiful people. With year-round sunshine and an anything-goes vibe it proved a magnet for international property buyers who snapped up homes from South Beach to Coconut Grove.North Americans arrived to escape bitter winters and South Americans arrived to escape economic chaos, buying homes as a safe dollar investment. Britons joined Russians, Italians and other Europeans. Lately Turks have invested there too.
President Trump is the most high-profile recent arrival, changing his registered home from New York to nearby Palm Beach, one of many wealthy Americans eyeing up the considerable tax benefits of the Sunshine State. Unlike New Yorkers, Florida residents incur no state income tax and no death duties, paying only federal taxes.
Florida was the top US destination for international buyers in 2018 according to the National Association of Realtors and the second-fastest growing state in the US behind Texas. Its population grows by an average of 902 people every day, of whom about 400 go to Southern Florida; and just over half of that figure plump for Miami's exciting neighbourhood of Brickell.
Brickell: fastest-growing neighbourhood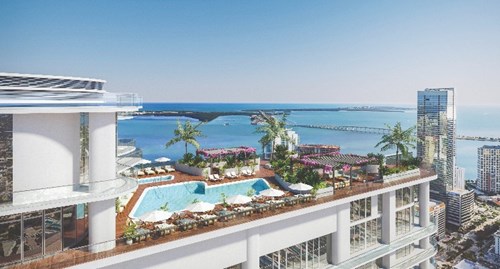 "South Florida is one of the fastest- growing areas in the USA, thanks to its weather, facilities and tax climate," says Craig Studnicky, chief executive of the sales agency ISG (brickellcitycentre.com/residences/rise).
"And the fastest-growing neighbourhood in Miami, according to Forbes, is Brickell, home to 45 per cent of Miami's downtown population. Twenty years ago, everyone went to South Beach but that has changed. Young professionals want to live in the urban core and that means Brickell."
Brickell sits at the mouth of the Miami river overlooking Biscayne Bay and is a 15-minute drive from Miami airport. Its story began on Brickell Key, a 44-acre sandbank where in the 1990s the British company Swire created an urban island at the heart of Miami. The Mandarin Oriental hotel opened in 2000 and today Brickell Key is a beautifully landscaped island with offices, homes and parks, still under the attentive management of Swire.
Brickell was a financial centre initially, a 9pm-to-6pm neighbourhood deserted outside office hours. Today it's so much more, dominated by high-rise towers with full-time residents who relish walking the safe streets and enjoying the local bars and restaurants.
"Brickell is Miami's urban heart, the Manhattan of the south. It has the largest concentration of banks in the US and is the second largest financial hub outside of Wall Street," says David Siddons of Knight Frank's associates Douglas Elliman (knightfrank.com).
"It's a brilliant place to live, far more affordable than New York but with an equally good lifestyle and much better weather. It's multicultural, stimulating and entrepreneurial and maturing culturally."
Whereas Brickell once appealed solely to young professionals, it now has a wider mix of residents including young families and older downsizers keen for the urban buzz and convenience of a live-work-play city neighbourhood.
Brickell's popularity owes much to Brickell City Centre, a $1.05 billion mixed-use site developed by Swire linking a smart shopping centre, two residential towers (Reach and Rise), EAST Hotel and two fully leased office buildings, with WeWork and KPMG among the tenants.
The shopping centre is a huge draw, anchored by Saks Fifth Avenue and a 10-screen CMX cinema, with 108 shops and restaurants. Brickell City Centre has its own stop on the Metromover, a free train link that connects to the Pérez Art Museum Miami (Pamm), Miami's modern art museum and the city's cultural epicentre, in 15 minutes. Miami's design district with its luxury boutiques, art galleries and restaurants is a ten-minute taxi ride away.
There are good facilities away from the shopping centre too. Residents can exercise at the uber-hip SoulCycle, Equinox or Sweat 440 where classes start every ten minutes so you are, in their branding, #neverlate. There are local food shops, a huge Whole Foods and a weekly farmers' market.
Accessibility is key for many residents who are increasingly going car-free, preferring to walk or rely on the dockless rental scooters which have been piloted since last April. The Metromover connects via the Metrorail to the airport while the successful Brightline, now operated by Virgin Trains, links Miami to Fort Lauderdale with plans to extend to Orlando.
"Swire has transformed Brickell, creating an urban lifestyle that didn't exist in Miami," says Studnicky. "Half of all Miami resale condos bought in 2018 were in Brickell and people are coming for a reason. Miami is the No 1 US city for tech start-ups, with Brickell as the focus. Brickell offers value and convenience, with homes up to one third the price of those in South Beach."
Condos to buy in Brickell
Brickell's rapid building programme coupled with the surging strength of the dollar resulted in 20 per cent price falls in property values over the past 18 months, says Studnicky. Yet with the number of people moving to Brickell, few new projects due to complete in the next two years and 95 per cent of new-build condos now sold, he believes this is a good time to buy.
"There is a shocking shortage of new condo inventory, unseen previously in this market," he says. "Developers are expecting to launch pre-sale campaigns in 2020 but these won't be available for occupancy until 2025 at the earliest."
Expect to pay from about $400,000 for one-bedroom condos. Knight Frank have a one-bedroom condo at Icon Brickell for $389,000 (£300,700). Facilities include a large pool terrace and bar deck and an extensive gym and spa.
ISG are selling the last homes in Swire Properties' two completed towers, Reach and Rise. These start from $600,000 (£463,800) for high-quality one- to three-bedroom homes. All homes are spacious, 1,100 sq ft for one bedroom fl ats, with terraces, high ceilings, walk-in wardrobes and sleek bathrooms. Rise has one acre of open outdoor space with a huge amenity deck and full-time concierge.The fi rst residents moved into Brickell Flatiron last November, with one-bedroom homes of 933 sq ft starting from $600,000 (£463,800). The building, one of the tallest in Miami, has 64 fl oors and 549 units and apartments are for sale through Savills (savills.com).
The high line? No, the Underline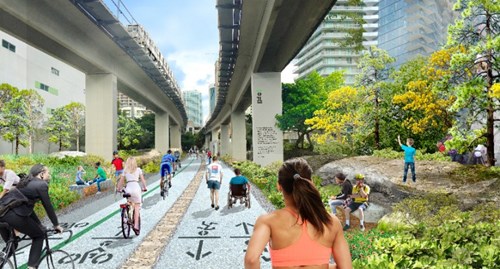 When resident Meg Daly broke her arms in 2013 she was reliant on Metrorail to get to her daily physiotherapy. She realised that under the high, wide tracks was a space begging to be transformed and so The Underline (theunderline.org) was born.It will be a ten-mile linear urban park running south from Brickell to Dadeland, turning a dark and unused space into a world-class park. There are plans for 20 butterfl y gardens, running and bike tracks, public parks, outdoor gyms, sculpture and art gardens, yoga pavilions and basketball courts.
With a clear nod to New York's successful High Line – a 1.45-mile-long elevated linear park, greenway and rail trail – The Underline is a grassroots movement. Meg has been joined by hundreds of volunteers and it has been backed by state and federal government. More than $120 million of the $155 million cost has been raised and the fi rst half-mile section, in Brickell, opens this summer.
"The Underline should be the heart and soul of the community," says Meg, 59. "It will provide an off -road safe route for walkers and bikers, get people out of their cars, raise activity levels and be a beautiful addition for everyone in the city. We are doubling the tree canopy just in the first half mile and adding 4,000 tall trees overall."