Spanish property commentator Mark Stucklin analyses statistics to find out where the Brit hot spots are across our favourite overseas destination.
Spain is our favourite place for an overseas home. Whether you seek beaches, mountains, rural bliss, island escapes or sophisticated city living, it has something for everyone.
However many Britons planning to buy a home in Spain say they want the 'real Spain' but end up buying in one of the British ghettos on the coast, where life seems a bit like Blighty with sunshine. Whilst the 'real Spain' is a romantic dream that can expand your horizons, the ghettos are more convenient and offer lots of things you love from home.
That helps explain why the majority of Britons who buy a property in Spain do so in one of 60 out of Spain's 8,116 municipalities that are home to around half of all the 250,000 British expats officially resident in Spain.
Whatever your priorities it helps to know where you will find the British ghettos in Spain, so you can seek them out or avoid them. That means looking at the data available on where the British buy a property and live in Spain.
British demand - some background...
It helps to start with an idea of the overall volume of British demand for homes in Spain, and the number of homes owned by Britons. When it comes to looking for hotspots, there's a big difference between a few thousand buyers and owners, and a few hundred thousand.
Figures from Spain's Association of Land Registrars illustrate the ebb and flow of British demand since 2006. Between 2006 and 2018 the British purchased 126,168 homes in Spain, on top of those purchased by Britons in decades going back to the 70s when British househunters first started coming to Spain. 
Though down from more than 20,000 per year in the boom, the number of homes acquired each year by British buyers is currently running around 10,000, even after the Brexit referendum.
There are no figures for the number of British vendors each year, but I assume that buyers have outnumbered vendors most years in recent decades, leading to a net increase in the number of Spanish homes in British hands. I expect that several hundred thousand homes in Spain belong to British owners, including primary residencies, second-homes, and investments. Some studies I have seen in the past put the figure at 600,000 or more.
Which Spanish region has the most Britons?
If hundreds of thousands of Spanish homes have British owners, the question is where are they located? Are they thinly spread throughout Spain, or concentrated in hotspots? Data from the Association of Spanish Notaries shows us the regions in which the British are the biggest group of foreign buyers today. 
The notaries publish maps of foreign demand every half year, showing the regional demand of non-residents buying properties, on the one hand, and expat residents, on the other. 
The map above shows the two most important nationalities buying as non-residents in each region. So, for example, 32% of all properties in Andalusia purchased by non-resident foreigners in the second half of 2018 were acquired by British buyers.
This shows that the British buy second homes all over Spain, but when it comes to primary residencies, they tend to stick to Andalusia, Murcia, and the Valencian region. But they don't tell us how many British buyers and owners are found in each region, let alone in each province or municipality. For that, you have to turn other sources.
Breaking it down by province
You would expect to find ghettos in regions where British buyers are number one, namely the Valencian Region, Andalusia, and to a lesser extent Murcia. Data for 2015 from Spain's Association of Land Registrars bears this out.
Though the figures are from 2015, the regional distribution of British demand changes little from year to year, so the picture from 2015 is valid today.
The figures reveal that more than half of all British buyers and owners are two be found in just two provinces, namely Alicante, home to the Costa Blanca, and Malaga, home to the Costa del Sol.
Of Spain's 50 provinces, 15 had no British buyers whatsoever in 2015, and another 16 provinces had less than 10 buyers. In other words, 31 provinces (62% of the total) have between 0 and 10 British buyers each year, whilst just 10 provinces account for 95% of British demand, and 19 provinces account for 99% of demand.
So, British demand is heavily concentrated in a few provinces, and you will struggle to find a British buyer in the majority of Spain's other provinces.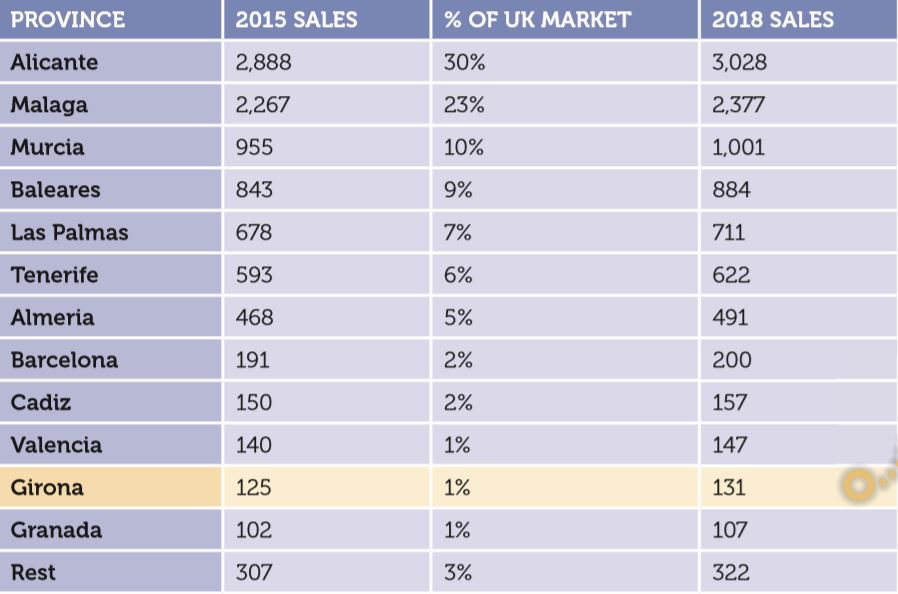 Now we know which provinces to look in, the question becomes where are British hotspots at a town/municipal level? Neither the notaries nor the registrars answer this question, but data from Spain's municipal register, known locally as the Padron, shows us where the expats live and gives us a good idea where to look.
Before looking zooming in on municipalities, it's worth noting that, according to the padron, the British expat population in Spain has declined from a high of just under 400,000 in 2012 to 250,000 today, partly due to an official purge of the database in recent years.
Many British expats choose to stay off the radar and avoid the register for tax reasons, but they will live in the same places as the rest. The official number of expats has been growing slightly in the last two years.
Alicante - 69,289
Malaga - 47,193
Almeria - 14,931
Balearics - 14,870
Barcelona - 14,284
Murcia - 14,095
SCD Tenerife - 12,926
Las Palmas - 12,595
Madrid - 10,033
Valencia - 7,926
Granada - 5,549
*The latest figures by province are for January 2019
Unsurprisingly, the data from the padron tells a similar story at a provincial level to the Land Registry. 47% of British expats in Spain live in just two provinces, once again Alicante and Malaga. 95% of Britsh expats live in just 16 of Spain's 50 provinces, and 34 provinces have a British expat population of fewer than 1,000 residents.
If British expats are highly concentrated in just a few provinces, the same is true at a municipal level. If we look at the 11 Spanish provinces that are home to 90% of British expats in Spain, we find that Britons are concentrated in just a handful of towns in each case.
(Data relating to British hotspots at a town/municipal level will be available on aplaceinthesun.com soon - so stay tuned!)
Find out more about purchasing a Spanish property with our free guide below