Richard Way meets a couple from Buckinghamshire for whom holidays in their Algorfa home were never long enough, so they decided to move over full time.
Not even two years after buying their first property in the Costa Blanca, Linda and Tony Rowe felt so at home during visits they decided to do what so many other British owners do: sell up in the UK and move to Spain.
Today, home for the Rowes is a five-bedroom villa in Benijófar, a town popular with expats 40 minutes south of Alicante and 15 minutes inland. Along with Linda's mum, Ada, they got the keys and moved into their "forever" home last summer.
The couple's love affair with Spain began 20 months earlier when they flew to the Costa Blanca for the first time to seal the deal on their first Spanish property, a townhouse in Algorfa.
They had only wanted a holiday home, somewhere they could visit with Ada and let their son Jai and wife Clare, both in their early 40s, enjoy. Linda, 63, had retired from her bookkeeping job but Tony, 65, was still working as a welder fabricator. Their British home was a bungalow in Lane End, Buckinghamshire, while Ada was living in Lincolnshire.
"The moment we arrived in Algorfa and visited the townhouse – straight from the airport – we knew it was right for us," said Linda. "It's on a quiet urbanisation called Montemar next to the La Finca golf resort. Although it's more of a residential area, it wasn't suitable for us to live in, mainly due to Mum struggling with the stairs. In fact, during one visit she fell and ended up in hospital. When we decided to move to Spain for good, upgrading to a villa was the natural thing to do."
Buying abroad had been on the  Rowes' radar for a number of years.  As is typical with many overseas buyers, it was family circumstances that triggered them into realising that dream. For them, it was the passing of Linda's father after a long-term illness. 
"We decided it was time to start thinking about our own lives a bit more," said Linda. "So, in October 2016 we headed to the A Place in the Sun Live exhibition in Glasgow.
"We went with an open mind and a rough idea of what we could afford. We knew we wanted a holiday home but weren't sure where. Most exhibitors there dismissed our budget as too low. Then we came across Vincent Real Estate's stand where we spotted details of our townhouse and were both immediately wowed by it. We'd never even been to that part of Spain. Anyhow, when we got home we checked that we could afford it and made an offer over the phone, subject to viewing."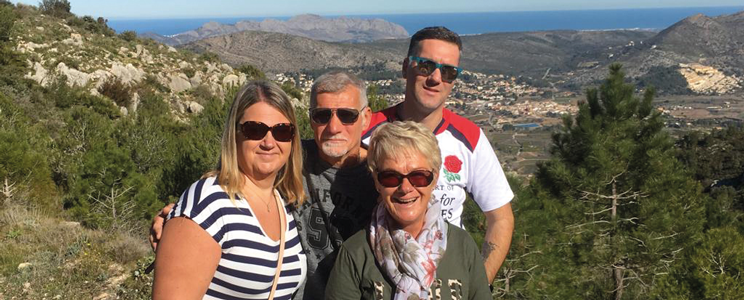 Their offer was accepted, with the British vendor agreeing to a purchase price of €65,000 (excluding fees and taxes), including furniture. The couple flew out to Spain on November 10 to view the townhouse and finalise the purchase.
"It wasn't just the location that we loved; it was also incredible value for money," continued Linda. "We'd been told that with our budget we could only afford an apartment, which we didn't want. On December 27 that year we had the keys. Vincent were fantastic throughout the purchase."
The Rowes' semi-detached townhouse had an open-plan ground floor, with a downstairs toilet and covered terrace off the living area. Upstairs were two double bedrooms and a bathroom with a walk-in shower. The master bedroom had a private terrace with stairs leading to a solarium. There was off-road parking at the front, while the rear had a large, mainly gravelled garden. 
The property served the couple well over the following year. Ada would accompany them on visits, while Jai and Clare enjoyed holidays there too. But their stays were usually limited to a couple of weeks, as Tony was still working and they found this just wasn't enough. 
"Each time we had to leave Spain, we felt despondent and couldn't wait for our next trip there," said Linda. "The UK was beginning to feel less and less like home. 
"It didn't help that we were spending every weekend travelling to Lincolnshire to look after Mum, so weren't getting any quality time together. It wasn't long before we decided to move to Spain permanently and asked Mum to come with us."
The couple put their bungalow in Lane End on the market in late 2017 and sold it in February 2018. As soon they knew the sale was going through, Tony handed in his notice and they began the search for a Spanish villa.
"After the good experience with our townhouse, we approached Vincent again," said Linda. "We made a list of villas and flew out to view them. While there, another villa unexpectedly became available – the one we bought. 
"We went to see it the same day Vincent showed us the details. We knew we wanted it immediately. We made an offer of €345,000, which was accepted by the Dutch vendor, and returned to the UK to get ready for the big move."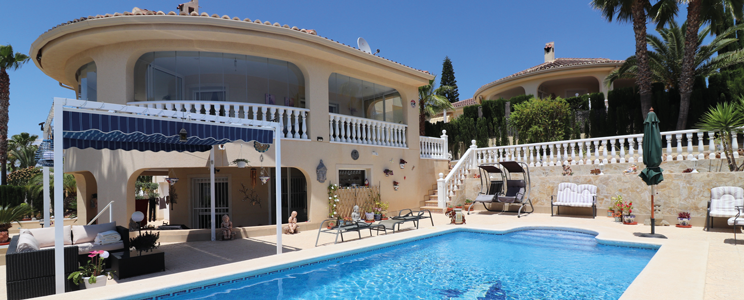 An unexpected delay meant that the Rowes completed on their villa on July 16th 2019, instead of mid-May. They went ahead with their relocation in May, though, staying in their townhouse during the interim.
"Because Mum couldn't get up the stairs to use the shower there, Vincent kindly arranged for us to use the bathroom in an empty property they managed," said Linda. "Which was a lovely gesture." 
Now settled in their new home, they couldn't be happier. A detached villa with underbuild, the property overlooks the Cañada Marsá park near the centre of Benijófar. The living space on the main floor includes a kitchen, living-dining area, three bedrooms including one en-suite, plus a family bathroom. The terrace wraps 180 degrees around the property and has views of the mountains. It now has glass curtains, so it's comfortable for Ada to sit out, whatever the weather.
The self-contained underbuild, which they use for visiting family, includes two bedrooms, a large bathroom and a kitchen-living area. There's also a garage and pool.
In terms of location, Benijófar ticks all the boxes and is ideal for year-round living. "It's got everything, including banks, a medical centre, shops, bars and restaurants, which is all accessible on foot," said Linda. 
"We tend to walk to the shops most days, rather than do less frequent shops by car and we can even walk into Rojales or Quesada. We're just 15 minutes' drive from Guardamar beach."
A highlight of their week is the Saturday market at nearby Almoradi, where they buy groceries. "It's a traditional street market where people from the surrounding countryside come to sell local produce and household goods. You can't buy fresher and better. Another of our favourite places is The American Diner, where we especially enjoy breakfast."
The Rowes were never deterred by Brexit and while they've got their padrón certificate and temporary SIP cards for healthcare, they're having to wait for their residency card. 
"It's in the pipeline, but due to Brexit residency applications have been put on hold. We're not worried, though: everybody's in the same boat."
In May, they offloaded their Algorfa townhouse. It had been sitting empty and they didn't want to rent it out. It wasn't easy letting go of their first Spanish home, but they are quietly content with the deal that Vincent secured for them.
"We got €81,500 for it," said Linda. "And we sold to a family with two children who will enjoy holidays together there. It felt nice because they were as passionate about it as we were." And who knows, as with Linda and Tony, it could be their first step to making a permanent move to Spain sometime in the future.
search through properties for sale on the Costa Blanca