Retirees Amanda Jelley and David Croaker from north Wales fell in love with Almeria in southern Spain and have bought three properties there. Just what is the appeal, asks Liz Rowlinson.
Amanda and David Croaker certainly love the Andalusian province of Almeria. After buying their first home there in 2016 (and then sold it a year later for a profit), they then went onto buy two more, each one bigger than the last.
Almeria has never been as popular as the Costa del Sol, its high-profile neighbour to the west, yet it has been slowly growing in popularity for a combination of its affordability and authenticity. Yet, dig a bit deeper and you'll discover a hippy past (Jimi Hendrix was a fan), a bohemian spirit that lives on, layers of Moorish history.
So how did Amanda and husband David, 74, discover it? "We had relatives that had bought a villa in a place called Albanchez in the Almeria province, up in the mountains and about an hour's drive to Mojacar Playa," says Amanda, 70, a former pharmaceutical representative. "On a yearly basis we would holiday in Albanchez and during that time we would spend a day in Mojacar Playa which we adored.
"The climate is good - there's more than 3,000 hours of sunshine each year with an average annual rainfall of just 200mm. Winters are relatively mild so perfect to holiday here all year around.
"The whole of the southeastern coast of southern Spain is a desert, like nothing you have seen before! Slowly but surely the area is becoming more and more popular. Many things to explore such as where the spaghetti westerns were made, the historic city of Cartagena. 
"So in 2016, we had a holiday in Mojacar with the idea of having some quality time to explore a bit more with no thought, at that time, of buying a property. However, we were absolutely enthralled with Mojacar.
"All the usual things that Spain does offer in the way of fiestas, tapas bars and white-washed villages are there but one special thing about Mojacar is that there is Mojacar Playa (beach area) but also Mojacar village which is perched on the top of a mountain.
"Mojacar Pueblo is beautiful, quaint and authentic, dating back to the Moors and Christians with narrow streets. This area is surrounded by shops, bars and restaurants."
They decided, after exploring the area, to look at some properties. They came across the agent VIP Almeria and its founder, Steven Howlett, who took time to show them the area.
"We both retired from stressful jobs – David was a university lecturer – and wanted to find somewhere to share with family and friends," says Amanda, who has two boys, 48 and 49, and three grandchildren, aged 7-14. 
"Property is more reasonable than in the Costa del Sol. You can still find some bargains in property with a one-bedroom apartment in Mojacar being approximately €100,000 to two-bedroom properties €130/150K.  Go ten miles inland and the prices are up to 50% cheaper - in Turre I recently saw a price tag of €81K for a three-bedroom apartment.
"We bought a two-bedroom apartment on Mojacar Playa on Playa de los Angeles Beach for €88,000 (through VIP Almeria). This was a lock up and leave place – a ground-floor property with a communal pool.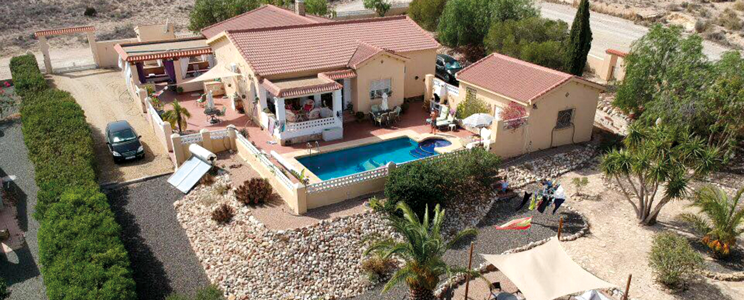 "We had the family using it through the year and it was clear that every single one of them loved the area so we thought about buying a villa big enough for us to enjoy together," says Amanda. "Again, through the same agent, we saw a villa inland of Mojacar.  So we ended up selling the apartment a year after we bought it – for €94,000 – and paid €189,000 for a three-bedroom villa with a private pool 15-minutes drive away from Mojacar in Turre.
"Turre is a working town on the edge of the Sierra Cabrera mountain range. We bought on an urbanisation of about 116 properties just outside of the town called Agua Nueva where there are an abundance of Brits as well as other nationalities." 
Within 12 months the couple began to think about making a full-time move there. "It got us to think - could we live in Spain?" says Amanda. "This part of  Spain is nothing like Benidorm or its surrounding areas. It is relaxing, the Spanish are so welcoming and the business sector there always have an English speaking person on hand to deal with you.
"There are a lot of Brits now settling in the area you will find that there are little groups to join so every day you can learn something new and make new friends through this, i.e., petanque, tennis courts in Turre, art classes, yoga, Spanish classes, dressmaking, walking groups and ladies doing lunch groups to name but a few.
"With this in mind and looking at further areas, Steven at VIP again found us a five-bedroom villa in a place called Vera (above). Vera is about a 25-minute drive from Mojacar Playa and we bought on the very edge of a golf complex called Valle del Este golf resort.
"Vera Playa is an area of very long sandy beaches, again a promenade and a very popular place for Brits to visit. It has all the amenities Mojacar has to offer with the benefit of the Aquapark for families to enjoy. Part of the beach of Vera Playa is a naturist area.
"We made the decision to move to Spain as the time is right for us. However, before we can do this we need to sell our property near Colwyn Bay so once that goes through we will be heading for Spain.  In the meantime, we have bought a little bungalow in the Wirral [Merseyside] as a lock-and-leave base for when we come back to see family regularly.
"Buying in Spain wasn't difficult. We had a fantastic solicitor, who arranged for us to have NIE's and once the paperwork was done we just had to turn up to sign for exchange of contracts.
You don't have to do any of the paperwork if you choose to make your solicitor 'Power of Attorney' which is what we did and every step of the way we received emails from them keeping us up to date. We have made wills through our solicitor in order that if either of us dies before the other the property is automatically put into the surviving person's estate.
"When in Spain we know we will feel much better from a health point of view and of course new adventures are on offer. We will explore Granada, Madrid, Codoba, Nerja to name a few. Spanish motorways are a pleasure to drive on."
Download our free guide to buying a property in Spain below