What can you get for £80k to £200k on your favourite costa? Richard Way provides some answers...
We love the southern coastlines of Spain. We began discovering them about 50 years ago and even though horizons widened during the global property boom of the Noughties and shrunk back again after the financial crisis of 2008, we are still flocking to the Costas.
Even the long shadow of Brexit has not deterred us and last year the British were still the biggest group of international buyers in Spain, providing 17 per cent of investors, according to official figures.
Prices fell long and hard in Spain after 2008, but the market has been improving and values have been increasing in the hotspots over the past couple of years.
They might not be back to their 2006-7 peak in most areas (we won't be looking at the Balearics here) but the pre-Brexit boom has pushed up demand and therefore prices.
So, do you know exactly what you can expect to get for your budget now? In our two-part series, we take our four most popular Costas and ask what you can buy for four typical budgets: £80,000, £120,000 £160,000 and £200,000, starting with the Costa Blanca. 
Costa Blanca North
The mountainous northern Costa Blanca mixes pretty bays and chic hillside developments with larger, year-round coastal towns. Property values in picturesque, low-density areas such as Moraira and Jávea carry a premium, while the larger Dénia and high-rise Calpe have more accessible prices. Inland, rural and village properties offer especially good value. For flights, Alicante airport is the obvious choice or there is Valencia to the north.
Up to £80,000 (€93K)
In contrast to the southern Costa Blanca, don't expect to get much with this budget. "The northern part is expensive," said Sheila Clark at the agent Hot Property Spain. "There is the odd one-bedroom resale apartment in the sought-after resorts of Moraira and Jávea, but you'd have difficulty finding them. Especially now, as it's a seller's market here and properties are moving fast." 
You'd have a better chance of bagging a small apartment in Calpe, home to the Peñón de Ifach rock, or the year-round port town of Dénia, or by going five minutes from the coast to villages such as Teulada or Benissa. The picturesque Altea is out of the question at this budget.
As always, your money goes further when you head deeper into the Orba and Jalón valleys where you could pick up a traditional-style village house or large apartment in one of the pretty villages.
Up to £120,000 (€139K)
With this type of spend comes a decent choice of two-bedroom apartments on small developments with a communal pool. These could be on the edge of a resort, a bit of a walk or a short drive from the beach, or in one of the hillside communities in the Benitachell area. At a stretch, you might find a two-bedroom townhouse or semi-detached villa.
"In Calpe, though, which is like a mini Benidorm, you could find an apartment just behind the beachfront and with sea views," said Ms Clark.
In the inland villages, your options are much broader. Pedreguer, for example, has a good choice of three-bedroom apartments, modern townhouses on new residential complexes or large traditional townhouses. Detached rural properties, including traditional fincas, come into play now too.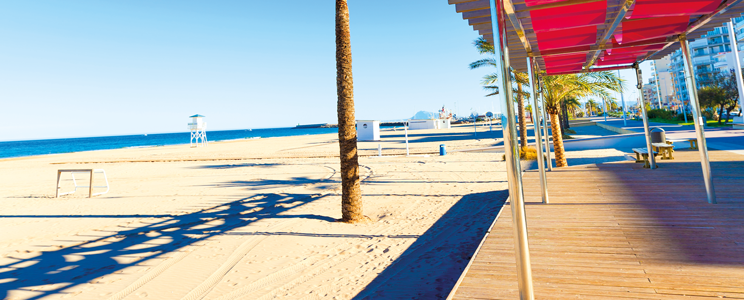 Up to £160,000 (€185K)
In the beach resorts, large apartments with a communal pool are the staple, with a limited number of townhouses with shared pools. New-build options kick in at this price point, but only really for apartments in developments in selected resorts, including Calpe, Dénia and Villajoyosa, or small communities just inland such as Finestrat.
In the smaller, pricier resorts of Moraira, Jávea or Altea new-build choice will be minimal or nonexistent at this price. "North of Alicante airport prices increase to €170k for apartments, €240k for townhouses and €330k for the villas," said Roy Howitt at Medland Spain. Inland, take your pick from large refurbished townhouses, small detached villas or rustic houses with land and a pool.
Up to £200,000 (€232K)
Even at this price, the chances of finding that dream detached villa a stroll from the local beach and amenities are slim – but large apartments? Yes. "In resorts like Moraira, the smallest bungalows with shared pools start from about €200,000," said Ms Clark. "But a typical client wish-list for us is a three-bedroom, two-bathroom detached villa with private pool and within walking distance of the beach, and a normal budget for this is around €350,000."
Looking at coastal new-build, your options are still predominantly apartments but off the coast inland villages such as Polop or Finestrat offer townhouse opportunities. Some of the best deals are inland, where in places such as Orba a three/four-bedroom two-storey detached villa with a private pool and sea views could feasibly be yours for €200,000 to €230,000.
Costa Blanca South
The all-time favourite of the Brits, the southern Costa Blanca arguably has the widest choice of property for buyers with less than €200k. It stretches south from Alicante, one of Spain's top airports for UK flights, as far as Pilar de Horadada; but its beating heart is the string of resorts known as Orihuela Costa. The new Murcia International airport at Corvera is also convenient for British owners.
Up to £80,000 (€93K)
One and two-bedroom resale apartments on a complex with a pool and either a good walk or short drive to the beach are the staple at this budget. Orihuela Costa resorts such as Punta Prima, Playa Flamenca, Cabo Roig and Villamartin offer lots of choice, with prices rising the closer you get to the seafront.
"At the higher end of the price range, you can get two bathrooms, underground parking, large terraces and be within walking distance of the beach, as well as lots of local facilities," said Karsten Ryder at Vincent Real Estate, highlighting such a property 20 minutes' walk from the beach at Punta Prima, available for €94,500.
If you don't mind being a few miles inland, prices are even more afffordable in the popular town of Quesada, 15 minutes north of Torrevieja and made up of a collection of expat urbanisations. Nearby are the neighbouring villages of Daya Nueva and Daya Vieja where your money could even stretch to a semi-detached villa. "Offering a good mixture of traditional Spanish and new developments, here you can walk to all the villages' amenities but still be around 12 minutes' drive from Guardamar beach," added Mr Ryder.
Up to £120,000 (€139K)
With this level of spend, you'll have a choice of large apartments, including penthouses with a solarium or ground floor with garden, in the more desirable complexes within walking distance of the beach in Orihuela Costa, or in prime spots next to one of its golf courses. Resale townhouses and bungalows five minutes' drive from the sea are also within reach.
In Quesada, you'll go dizzy with the choice of townhouses or small detached villas. And why not consider new-build, either key-ready or off -plan? Today the southern Costa Blanca is a hotspot for new developments, said Roy Howitt at Medland Spain, adding that prices start typically at €110,000 for an apartment in Orihuela Costa.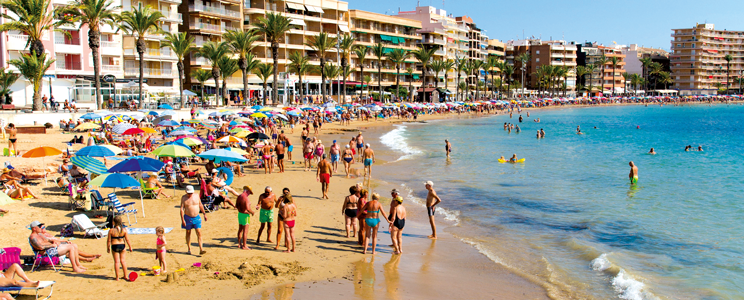 Up to £160,000 (€185K)
Take your pick from a pool of two, three and four-bedroom townhouses or duplexes, which make up the bulk of the Orihuela Costa market at these prices. Or opt for a new-build two or three-bedroom apartment on one of the swish gated developments, such as those around Villamartin Golf or next to the sea at Punta Prima.
In Quesada, you won't struggle to find a detached resale villa or large townhouse, the former possibly with a private pool when spending €170,000. Next door is the increasingly popular Benijófar, with a number of new villas. "It offers that Spanish village lifestyle with the convenience of doorstep shopping but also the vibrancy of a village that hardly sleeps," said Mr Ryder, highlighting a typical four-bedroom townhouse with a garage, garden terrace and solarium for sale for €180,000.
Up to £200,000 (€232K)
For most buyers at these prices, it's all about new. In Orihuela Costa, you might be choosing between an older villa or sparkling new apartment with all mod cons.
"For a new townhouse with a community pool you're looking at around €200,000," said Mr Howitt. "Entry-level three bedroom villas with a private pool start from around €250,000, but we have villas from €190,000 in the Benijófar, Rojales and Daya Nueva area, or €189,000 down in Pilar de la Horadada."
Download our free guide on buying a Costa Blanca property below