Richard Way met a couple of old friends who have jointly purchased a holiday home on the Costa Blanca.
For Stuart Edmonston and Clarke Millar, going halves on a Spanish property means they can afford a sparkling new villa built entirely from scratch.
Stuart and Clarke, old friends who live in the Glasgow area, signed the same off-plan contract for a villa in the Costa Blanca in August 2018. Their detached property is due for completion in October.
"We chose off-plan as we wanted somewhere we could give our own personal touch to," said Stuart, who is single and runs his own furniture business. "It'll be for our own shared use only and we won't be renting it out. We've bought for the long term and may make a few alterations along the way. Given the price and payment terms, I think we're getting great value for money."
The friends agreed to a purchase price of €279,000 (including VAT). Once built, their villa will have three bedrooms, two bathrooms, a roof terrace and a private pool. "It comes with electric shutters and air conditioning as standard," added Stuart. "Our agent Medland Spain has included white goods as part of the deal and as extras, we've asked for a spa pool and gating all the way around".
As of October, the purchase had cost Stuart and Clarke €12,500 apiece. They paid a €5,000 reservation deposit in July, followed by a payment of €20,000 in September when they signed the sales contract. All payments are guaranteed by the bank with the remaining balance not due until completion. They've granted their local lawyer power of attorney to help the transaction progress seamlessly. Meanwhile, Medland Spain keeps them updated with photos of their property.
Both Stuart and Clarke are financing their share of the purchase with part cash and part mortgage. "I'll wait to see how Brexit pans out before deciding exactly how I raise the money, whether it's in Spain or the UK," added Stuart, who has experience of being exposed to exchange rates through his business. "My line of work means I import 50 per cent of my stock from Europe, so I'm used to juggling foreign currency payments. Forward-buying euros for the property is a possibility, but I'm leaving my options open for now, waiting to see how the Brexit deal pans out.
Download our free Costa Blanca property guide below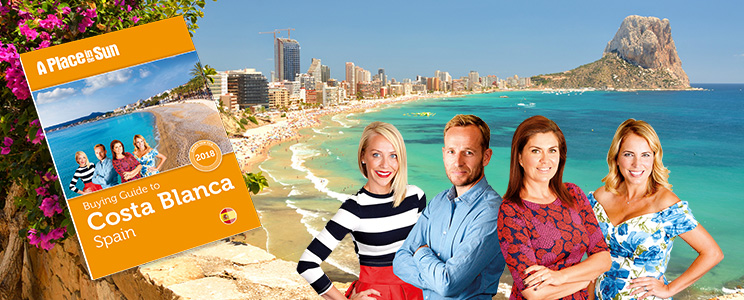 download our Costa Blanca property guide
"Meanwhile, I'm playing it safe and in my head basing the sterling cost on an exchange rate of £1/€1.10 – anything better will seem like a bonus. I don't think the pound will go much lower."
Stuart and Clarke's property is part of the third phase of a five-phase villa development called Villas de la Vega in Benijófar. There are approximately six villas in each phase. It was after visiting the development separately in July when they were wowed by both the show home and completed properties of phases one and two, that they knew they wanted to buy there. Back then, the plot they have chosen was nothing but empty land with some building materials on it.
It's not by chance that the two friends have bought in the Costa Blanca. "My parents had a second home in L'Albufereta, just north of Alicante city, for about 25 years," said Stuart. "So, I've been familiar with the Alicante region for years. They sold it about five or six years ago and it was always my intention to buy over in Spain again."
The idea of co-owning somewhere stemmed from holidays together. But it was something more eventful that triggered them into taking the first serious step.
"Stuart's been away with me and my family a number of times, including for new year in Tenerife," said Clarke, who is married with three children and works in construction. "It was actually on holiday in Cancún, Mexico, a few years back that we first discussed buying somewhere in Spain. 
"Then at Easter in 2018 I had a near-fatal accident at home, which immediately changed my perspective on life and I decided we had to get on and do it. I started looking at properties on the internet and in fact, one of the first developments I came across was the one where we've ended up buying."
Life should become a whole lot more fun for Stuart and Clarke in October when they're handed the keys to their villa and they can start nipping out to the Costa Blanca for a dose of Spanish sunshine. "I envisage going out there once a month, even if it's just for a long weekend," said Stuart. "I'm used to being away with Clarke's family and get on well with them all, so I'm sure sharing the property will be fine."