Our TV series has helped create another stream of happy homeowners across Spain, France, Portugal, Greece and Malta (and more). Here Liz Rowlinson catches up with two new owners of Spanish properties to find out how their new purchase is going.
Maria Callaghan and Ian Steadman from Essex appeared on the show in January and bought the first property they were shown by Jasmine Harman (pictured above) – a two-bedroom apartment in Estepona on the Costa del Sol for £119,000. Maria, 52, tells their story.
"This time last year I had never been to Spain. But Ian was off work for medical reasons for a bit and watching episodes of A Place in the Sun became a daily ritual for us. Ian liked the Costa del Sol for golf trips and we said why don't we have a look for a property?" says Maria, who works for a local charity.
"The evening after day one of the filming we went to have another nose at the location around the first property we viewed – a Scandinavian complex called Nordic Royal Club – and liked what we saw. We put in an offer that was accepted straightaway (through the agent Absolute Marbella). It's got a 24-hour reception and a concierge that does everything, its own restaurant, a pool, and we love it. Community fees are high at €350 per month but you really get a lot included."
"Doing the programme was great but not as expected. I thought it would be so much about making a TV show, but it was much more about finding the right property us", says Ian.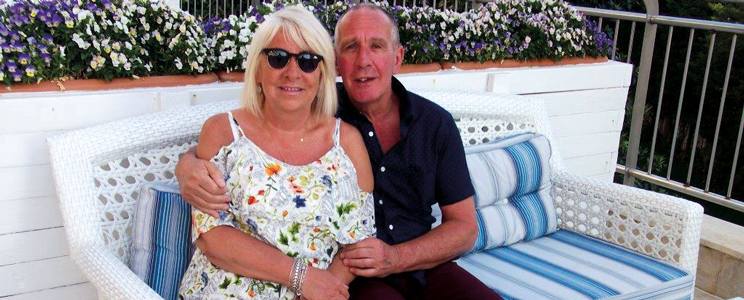 Jeanette Wilson and her partner Ian from Liverpool appeared on the TV show with Scarlette Douglas last year looking for a holiday home around Mar Menor in Murcia, with a budget of £60,000. They found a property for less than that, reports Jeanette, 60.
"We had been looking for a home for two and a half years, around Almería or Torre del Mar on the Costa del Sol. But we realised that the flights access wasn't as good to Almería as to Malaga and also that we could get more for our money by looking at other areas," says Jeanette, who works in shipping.
"We had set up a few trips of our own, had a disastrous viewing trip with one agent and had kind of hit a wall in our search. We needed help. So, after attending a couple of A Place in the Sun Live exhibitions we did a screen test in February 2017. Before long we were out with Scarlette looking for a home. we wanted two bedrooms, something with the use of a pool or a short walk from the beach.
"One place we saw offered everything we wanted. It was in Los Nietos, a small village near the Mar Menor and came fully furnished with gorgeous furniture. Based in a small community it is two minutes' walk from the beach, with two swimming pools and a mix of full- and part-time residents.
"It was on at €70,000 but Ian said let 's make a cheeky offer and we got it for £52,500. "The agent was Just Murcia Property and the purchase went through within four weeks, so we signed in December.
"We are going to move out there full time in August when one of our pensions comes through – something we have always dreamed about, although we will miss the grandchildren [they five children between them and four grandchildren].
"Are we worried about Brexit? No, the Spanish economy is worse than ours and they need the income from all the British expats and homeowners. It's been an amazing experience and we can't wait to go out there."
Gain valuable advice on buying a property in Spain with our free guide below