For more than 50 years the Dordogne has had a special place in the British heart, but why? Julie Savill has lived there for 13 years after leaving Essex and thinks she might know...
It started with a farmhouse, bought on a whim...
"How did we arrive in the Dordogne? We bought on a whim in 2003. I blame my brother-in-law. We'd taken a week's out-of-season rental in the north of the Dordogne and thought we'd start scoping our dream project of buying a property.
We explained to an agent that we were just looking and wanted to get a feel for the area, the types of properties and, kindly, he gave us some time and showed us some places. One, an unloved but deeply loveable farmhouse, felt immediately right and Dave, the brother-in-law, followed us around saying, "If you don't buy it, I will." So we did.
That was the start of a life-changing adventure
The initial plan was to tinker with the house for a few years, then retire here. But every time we visited we fell more in love with the house, the area and the lifestyle; so we sold up, lock, stock and barrel, stuck four cats in the car and headed off to start our new life.
I had lived in central Chelmsford in Essex (and had a two-hour-each-way commute to my job as the magazine editor for Good Homes magazine at the BBC) and moved to Saint-Martial-Viveyrol. My commute went down to 4.5 minutes each way after I started working for the agent Beaux Villages in the area.
Why buy there?
For anyone wishing to start a similar adventure, the Dordogne is, for my money, a terrific place to call home. The community is very mixed. Yes, there are a lot of Brits, but when you are a newcomer it's really good to have the support of people around you who have gone through a similar integration process and will understand the challenges.
People here tend to be very generous and supportive, sharing their experiences (both the triumphs and the odd failure) and pointing you in the right direction.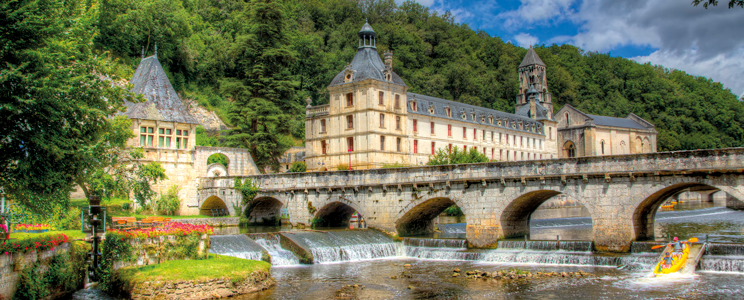 There are a lot of Dutch people in the area, too, along with the local French. Our experience has been of a wholehearted welcome into the community. Even a few words of French will be enough to get you communicating with the neighbours and once you break the ice your language skills will come on in leaps and bounds. I was quite proficient in discussing sheep by week four.
Other things that made the Dordogne right for us? It's a bit of a "mummy bear" département, to quote the famous children's tale.
• Easy access from the UK (not too close, not too far)
• Beautiful countryside (not too hilly, not too flat)
• A lovely climate (not too hot, not too cold)
Getting there and back
One of the things that have made the Dordogne so perennially popular is its location. It's a general rule of thumb that the further south you go the hotter the weather. By happy chance, the Dordogne is a comfortable day's drive south from the channel ports or the tunnel and far enough south to get a long hot summer.  Families with young children or pets often prefer to drive to their holiday home.
The roads are well-maintained, empty and a pleasure to use. Take the A28 and it means you don't need to go round Paris (can't say I'll ever miss the périphérique around that city). We can zip up and down to the Channel Tunnel in eight hours via Tours and Rouen to Calais.
Flying is a good option from all over the UK with low-cost airlines coming into Bergerac, Limoges and Bordeaux. Or travel by train for the ultimate no-stress journey. Take the Eurostar from London to Lille, then change for the TGV to Angoulême or Bordeaux. There are fewer connections in Lille than in Paris but at Lille, you change platforms, whereas in Paris you change stations. Car hire is available at all airports and train stations.
Where are the most popular spots to buy a Dordogne property?
This is one of those how-long-is-a-piece-of-string questions. It really depends on what you like and what you want out of your property. I wanted all the attractions of the Dordogne (the gorgeous villages and attractions of Sarlat, Lascaux, Padirac, Domme, Beynac) close enough for day trips, but I wanted to be out of the seasonal buzz. It can get crowded along that section of the Dordogne river during July and August.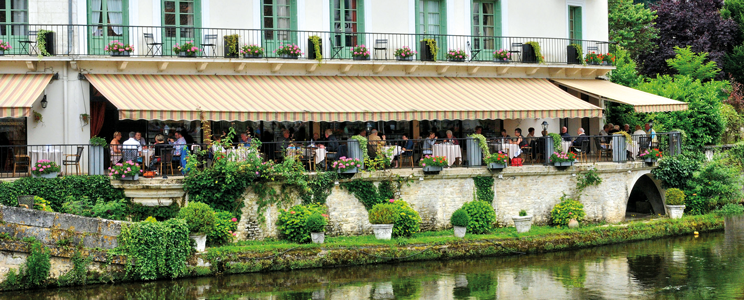 Maybe you want to run a chambre dhôtes or a gîte business? Being in one of the busier areas means you have a market to tap into right on your doorstep. 
There are a few places that I would recommend to start a property search. Verteillac in the north of the Dordogne is one of them, a sizeable village with bars, restaurants, an amazing grocery and general store, a hairdresser, post office and a medical centre. It's small enough to have a real community spirit but big enough to support businesses all year round including a massive brocante market on the first Sunday of every month. It's pretty but not Disneyfied and I'd class it as a proper working French town.
Similarly, Lalinde perches on the banks of the Dordogne, about 25 minutes from Bergerac airport, and is a thriving market town. It's under 50km from Sarlat so you have all the Dordogne attractions on hand, but Lalinde itself enjoys a more leisurely pace of life.
What can I buy there?
Prices vary within the Dordogne and there's a slight premium for being close to the river and the most famous towns. In general, you would be able to find a three-bedroom stone house, renovated and with a pool for between €200,000 and €300,000. Then €500,000 to €750,000 would buy you something in one of the hotspots along the river, or an up-and-running gîte business. If a smaller lock-up-and-leave fits the bill you can still find a small cottage or a more recent build for about €100,000.
Where best to buy for generating an income?
The whole of the Dordogne is ripe for someone wishing to make an income from their property. There is plenty of competition but that just means there is a market ready and waiting and you just need to tap into it.
Quality is the watchword. Good linens, decent furniture, nice tableware, immaculate cleaning and presentation.  Get it right and you can get bookings from Easter through to October. Pricing is key.  Check out existing rental sites and see what the going rates are."
Julie Savill is marketing director of Dordogne real estate agent Beaux Villages Immobilier.
search for a property for sale in the Dordogne
Download our free guide to buying a property in France