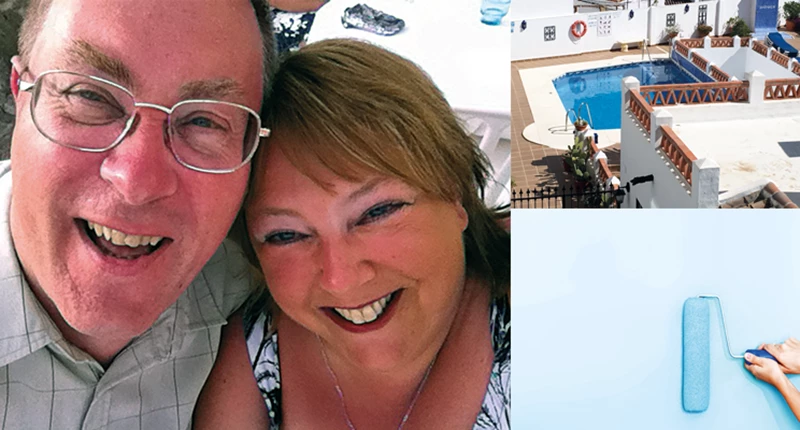 Lynne and Jon Scopes (pictured above) bought a two-bedroom property in Spain in Mijas on the Costa del Sol after appearing on our TV show in 2015 with a £100k budget. Lynne shares her tips on how she transformed the 'dim and dismal' property it into a light, bright (and fully booked) rental apartment.
Step 1: Visualise the potential
Lynne at first thought the apartment was 'dim and dismal' when she saw it in the summer of 2015. "My instant reaction was 'it's not my style' and that it was a dark and old-fashioned place that was overcrowded with dark-wood furniture and enormous low hanging fans (which I called helicopters) and looked very small," she says. But as she points out, the key is being able to see past the this and visualise what it might become, assuming the fundamentals are good – the location and the facilities. "What I did like about it was the magnificent view - and we had a pool we weren't expecting to find in a village property – that kept my interest.
"At the end of the viewing we went for a short walk to see how far we were from shops and restaurants and it was only about four minutes to the start of the village, Mijas Pueblo – perfect – so my mind started to go into overdrive. Jon also had had little interest in it, apart from the view, but that night as we talked things over, within a couple of hours I had it planned in my head and had sold it to him."
After having their offer accepted they took the decision to have a survey done (something that doesn't always happen in Spain). "This was very useful as it indicated even the small things that needed sorting, so as soon as we completed we could get it stripped back, old furniture out and the work started whilst still in England. The survey report came with photos so we could send the photos to the tradesmen so they knew exactly what we wanted doing."
Step 2: Finding (and keeping) tradesmen
How to find someone to do the alterations and decoration they wanted? "Sceptical of being ripped off by workmen whilst being absent in another country and not being able to overlook what was going on, we decided the best way forward was to use the tradesmen that did general work for the complex and came recommended by the community president," says Lynne. "They did the painting - but weren't able to do the carpentry – and kept us updated with photos at every point which was great. My main aim was to make it bright, so all rooms were painted white."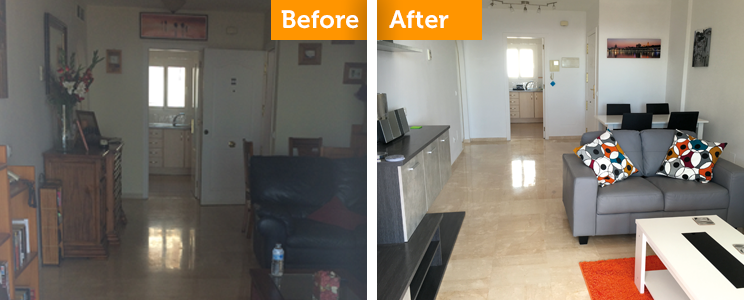 They also learnt about employing tradesmen. To replace the dark-wood built-in wardrobes in the bedrooms they started a search for someone to put in new lighter ones. "We found someone – he was English, his workers were Spanish - and as soon as he left, so did they. A job quoted as two days went on for over a week and it still wasn't finished when we needed to go home. We insisted on keeping a retainer until the job was completed and that was lucky as he never came back to complete it. The whole job was not as we wanted. We ended up paying someone else to sort it out so I'd advise people to always keep a retainer until the job's completed."
Step 3: Finding furniture
The easiest (if you find Ikea easy!) way forward with furniture is Ikea and we did think we would probably buy a lot from there as you can pick things from the British catalogue which often had the same number/code as the Spanish one.
However, before we visited we passed a place (on the way to Ikea) and went in, attracted by the beds in the window. Costa Mueble, just outside Mijas Pueblo, is family-run, with lovely people, and just my style - so we bought most other major items from them and they delivered exactly when they said they would (the next day) and even put the wall unit on the wall for us. Great service!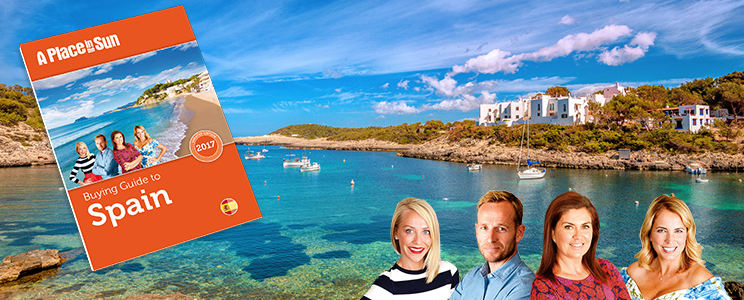 download our free guide to buying and renovating a property in Spain
Step 4: Choosing a colour theme
You can't really go wrong with a lick of fresh white paint to instantly freshen up a room, but some pops of colour in the furnishings or accessories can easily be added, changed. Interior designers make up mood boards, with inspiration often stemming from a single object, such as a cushion cover or rug.
"In the living room, the burgundy walls went and were replaced with plain white walls and ceilings. Down came the 'helicopters' and they were replaced by modern bright LED light bars. My décor theme was monochrome with some vivid, stand-out colour. In Malaga's Ikea, I spotted some orange and grey cushion covers and I had my theme. I have since noticed that this combination has become very fashionable," says Lynne.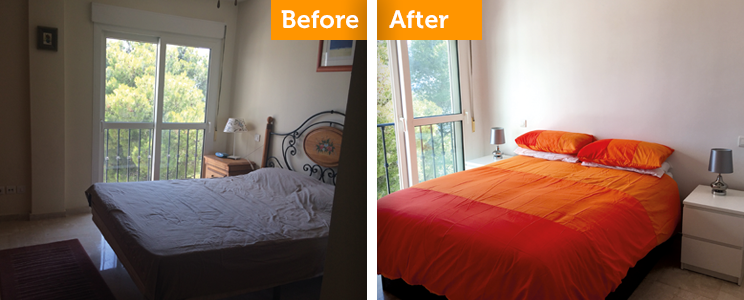 Step 5: Create more space
Consider knocking down walls to open up kitchen/living areas – which can be relatively cheap to do – and getting rid of any redundant or badly used storage spaces. The Scopes decided that the huge fitted wardrobes in the bedrooms were not required for a holiday apartment and that they were using up too much floor space. "When we finally got the new slimline, white wardrobes we wanted, the result was light and airy bedrooms," says Lynne.
Step 6: Update bathrooms (and kitchens)
The Scopes were lucky that the kitchen was in good shape so they merely had to replace the appliances and also update it with new lighting. They did, however, need to upgrade the boiler to facilitate four showers rather than two in one go (boilers are electric not run on gas in Spain). But replacing old-fashioned tiles, stained grout and rotting sealant in bathrooms can be a relatively inaffaffordable way to update bathrooms instantly, along with replacing the flooring, taps and fittings.  The Scopes had their marked marble floors re-polished professionally.
Our two bathrooms looked worse than they were, says Lynne. "The actual (white) suites were absolutely fine and with a little thought and some TLC both were transformed pretty easily into modern looking bathrooms," she adds. "I wanted to replace shower curtains with screens. It took a while to find exactly what I wanted (and translate to our Spanish tradesman who was very patient with me and even came to AKI, but this simple change from curtains to screens lifted the bathrooms from old to modern.
Another simple way to update properties is to change the ceilings. Whilst in older properties dark-wood beams can be whitewashed to lift up ceilings, in older properties wooden cladding on ceilings or walls can be painted a light, fresh shade, or replaced. "We replaced the wooden plank ceiling with modern pop-up white tiles with inbuilt lights," says Lynne. "We also installed new electric shutter blinds to update the whole place."
Like what you read? Get more information and tips in our latest magazine