The Costa Blanca and Costa del Sol might draw the lion's share of attention from overseas property buyers, but the Costa Calida, the 250km stretch of coastline of Murcia, is finally ready to step out of the shadows of its more established Costa cousins.

The area is still developing, and has had its share of false starts - a new airport at Corvera expected to be operational in 2013 is now slated for 2018, while the much-vaunted Paramount Theme Park appears to have stalled entirely.
Yet the absence of development on a large scale could be a blessing in disguise. The Costa Calida is rapidly gaining more admirers amongst holiday home-hunters looking for a laid-back, outdoor lifestyle which retains an authentic essence of Spain – plus of course, inviting beaches and year-round warmth – not to mention its large and vibrant capital city just a short drive away.
It's accessible too. British Airways, Ryanair and Easyjet all fly to San-Javier airport, or for a larger choice of flight options, use Alicante airport and travel down to the Mar Menor beaches in around an hour.

There are several distinct areas where tourists and overseas buyers gravitate – let's take a quick look at each:
Mar Menor
Head south from the Costa Blanca resorts of Pilar de la Horadada and Torre de la Horadada, and you're onto the Murcia coastline featuring the famous Mar Menor, a huge, warm saltwater lagoon separated from the Mediterranean by a 22 km-long spit of land called La Manga del Mar Menor.

A perfect spot for sailing and watersports, you'll also find the famous La Manga Club here. Popular with British sports starts, La Manga Club includes a golf resort, tennis courts  and a private beach.  There are currently hundreds of private properties, from studio apartments to luxury homes.
There is a cluster of property hotspots growing around the Mar Menor - towns that have become more welcoming to international clientele, without losing their traditional Spanish appeal.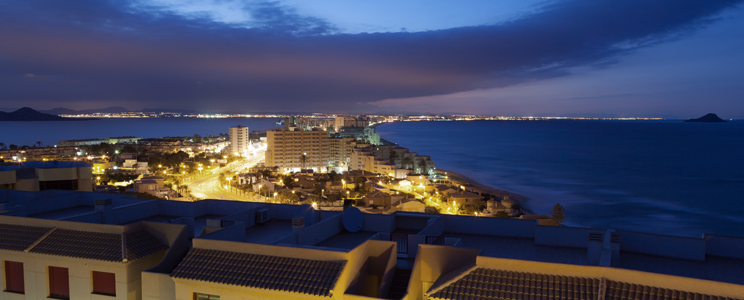 They begin with the lively town of San Pedro del Pinatar boasting a marina, long promenade and some beautiful beaches, including Lo Pagan. San Pedro is as popular with the Spanish as it is with expats, and many own second homes here which they visit in the Summer months.
The next stop south, the former fishing village and popular sailing resort of Santiago de la Ribera, again featuring gorgeous sandy beaches to enjoy, or jump on a boat over to La Manga for lunch. And if you fancy some shopping, head to the large street market every Wednesday   

Then there's Los Alcazares, another lovely seaside town and popular watersports centre with 7km of beach with spas and golf featuring strongly.  The Los Narejos promenade features many shops, bars and restaurants, and Los Alcazares is well-known for hosting feasts and fiestas during the year.
Prices and availability are similar in these Mar Menor owns, with two-bed resale apartments starting from around €75,000, plus some stylish new developments springing up, including three-bed townhouses and villas, sometimes with private pool included, starting below €200,000.
Clare Johnston, from local agent HomeEspaña reports "In the last 12 months, we've seen a steady increase in buyers widening their search beyond the Costa Blanca and taking advantage of prices a few kilometres further south on the Mar Menor. Buyers who know where to look can find a brand-new villa or townhouse located 5 minutes from the beach, priced 20% lower than the equivalent in Alicante".
Polaris World Golf Resorts
Polaris World is a big name in Murcia, with six specially designed golf resorts, frequently offering homes at prices substantially reduced from their 2007 peak. Buyers can expect expansive views over the golf courses, the use of swimming and spa facilities, and often shuttle buses which will drop you off at the local beaches. These resorts are now being managed well, and the Nicklaus Design courses are a major attraction.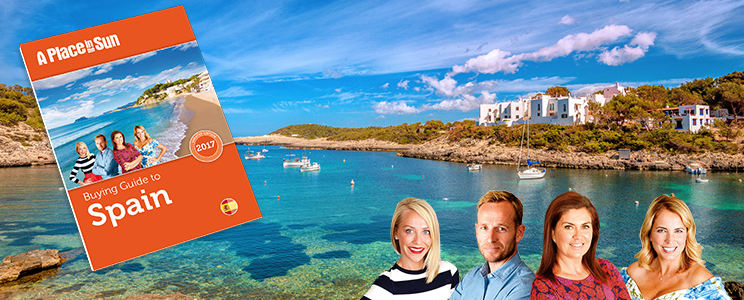 download our free guide to buying a property in Spain
The most well-known resorts include Mar Menor, La Torre and Hacienda Riquelme. Prices vary, but at Mar Menor, the most established resort, apartments start around €140,000 and villas at €160,000.  At La Torre, apartments can change hands for as little as €70k, villas at around the €130k mark. Hacienda Riquelme golf course is very close to the small inland village of Sucina that has also become popular with the British market, partly because it also close to another golf course resort, La Peraleja.  A two-bed villa or townhouse in Sucina centre can be snapped up for €100k - €120k.
Mazarron and Camposol
South of the Mar Menor, the Gulf of Mazarron has 35km of beaches backed by the foothills of the Sierra de la Almenara, with the port, or Puerto de Mazarron, and then there's Camposol golf resort, a huge purpose built town located 10 minutes from Mazarrón and previously featured on A Place in the Sun: Home or Away.  There are now more than 7,000 properties at Camposol, and it's hard to beat for price, with some two-bedroom terraced homes starting in the €50,000s.
Further west you come to some of the last long stretches of undeveloped Mediterranean coastline in Spain at the end of long and winding roads. There are also fishing villages and marinas such as Aguilas. These attractive seaside settlements are packed in summer but can be very quiet off-season, and the local countryside has been given over to agriculture. 
Property prices near the sea tend to be higher than inland, where options include the Mazarron Country Club (three-bed villas or a detached two-bed villa for around €130,000), where there seems plenty of available stock.
Away from the coast and golf resorts, homes in Murcia's countryside and inland villages also offer value for money and an authentic rural lifestyle. You can pick up a four-bed villa for €150,000 in the old spa town of Fortuna, and the areas around Totana and Lorca are increasingly popular.
Some final thoughts from Clare of HomeEspaña."If you're searching for your ideal holiday home in Spain, my advice is keep your options open, and explore more than one area – you might just find by moving ten minutes further down the coast, you can afford a property with an extra room or outside space, or one that little bit closer to the sea. No-one can say with total confidence where the next hotspots are going to be, but there is definitely a buzz about the Costa Calida right now!"