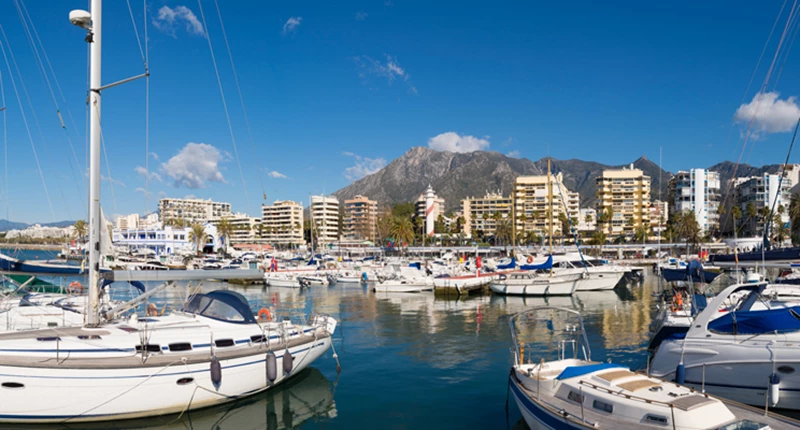 Well known for its glitzy demeanour, lively nightlife and its popularity amongst the rich & famous, Marbella is a city that is well-known in both Spain and the United Kingdom, and certainly one of the standout locations on the Costa del Sol.
However, if you look beyond its facade portrayed in our popular culture you'll actually find that Marbella is a lot more submerged in Andalucian traditions and hospitality than you initially thought. This is why it continues to attract a more diverse range of British expats every year who are either looking to retire in Spain or simply buy themselves a holiday home. Want to find out what it's like living in Marbella? Read below to find out!
What does Marbella really have to offer?
Along with its wonderfully long stretches of sandy beaches, fantastic nightlife and guaranteed 320 sunshine days a year, Marbella is certainly a hotspot on the Costa del Sol which drums up year-round interest from overseas property buyers. With over 130 different nationalities living in the area, it is considered as a very friendly and welcoming place to either spend a holiday or make a permanent move.
Beaches
Marbella is in fact blessed with 27 kilometres of coastline which offers its visitors 24 beautiful sandy beaches. Alongside this seafront, you'll find situated an array of beach side bars, known as chiringuitos, which serve food and drink all day long and even have sunbeds available to rent if you fancy a lie-down. Perfect for a siesta after lunch!
There is also a number of glamorous beach clubs on offer. So slip on your sandals and dance in the sun with stunning and sophisticated views at one of the many gems dotted around along the coastline. Head first for the most popular at Nikki beach and Puro beach.
Beach babes will be spoilt with the extensive number of beaches to choose from. Check out La Fontanilla Beach, Cabopino, Las Chapas and El Faro which lays on the west side of the port and was awarded the Blue flag in 2016. Life guards are on duty at nearly every single beach during the summer season which starts from Holy week all the way through to the end of September.
The beaches aren't just for the adults, there is plenty to do for the kids along the same coastline and on the same beaches, making it the perfect family day out. Marbella's Costa water parks, located in 2 different areas on the coastline are inflatable water parks that float in the sea giving children many fantastic hours of entertainment. There is also an endless list of children activities including fantastic parks, fairgrounds and zoos that are worth a visit!
Pebbled lanes
Marbella itself is more than just a beachfront.  The ever-so-famous town is, in fact, full of exciting shops, restaurants and bars – so take a long stroll and enjoy! The old town, for example, is rich in small boutiques hiding in the maze of the white streets. Pebbled lanes lead to beautiful lit up squares which are pleasantly decorated by colourful hanging plant pots and numerous shady orange trees. One of the biggest squares – Plaza de
One of the biggest squares – Plaza de los Naranjos – considered as the hub of the old town, is filled with dozens of small restaurants and cafes, overflowing into the streets and serving typical Andalusian food and drinks including tapas to international diners. The possibility of stumbling across live music or choir concerts being ever so likely, the old town of Marbella is definitely one that needs to be visited.
Golf
With its seaside location, this wonderful lively town is also perfect for sailors and yacht enthusiasts. Is golf your thing? Welcome! With its high-quality golf courses and stunning landscapes, Marbella is considered as one of the best European golf destinations. And even if golf isn't of interest, then head down to Puerto Banus which lies 6km south-west of Marbella where you can admire the beautiful boats, find high-end designer shops, catch a short ferry ride back to Marbella, and even enjoy the extensive Saturday morning market.
Grab a coffee and sit back for some serious people watching!
This article was provided by The Spanish Estate Agent, who specialise in sourcing properties for UK buyers on the Costa del Sol.
click to search for a property in Marbella