Portugal may not have the dramatic peak-and-trough market history of its neighbor Spain, but there are always affordable properties to be found if you know where to look.
Foreign demand has been steadily increasing across the country – but in Lisbon and across the Algarve in particular – and the government's  "golden visa" and tax incentives have been very successful at attracting interest in this low-key and laid-back country that is free from security issues.
Golfing continues to be a big draw too, with the Algarve recently celebrating 50 years of the sport, whilst the western part of it – along with the Silver Coast - is famed for its surfing beaches.
Property prices are still down from their 2007 peak on the coast so now is a great time to buy there, whilst its two major cities are undergoing exciting regeneration. Now is the time to find a cheap property in Portugal.
Bargains in the Algarve
Most British buyers seeking to take advantage of the laid-back Portuguese lifestyle, the Mediterranean climate and beautiful beaches will head to the Algarve. Less developed and less glitzy than the Costa del Sol it remains in large parts charmingly authentic with a lifestyle that is safe, secure and also surprisingly affordable.
But where to choose? Most of it is now within an easy hour's drive of Faro, much of the central part less than half an hour. For golf courses the central Algarve offers the best choice, whilst some would argue the best beaches are west around Lagos. Meanwhile the eastern tranche feels the most rustic and has traditionally offered the best value homes.
Show me a bargain
If you want to be close to the upmarket resorts and golf courses of the central Algarve, the key is to buy close to the so-called "Golden Triangle" but avoid the locations that come with a premium. So you can get – around Loule - a three-bed, three-bath detached property for around €300,000 – less than the cost of a small apartment in nearby Quinta do Lago resort.
Or maybe you want a lock-up-and-leave pad close to the sea? In Quarteira you can get a three-bed apartment for €150,000 in the old quarter that needs a little TLC but would no doubt attract rentals after a facelift.
Those seeking something a little more rural, you can get a four-bed farmhouse in Paderne just behind the A22 highway along the Algarve for less than €200,000 – your money will usually go further as you head inland. Heading west a little, the Silves/Algoz area offers plenty of choice if you want a comfortable three-bed home for less than €300,000.
The western side of the Algarve feels different yet again, but avoid central Lagos where prices have risen in recent years if you are on a tight budget. However you can still get a two-bed apartment behind the wonderful Meia Praia beach on the outskirts of the town, for €220,000.           
In the past couple of years the rough-edged charm of the eastern Algarve is being discovered and look to the lovely beach village of Cabanas de Tavira where you can buy one-bed apartments for less than €100,000 – or three-bedders with change from €200,000.          
Top tip
If you are looking to buy on one of the many developments with shared facilities such as golf courses, fancy pools and sports facilities bear in mind that you get what you pay for. Will you use all of them?  If not, consider buying on a community with smaller grounds or fewer pools to maintain.
click to search property in the algarve
Bargains in Lisbon
Lisbon is a coastal city that goes from strength to strength, becoming a major cultural hub to give Barcelona a run for its money yet still relatively affordable for a capital city. The historic waterfront is undergoing a major facelift, and the regeneration of the historic Chiado district has been a big success story - ten years ago it was something like Porto's Baixa district (on which more below).
Retirees, families and a growing population of tech industry workers live full-time in the city, which also includes the beach towns of Cascais and also Estoril - the latter more sophisticated but arguably less charming than the former fishing village of Cascais.
Show me a bargain
If you want city centre value, forget Chiado, where prices have soared in three years, and look at the elegant district of Lapa, the increasingly popular design district of Santos – or Alfama, the ancient district bordering the Tejo estuary.
This waterfront district of Santos offers tiny houses and former warehouses (home to many of the new start-ups) offers good value - remember this is capital city after all - and is definitely one to watch. You can get a spacious, well-renovated two-bed apartment in a character building for €300,000. Alternatively you can get a new-build one for €340,000. Prices here and in Lapa are around €5,000 per square metre.
You can also move out of the centre for greater value - you can get a three-bed apartment in Cascais for less than €200,000.
Top tip
If you want some good rental returns, consider the Cascais area where the season has recently extended. Properties that rent best are within a mile of Cascais centre, close to beaches with views, balconies and use of a pool.
click to search property in Lisbon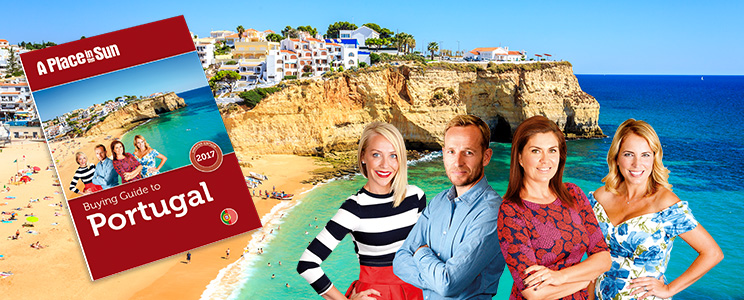 download our free guide to buying a property in portugal
Bargains in northern Portugal
Whilst British interest in Portugal in the past 50 years has been focused on the southern half of the country, especially the Algarve, historically we have been expats far longer around Porto on the northwest coast. It may not have quite as many hours sunshine in the north (but more rain) but the green and verdant valleys of the Douro Valley are increasing in popularity.
Interest in centred on Porto, Portugal's second city, UNESCO World Heritage Site, cultural hub and centre of wine tourism.  Stylish new gin bars and restaurants are popping up and Ronnie Wood was in town last summer - Porto is certainly a touch more rock and roll than the Algarve.
There are plenty of flights to Porto's stylish modern airport and with the old town undergoing something of a transformation, now is the time to buy, before prices rise as fast as they did in Lisbon in recent years.
Show me a bargain
Look to the regenerating old town, or Baixa, for the best bargains. Traditionally the wealthy have gravitated to the large villas of Foz district, facing the Atlantic beaches, but the old town, on the north bank of the Douro River, is where regeneration is happening fast and the new scene has shifted to.
In the Baixa you can get a renovated one-bedroom apartment - ideal for AirbnB rentals - for €150,000 to €200,000, or a two-bed one from around €220,000. You won't get a huge amount of choice as most apartments need to be done up - expect to pay around €1,000 per sq metre for a property in need of renovation.
Top tip
If you can stretch to it, bag one of the many townhouses in need of renovation for around €550,000 and then turn it into at least four apartments you can rent out for €70 per night - or sell them for €150,000 to €200,000 each. You can bank on capital appreciation too.
click to search property in northern portugal
Bargains on the Silver Coast
The Silver Coast is north of Lisbon on the Atlantic and famed for around 150km of unspoilt landscapes of craggy headlands, fabulous beaches, some of Europe's best surfing and also some striking contemporary architecture. It's reached via Lisbon airport - an hour or two by car, depending on where you go, although the northern stretch is easier from Porto airport, which is also served by low-cost airlines.
The former fishing village of Ericeira at the Lisbon end is now a fashionable spot to catch the biggest waves, while the Obidos area further north has long been a sought-after location, along with the Praia del Rey golf resort. If historical fishing villages or towns are more your style, then choose between Leiria with its Moorish castle, the charming fishing village of Peniche, or the seaside town of Nazare.
Show me a bargain
This region tends to be more affordable than most of the Algarve.  Whilst prices will be higher in the more fashionable spots around Obidos and Nazare, check out the town of Caldas da Rainha that ticks many boxes for a laid-back get buzzy summer playground (and it's only around an hour from Lisbon).
You can get plenty of options with a budget of €100,000 from rustic two/three bed houses or renovated apartments.  A nice villa costs around €300, 000.
Top tip
Consider public transport links when choosing a location if you want to rent out your property. Rail links along the Silver Coast are notoriously slow, and buses from Lisbon (and its airport) are much better but how regularly do they run to the town? More than twice a day is useful.