My love affair with Puglia is a bit like Elizabeth Taylor and Richard Burton's. One year we are all-consuming, can't get enough of each other, the next, nothing. But then we go back for more.
For me, and that sun-drenched region that is the heel of Italy, it's a love affair that has lasted for over a decade now and shows no sign of abating. Puglia will always be a huge part of my life, like all great loves.
My fascination started back in 2006 when I was filming an episode of A Place in the Sun. Puglia was my last port of call after a long five weeks on the road, I was pretty tired and, if I'm honest, just wanted to go home and sleep in my own bed but that mood was about to change.
I remember landing at Brindisi airport and travelling south to the elegant historic city of Lecce and being mesmerised. It was a mixture of the Baroque architecture made from the creamy local limestone, the relaxed southern Italian atmosphere and the wonderful little piazzas and ancient streets.
Yet to this day, I don't know why quite what was so different. When you travel as much as I did back then, most airports, motorways and cities tended to blend into one another but upon arrival in Lecce, I fell hook, line and sinker.
Part of it is the fact there is something quite timeless about Puglia. I've always had the feeling the locals carry on their daily lives in pretty much the same way they have done for centuries and have no interest in changing that in any way, and in this day and age when everyone seems to operate at 120 mph it's really rather refreshing.
Outside the cities the rural lifestyle is very much as it has been for decades, based on olives, vines and many other crops. Some of the ancient farmhouses, or masserie, have been turned into holiday villas but there are still many that remain in the hands of local families.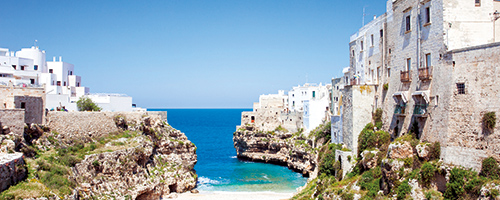 There are also the cone-shaped stone trulli that look a bit like bee hives - they are ancient listed buildings that are unique to Puglia - but as the former Editor of the A Place in the Sun magazine wrote in the last issue, they can be very expensive to restore!
But by the end of filming the TV episode, I had met an amazing English developer called Nigel Paul Wilson at Puglia Estates who we'd used on the programme and had somehow managed to buy myself a two-bedroom apartment in Nardo, a town some 30 minutes south-west of Lecce, just a little inland, for £85,000.
Now at that juncture of my life, I was single and had images of flying out there at the weekends with my girlfriends, sipping Prosecco in the local square and spending my days with them lounging on some of the beautiful beaches and coves that dot along the coastline.
The apartment needed total renovation, its only residents in the last 50 years were some rather mangy pigeons, so a lot of red tape and a lot of building work needed to be undertaken.
As lovers of Italy will know, nothing happens very fast, so by the time the apartment was ready, I'd fallen in love with my cameraman (yes it was that clichéd) and had had our first daughter Willow.
I can't work out whether I was a fast mover, or the Italian red tape system was a slow mover. Either way, I was no longer Carrie from Sex and the City, I now had the most wonderful baggage in tow.
We first went to the apartment when Willow was about a year old and felt instantly at home. The locals made a huge fuss of all of us, and our days were spent discovering the beaches and towns and eating fresh fish and pasta overlooking the sea.
However Willow grew and suddenly she wanted holidays that involved kids clubs and swimming pools and we decided to sell the apartment simply because we weren't using it, we hadn't been there for two years and it seemed a shame for it to be empty. We'd never really wanted to rent it out, I guess, rather foolishly in hindsight, that we should have done but I didn't want to share it with anyone. So we sold it for £200,000 three years ago.
But there was always a nagging feeling that we weren't quite finished with Puglia. A serendipitous opportunity came up with Nigel to purchase another property, this time in the more vibrant and up and coming town of Galatina and despite saying we were moving out of Puglia, we decided to go for it. Galatina is not far east from Nardo, about 20km south of Lecce, and in many ways a bit of a mini and less well-known version.
We are now the very proud owners of a one-bedroom apartment in a former monastery with a small guest cottage hidden in its 17th century walled garden.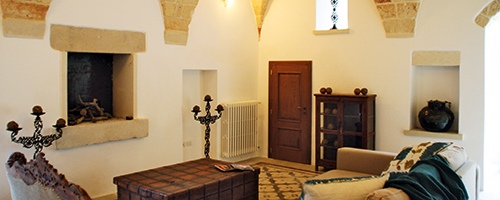 It really is a beautiful space - quiet, calm and serene, in other words, all the things I'm not! Instead of letting it sit empty now when we are not using it, we are renting it out for £800+ a week. I've gotten over that jealous girlfriend stage of not letting anyone else near it and have realised, it's much better for it to be lived in and used when we're not there, as well as providing an income. It's worth about €325,000 now.
So what can I tell you about Puglia? It really is quite magical. Don't go there if you're expecting a fast paced, action-packed holiday. This is a place where I feel time stands still and you can really take your foot off the gas.
Some of the most beautiful beaches with hardly anyone on them can be found on each coastline and you can pack a red bikini and try to recreate the infamous Helen Mirren pap shot if you're feeling brave. That was taken on my local beach - and she and her husband Taylor Hackford own a 500-year-old estate not a million miles from our home.
She along with Paul Weller, Meryl Streep, Gerard Depardieu, Mickey Rourke and Francis Ford Coppola all allegedly own homes there. I'd wager theirs are considerably larger than mine however!
This fertile region is also the home of wonderful pasta (especially the type shaped like little ears, or oriecchette), great breads, red wine and all sorts of fresh produce including seafood, and you will eat like kings and queens for next to nothing.
Breathtaking Baroque cities like Lecce are there for you to wander around, with eyes wide open and jaws on the floor at the sheer beauty of them. The beach towns of Otranto (east) and Gallipoli (west) stand guard on either side of the coast and give you the chance to slow down and simply stop the world for a while, which is something I think we could all do with.
In terms of getting there, it's become much more accessible. Its gain in popularity means that flights are more frequent and less expensive which means now is a great time to visit. I promise you, you won't be disappointed. Oh, and if you do, I know a great little apartment to rent...