Slowly but surely, the good times look set to roll again in the USA.
One of our favourite hunting grounds is showing consistent signs of recovery from the worst property crash in living memory. After successfully negotiating the fiscal cliff, could this be the time to look for a holiday home Stateside?
First, the good news. American house prices have risen for eleven consecutive months, with the latest US CoreLogic home price index registering its largest increase - 9.7 per cent - since the April 2006 market peak. Meanwhile, analysis from S&P/Case-Shiller on prices across twenty US cities registered the strongest annual increase for six years, up 5.5 per cent.
The US market led Western economies into recession, with Florida experiencing some of the worst house price falls, a jaw-dropping 51 per cent between 2006 and 2011.
The Sunshine State, home to golden beaches and heart-thumping theme parks, remains our top US destination, offering glamour, interesting rental returns and, at present, some attention-grabbing good value. So what are the hotspots worth a proper look?
Miami: leading the US recovery
Florida's east coast capital contained between the Everglades National Park and the rippling Atlantic has been successfully reinventing itself for the past decade. No longer just for the retired or the hedonistic, it's now highly fashionable, with global brands such as Soho House.
There's the annual Art Basel: Miami Beach, held every December since 2002, and the Design District that's revitalised a once grimy, dangerous part of the city. Low-rise warehouses have been transformed into high-end boutiques, art galleries and hip restaurants. Miami's vibrant design and art scene was one of several reasons that Marc Peridis, the managing director of a Soho-based interior design company and furniture gallery, bought a second home there. Having seen property prices tumble by 45 per cent, it was the investment case that he found most compelling. "I bought a one-bedroom condo in South Beach in May 2011 when the Florida market was at its lowest point, paying around a third of the price the previous owner had spent," says 32-year-old Marc. "Miami really is America's gateway to Latin America, and with the huge economic boom taking place there, I thought it was a safe bet that the Miami economy would bounce back. And it already has."
It has indeed. The high number of home sales in 2012 set a new record, says Natascha Tello of the Miami Association of Realtors, with Brazilians and Venezuelans in particular arriving in numbers. Latest figures show double-digit price growth on condos and houses.
"US and international buyers continue to boost strong sales in Miami," says Tello.
"The city is experiencing continued growth, as evidenced by high occupancy rates downtown, and the strength of the local rental market."
So what are the hotspots?
South Beach
It's got fabulous long, sandy beaches, a historic district with the world's largest collection of Art Deco architecture, and a hedonistic after-dark scene. This is where Miami property prices peak, especially in the area known as South of Fifth, where condos in tall towers sell for tens of millions. Studios, one and two-bedroom residences at the Mondrian, a boutique hotel on South Beach, start from $340,421 (£227,903) through Savills. Onsite facilities include a spa, gym, pool and restaurant.
Also on South Beach, Savills report strong British interest in newly built Artécity, one to three-bedroom homes from $250,000.
Rental yields are strong there: one owner is currently earning an 8 per cent return on his £305,000 apartment. Examples of what's available elsewhere on Miami Beach include contemporary two-bedroom condos and three-bedroom townhouses in a modern development, based around a communal pool, from £212,000, and a well-renovated two bedroom townhouse for £328,528, both with Coldwell Banker (through Hamptons International).
South of Miami Beach, the high-rise, high-density business district of Brickell is popular with edgy singles and young couples and convenient for downtown. Expect to pay from $350,000 to $1,000,000 for one-to three-bedroom condos in modern buildings with good sports facilities.
Families will prefer to continue south to Coconut Grove, twenty minutes from South Beach. This is Miami's original neighbourhood where friendly open-air cafes spill on to tree-lined streets. Coconut Grove is green, lush and sophisticated, with large houses and low-level apartments, and while there are no beaches there's plenty of yacht-filled waterfront. Two-bedroom apartments start from $330,000 and detached houses, away from the water, from $500,000.
An example of Coconut Grove's sophistication can be seen at The Grove at Grand Bay, two extraordinary twisting glass towers, being built by the established local developers Terra Group.
With a minimalist design, standout facilities and generously sized rooms, The Grove has sold well to buyers from Russia, South America, Europe and Miami. The $2,500,000 to $12,000,000 price tag for the 96 three-to-six-bedroom homes means you might need to win the lottery to live there, but with the first tower almost sold out it marks Miami's success in 2013.
Orlando: the old favourite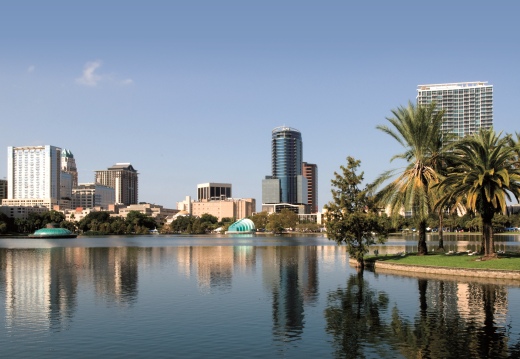 After three extremely challenging years, buyers returned to the Orlando market last year amid talk of occasional bidding wars on well-located and keenly priced properties.
The Orlando Regional Realtor Association put the median price of a home at $128,000 (£85,700) in January, a year-on-year rise of 18.5 per cent, and the largest jump since the boom days. However, with prices still 30 per cent below their 2006 peak, there are significant deals on offer.
"Orlando prices are stable at present, with some houses at reasonable asking prices starting to get multiple offers," says Patrick Walsh of American Homes Rental and Management.
"There are certainly still good deals around. A two-bedroom condo close to Disney in Windsor Hills would start around $130,000, compared to over $200,000 a few years ago.
"A good three-bedroom home with pool on a gated community costs approximately $160,000 now."
Good buys in central Florida that Walsh highlights include a three-bedroom family house that sold for $227,000 in 2007, listed at $125,000; and a three-bedroom house with pool on a gated community, which went for $265,000 in 2005, for sale at $135,000.
Orlando gets around 55 million visitors each year, most heading to Disney World, Epcot Centre and Universal Studios. Less well known is that the city is a major convention centre, one of the largest in America, as well as being a home to hospitals and universities, all of which can generate healthy rental yields.
In fact, it's the biggest rentals hotspot, globally, according to HomeAway.co.uk - see our feature '10 great rental hostpots'.
"Homes in parts of central Florida can achieve 30 to 40 weeks' rental each year, whereas those closer to the beaches may only see 20 to 25 weeks," says Walsh. "Three- and four-bedroom homes from $130,000 to $175,000 are selling strongly at present, often complete with furniture and pool. With a minimal mortgage, buyers can normally cover most of the running costs by renting them throughout the year."
See right for our tips on cutting running costs, but Geoff North of IPG-Orlando agrees with Walsh's point, adding that dealing with a reliable management and rental company is key.
"A good-quality four-bedroom house, with pool, on an integrated resort can generate an annual income of $12,000 to $16,000," he says.
"I would recommend Champions Gate, and in particular the new project The Retreat with a fabulous clubhouse, golf, spa, tennis and cinema and four- to eight-bedroom homes from $304,990."
Home builders Lennar are currently offering purchasers $10,000 towards furniture on this project. Paradise Palms, around fifteen minutes' drive from Disney in Kissimmee, is a fully integrated resort, with sports facilities that include tennis and basketball courts, pools, a gym and a clubhouse, that has also proved to be popular, according to North.
Prices start from $242,490 for new four- and five-bedroom townhouses with plunge pools, and from $378,990 for detached five- and six-bedroom villas. "Last year was a year of strong sales for us, but there is still the opportunity to pick up some great deals," concludes North.
"As an example, I sold my property in Highlands Reserve at the peak of the market for $610,000, and it recently sold for $395,000 including furniture."
Orlando comes top of the rental property hotspots according to our holiday rentals partner HomeAway.co.uk
Slim down those hefty running costs with some canny tips from an expert - Carol Chant, of Dream Homes Orlando in her piece 'How to reduce your costs when running a Florida villa'.
Dos and dont's of house-hunting in Florida, provided by Justine Assal of floridalinkcorp.com
Do...
Visit various parts of Florida before deciding where to buy, as each is very different in look, feel and lifestyle
Get off the beaten track and visit some parts of Florida where they haven't traded their cowboy hats for mouse ears. A great site for fun day trips is visitflorida.com/insiders/Off -the-Beaten-Path. You may even find your own slice of heaven on a lake or river, or even on a ranch.
Visit in springtime, and go to Blue Springs and see 80-100 Florida manatees frolic as families in the warm water. Consider renting a houseboat for a few days and get a feel for the relaxed side of Florida living.
Decide how much time you are looking to spend in Florida if thinking of buying (dependent upon your situation and the visa available to you), and make choices that will still allow you to relax and not have to work too hard each time you come over.
Once you have decided upon an area, rent a house in the development for a few days if possible, to really get a feel of the area, and what the neighbours would be like.
Don't...
Work with more than one realtor: they have full access to all listings, and will work harder for you this way; and, as the seller pays them, it makes sense as a buyer to have a good relationship. They are often one of the first friends you'll make in Florida.
Forget that the farther north you visit in Florida, the further south you go - in culture, that is. Take a drive up to Georgia, and you'll see what we mean.
Neglect to explore and enjoy the laid-back hospitality. You might even leave with a house and a drawl.