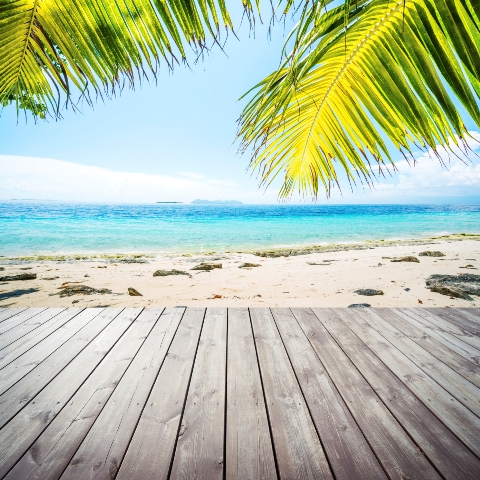 A Place in the Sun:Home or Away? presenters Jonnie and Jasmine on Thailands exotic charm (with home comforts), and bargain-priced properties.
Jonnie
The first time I visited Koh Samui in Thailand I was spellbound by the islands diversity. Sure, like a lot of the islands it had a fairly hectic town centre, but once you drove out to the quieter beaches, the tourists turned into backpackers and you got a sense of how much of Thailand must have been some ten years before.
Last month, a decade on, I saw just how far the islands development has come. In many ways I was disappointed; where once there were ramshackle beach huts and chilled-out backpackers swaying in hammocks, there are now top-end luxury hotels attended by valet parkers blowing whistles. This is when it occurred to me that the island has not only become a tourist rather than travellers resort, but its now a destination for expats.
People living on Koh Samui can now eat cuisine from all over the world at a fraction of the price back home, access worldclass private healthcare, and buy Western brands in the shops.
Perhaps this is why the island has become so popular with second home-owners and full-time residents figures suggest 80 per cent of the population are now expats or visitors. You can no longer buy a house for peanuts here, but there is the advantage of buying into a mature market with more experienced developers, plus schemes are better planned than 10 years ago, with more facilities. One developer I met was offering 15-year fixed-rate mortgages and 10-year structural guarantees.
Finally, the financial situation, coupled with the fall-out from the 2006 coup that ousted prime minister Thaksin Shinawatra, means buyers have even more bargaining power.
Jasmine


Of course, anywhere Jonnie's been, I've been, too! I remember my first visit to Thailand in 1993; it was by no means undiscovered, but islands like Koh Samui were very different then, and towns such as Chiang Mai were relatively unspoilt.
Brits buying property was unusual, because although prices were cheap, the system was complicated and sometimes risky. Foreigners arent allowed to own land in Thailand, but over the years, alternative ways of owning a home there have been established. Foreign buyers either need to set up a company in Thailand, or to buy property on a leasehold basis, as they are not permitted to buy freehold property.
When I visited Hua Hin (Thailands oldest beach resort) on a house-hunting trip with Alan and Jane on A Place in the Sun: Home or Away? in 2004, overseas property purchases had become more common. With a budget of £25k, we saw a traditional timber house (with mosquito nets in the windows, but no glass!), a ramshackle family home in a working town, and a high-spec, three-bed newbuild with use of a shared pool, a fitted kitchen and air conditioning even glass in the windows! Although it lacked character, I felt it was by far the best option for our house-hunters, and the low price reflected the fact that the number of new properties on the market was far greater than traditional ones.
Our 'Best Buy' was a new one-bed house on a development, for sale at just £7K! Prices have risen since then, but there are still bargains to be had. Ensure you understand the implications of buying in Thailand first, and get a full survey done. Thailand is beautiful, full of culture, with wonderful people and stunning weather and with only 0.5 per cent stamp duty and no Capital Gains Tax, it is a haven in more ways than one!