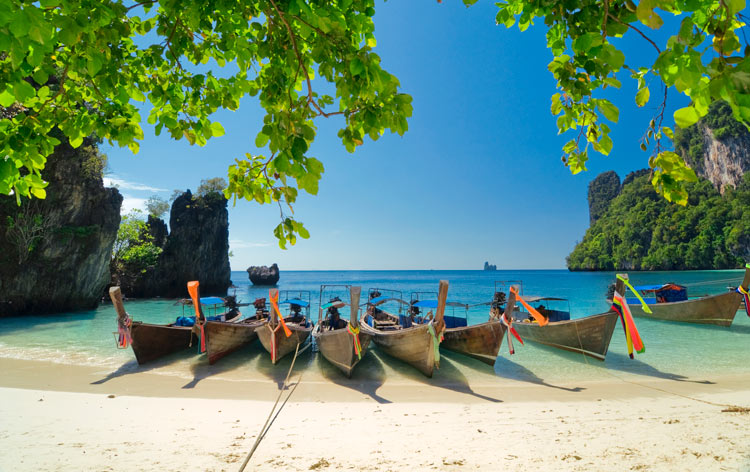 It may seem far away, but Thailand is easy to reach and offers a culturally diverse and exciting option for a sunny second home to escape the UK's winter months. It is also starting to become a popular destination for overseas property buyers.
Thailand is a popular property destination for celebrity sportsmen of the football kind, with David Beckham and Sven Goran Eriksson both owning homes on the island of Ko Samui.
Holiday home website Villarenters reports that in the last five years bookings there have grown sevenfold, earning it a place in their Top 10 destinations. They add that properties generating the highest level of occupancy tends to be those styled with a local flavour – people are looking for something that feels authentic.
So if you're tempted by somewhere exotic to escape to during the UK's long winter months, which could also earn you a bit of rental income, here's a selection of resorts and developments to consider.
Where to Buy Property in Thailand
On the Thai mainland, Pattaya is one of Asia's largest beach resorts and the second most visited city in Thailand (after Bangkok, 150 kilometres north). The typical buyer in Pattaya is changing; from single males, drawn by its nightlife, to more families. 
In particular those younger visitors are visiting Jomtien, a few kilometres away, and wanting to experience Pattaya's floating markets and other cultural experiences.Houses in Pattaya range in value from 2 million baht to 50 million baht.
A typical house 15 minutes from the city centre would be 3 million baht, in a gated community with a communal swimming pool. Apartments run from less than 1 million baht all the way up to penthouses in excess of 80 million baht. You can buy a very nice apartment close to the beach from 1.2 million baht.
Meanwhile, on the other side of the Gulf of Thailand, 200 kilometres from Bangkok, is the country's oldest beach resort, Hua Hin. Here, new residential and retail developments, as well as golf courses, are attracting an increasing number of buyers from Bangkok, as well as from Europe - and there's now a sizable community of expat Brits.
Forty-five minutes south of Hua Hin is the quiet beach village of Kuiburi where you can find boutique developments with access to the beach, private infinity pool, Jacuzzi and rooftop terrace.
Before you follow Posh and Becks to Koh Samui, with its choice of five-star resorts, consider its little sister, Koh Phangan. Given that 70 per cent of Koh Phangan is protected by national park status, the island should always maintain its unspoilt charm.
On the west coast, idyllic properties with infinity pools can be found in Baan Tai for 15 million baht and at Bay Residence, you could take on a self-build villa project near the pretty bay of Haad Salad with plots starting at around £50,000.
James Bond fans might prefer a home on the island of Yao Noi in Phang Nga Bay, famous as the setting for villain Scaramanga's hideaway in The Man with the Golden Gun.
With a larger budget, you could consider the natural eden of Yao Noi – 60 per cent of the island is covered in rainforest – where a one-bedroom villa will start at around £517,000; two- and three-bedroom options are available with prices reaching £800,000.
How to Buy Property in Thailand
Your solicitor will do most of the searches before you have to sign anything or pay any deposit - so ensure you take good legal advice if you're being asked to pay upfront. You will then pay a 10 per cent deposit.
The final contract is signed when all the legal documents are ready, and at the same time you pay all relevant fees and taxes, and the deeds are registered with the Land Department.
Buying Costs in Thailand
In general, buyers pay around two per cent transfer fees, one per cent legal fees and 0.5 per cent stamp duty. Buying through a Thai company means you have to pay business tax of 3.3 per cent and if buying land, a local development tax. 
Buyers Need to Know 
Under current Thai law foreigners are not allowed to purchase land freehold.
It is however, possible to purchase a straightforward 90-year leasehold contract which provides the option to convert to freehold at any time, either should the law change, or should you wish to set up a company to buy the freehold title.
This is the most common method that land is purchased in Thailand and a method fully endorsed by the Thai authorities.You will receive a 30-year lease with two subsequent renewal options, each of 30 years.
A registered lease is easy to set up and there is no restriction on foreign participation. The standard Thailand residential lease is for 30 years and can be held in your own name. A lease registered with the Land Office remains in force during the term of each 30-year lease.After 30 years a new lease must be prepared and filed at the Land Office.
Alternatively, you may convert the title to freehold. When you renew the lease there are no further payments to be made aside from a minimal local tax (approximately 1.1 per cent of the lease's value).
The only exception to this rule is if you have a large sum to invest - Thailand has already allowed investors investing 40 million baht to own up to one rai (1,600 sq. metres or 0.4 acres) of land in certain areas.