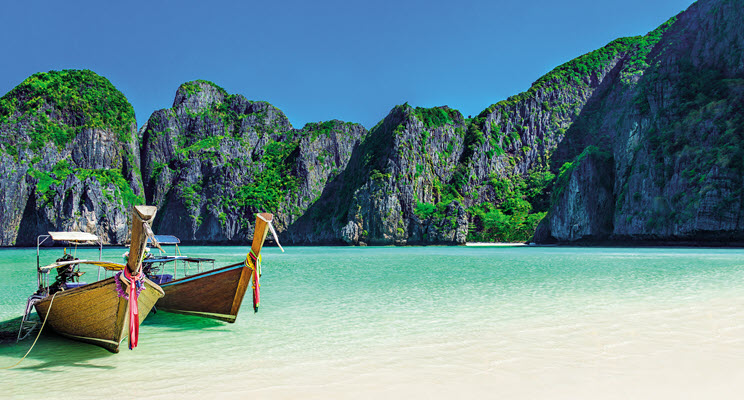 Why Thailand?
Over the centuries, travellers from Western Europe have been spellbound by the alluring cultures of the Far East. The ancient adventurers who arrived on the shores of Siam were instantly besotted, and there is ample evidence that a name change has done little to dampen the appeal of this remarkably captivating country.
In the 21st century, perhaps no Asian country has attracted holiday makers more than the Kingdom of Thailand. Visitors from Europe flock to The Land of Smiles in their millions, with nearly one million UK nationals visiting the Kingdom every year. Thailand's beaches, jungles, and even its cities continue to leave tourists mesmerised.
Western visitors experience a unique blend of oriental charm, ancient mystique and modern infrastructure, which casts a spell and leaves an indelible impression that keeps them coming back year after year.
With it lush jungles, incredible wildlife, hundreds of stunning beaches, smiling people and extraordinary culture Thailand really is a beguiling enigma for the millions of foreigners – there are nearly 1,500 islands and 2,000 miles of coast line to explore.
Improved accessibility
One of the key factors enticing holiday makers to fl y so far afield is the relative accessibility. Over the last two decades, the growth of large airport hubs in the Middle East has dramatically improved travel to Asia, making it a significantly cheaper and more convenient route.
With their excellent national airlines and state of the art airports, Dubai and Abu Dhabi (in the UAE), as well as Doha (Qatar) are three of the most important hubs for anyone travelling today from Europe (or even the east coast of the US) to Asia.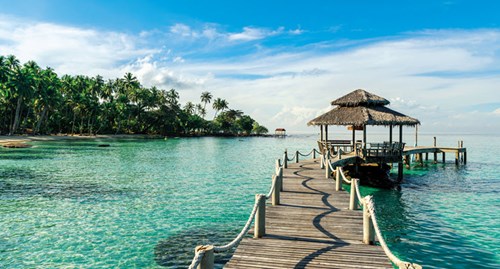 The attractions of Thai property
Because of the love affair so many Brits have with Thailand, it is inevitable that many have decided to buy property there, where the real estate market is seen to be one of the most buoyant in Asia.
Many British buyers have made solid investments and have profited greatly from the tourist boom Thailand experienced during the last 25 years. There are no signs of tourism slowing down in Thailand, quite the contrary. Tourist numbers are projected to climb well into the next decade.
As tourism continues to expand, especially in Phuket, the property sector seeing the greatest interest is branded hotel-managed condominiums.
These investment properties provide foreign buyers with titled freehold ownership, as well as attractive guaranteed returns, while allowing owners up to 30 days free stay in their unit every year.
A complex market: why you need sound advice
Although Thailand is a magnificent place for the discerning investor to own property, we are aware that not every buyer takes the time to understand the complexities of Thailand's real estate market and its laws.
You'd be surprised how many people buy property without really knowing what they are buying. Some foreigners are actively deceived, and end up buying properties we would classify as 'borderline' from a legal standpoint. In fact, some structures they are talked into could even be deemed 'illegal' in the eyes of the judges or the law courts.
Thai law states that foreigners are not allowed to own landed property (e.g. villas and houses) in Thailand, and it is now common knowledge that the authorities are becoming stricter in their enforcement of this 'no-go area' for foreigners.
That said, a good investment property in Phuket or elsewhere in Thailand – especially condominiums, which can be owned freehold by foreigners – can serve as a great income-generating asset, while offering the added benefit of future capital appreciation.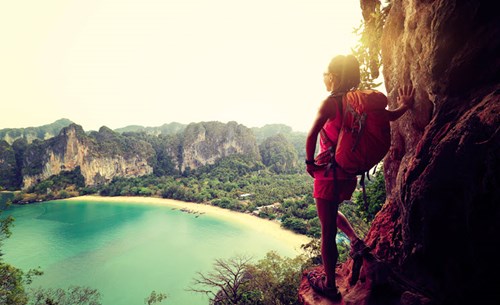 Low prices and low taxes
Compared to most similar holiday destinations, the prices in key tourist areas in Thailand are extremely attractive to foreign buyers. Investments in hotel licensed condominiums can start as low as £75,000, but for those seeking greater luxury, there are also spacious, grandiose condos available, albeit at much higher price tags.
Something else which distinguishes Thailand from the property markets in other holiday regions is low taxation.
In Spain, for example, the property transfer tax can be at least 8% of the value; in other countries that number is even higher. In Thailand, by contrast, the government fees and taxes are usually just a fraction over 3%, even on a new build.
The Thai authorities understand that these low-tax policies are beneficial to the country and its economy. They recognise that buyers are attracted by this low tax regime, not only on transfer, but also on rental income and even the capital gains earned when selling.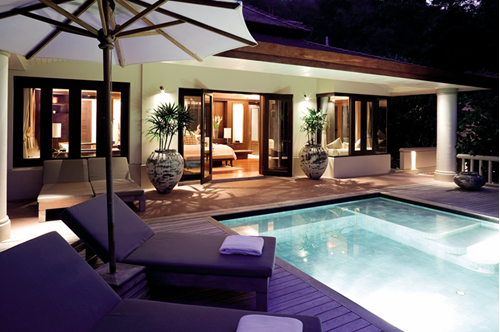 Condominiums - foreign freehold ownership
Freehold condominium ownership is the surest form of property ownership for foreigners in Thailand, and acquiring a Thai condo is a relatively clear-cut process. In fact, the ability of a foreigner to fully and legally own a condominium in Thailand is one of the great attractions for future investors and residents alike.
Thai law states that up to 49% of the unit area of a condominium complex may be foreign owned, which means a minimum of 51% in any condo development must be Thai owned.
In addition to their units, condo owners enjoy a 'fractional interest' in the building's common areas. Put simply, if your title represents 1% of the total unit area, then you also own 1% of the reception area, the gardens, gymnasium, swimming pool, and even the car park.
Any title should include the size of the condo unit, as well as the total size of the common area (specifying the percentage which is owned by the unit holder).
Knowing the percentage ownership is important for more than just record keeping because your voting interest in the owner's association is also determined by this fractional interest.
Permanent ownership until you decide to divest of your condo is a major selling point. The Condominium Act of 1979 aimed to offer foreigners the chance to own property freehold and improve the levels of foreign investment in the country. But the authorities also wanted to limit the number of foreigners who could own units at each individual condominium resort.
By limiting the number of foreign owners to 49% this has the desired effect of making sure that every condo development was majority owned by Thai nationals. But the underlying willingness and desire to attract foreign buyers remains strong.
In the 40 years since the Act was first passed, there have been numerous amendments aimed at providing further protection to buyers in order to further promote investment from overseas.
To qualify for condominium ownership in Thailand buyers must meet certain specific criteria, which for the vast majority of foreigners means transferring foreign currency into Thailand for the purchase. This transfer must be confirmed by a Foreign Exchange Transaction Form (FETF), issued in the name of the owner. The FETF is easily obtained from the Thai receiving bank once the monies have arrived in Thailand.
The receiving bank will record all names listed on the foreign bank instruction onto the FETF. All of the names listed on the FETF must then be recorded as owners (or rather, co-owners) of the condominium. By ensuring that the original transfer form lists the names of any potential beneficiaries, buyers can secure something akin to inheritance planning, should the principle foreign buyer pass away.
Ease of inheritance can also be accomplished by making the registered owner of the property an offshore company (e.g. in the British Virgin Islands). Because companies don't die, it ensures a clear succession, not least because the FETF will be issued in the company name, not an individual's name.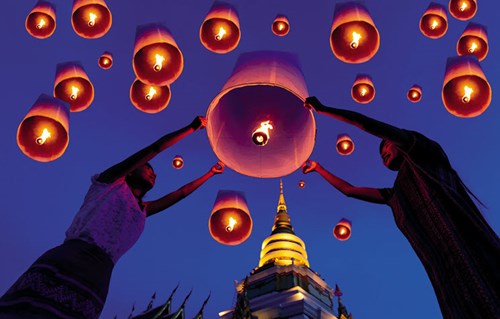 Good legal advice is paramount
When you undertake any transaction to buy or sell property in Thailand your first step should be to enlist the services of a respected Thai solicitor. It is impossible to stress this point enough, but it is positively dumbfounding when you look at the number of people who think they can handle this without professional counsel.
Anyone who has owned a home knows that there are many pitfalls for the buyer and seller, and the interests of both parties are protected by fair and equitable contracts agreed by both parties – or more commonly, by the solicitors of both parties.
But engaging a lawyer only to read the sale and purchase agreement is not what we mean by 'first step'. Phuket attracts buyers of investment properties from all over the world, some of whom will buy a property they have not seen, and it is possible they will not set eyes on their property for years after signing the contracts.
Because there are people happy to buy in this fashion, there are also agents who will attempt to exploit their general ignorance of the Thai property market. Which is why, if you are considering a property investment in Thailand, it is best to find a sound legal representative before you even begin to view any properties.
A knowledge of Thai law is obviously crucial, but there is so much more to look for in a lawyer. For example, whether the lawyer can explain Thai law to clients in the client's own language. The best lawyers are generally already fluent in English (and of course Thai), but if buyers from other countries require an additional language from their lawyers, they will probably be limited to seeking help from the only the larger firms.
While they will probably also charge the highest fees, it is not only their language skills you will be paying for. In most cases, the more prominent law offices also have additional resources at their disposal which you may not find from smaller firms. It is usually the larger firms that have the experience to deal with developers/sellers/ agents quickly and efficiently.
Most foreign buyers are professionals, many of whom are 'fly to buy' investors interested in wrapping up their Phuket property purchase as quickly as possible. For them, time is money, and their brief stay in Thailand must be as productive as possible. Once they identify their perfect property they want papers drawn up, and then they want their lawyers to handle it from there.
If a buyer wastes what little time they have viewing properties which – when they dig beneath the surface – carry unforeseen risks, both their time and their money will have been wasted. Solid legal advice from day one ensures their interests are protected. It also saves them time and money.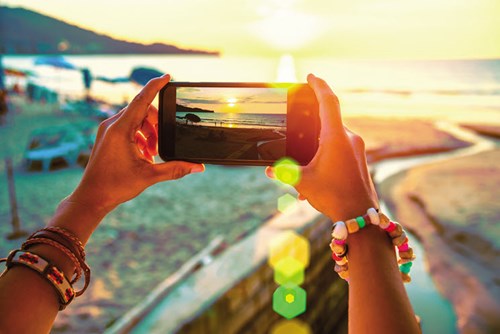 Do the due diligence
If you are new to the country, don't be surprised to find yourself totally enamoured with 'Amazing Thailand'. Nothing could ever go wrong in a country of such wonderful, smiling people. Could it?
Sadly, things can go wrong and from time to time they do, but this is also true elsewhere in the world. That is why every buyer must conduct due diligence to ensure the property is a viable and sound investment, and that the seller is legitimate and reputable.
Due diligence is where your lawyers earn their keep, and why it is vital that you engage good ones. For example, if you're buying directly from the developer, especially an off-plan purchase, you will want to ensure that the title deed for the plot of land is in the name of the actual development (e.g. the corporate entity, not the name of an individual).
And the land should most certainly not be titled in the name of an unrelated third party because he/she would have a legal right to sell the land whenever they desired.
A developer or their representative may claim that this kind of ownership structure made it easier to title the land, and that the development company will have this title transferred into their own name upon completion of the project, but this is a risk.
If the third-party owner – the true owner – got it in their head to sell the land, or to encumber the title by taking out a loan or a mortgage against it, this would have negative repercussions for all of the investors in that development. And should that third-party owner pass away before the promised title transfer into the name of the development company, the fate of your entire property investment lies with whomever inherits the title to the land.
This is why you and your lawyer should always ask for a copy of the Chanote land title for the entire development which can be requested from the authorities. The same information will be found on the individual unit title deed, but this is only issued upon completion of construction, so if the condo is being purchased off-plan this is not going to be available.
The full Chanote title is what you must see, as it will show any loans, liens, or mortgages against the property, and we already know why that information is critical.
There are a lot of investors in the world who are competent at managing their own share or unit trust portfolios. But it is safe to say very few of them would be equally competent at a Thai title search or Thai contract law.
Due diligence obviously extends beyond checking the veracity of the title deed, but if a property transaction in Thailand goes awry, it is almost always related to the title deed. A good lawyer will ensure everything is in order with the title, but that is usually only one box of many to be ticked.
If you are contemplating a property purchase, do yourself a favour: hire a competent Thai lawyer and ensure that everything is done right from day one.
Want to find out more?
We have touched on a few topics but only armed with all of the necessary information can buyers make a truly informed decision with no second-guessing.
This article has been provided by Thai Residential Co. Ltd, a Phuket-based, British-run real estate agency helping foreigners of all nationalities to purchase a property in paradise. The team has been providing advice to foreigners in Thailand for nearly 20 years.
This is a short version of highlights from The Thai Residential Phuket Property Guide, one of Thailand's most comprehensive buyer's guides. Available free of charge, and can be found online at: thairesidential.com/phuket-property-guide.