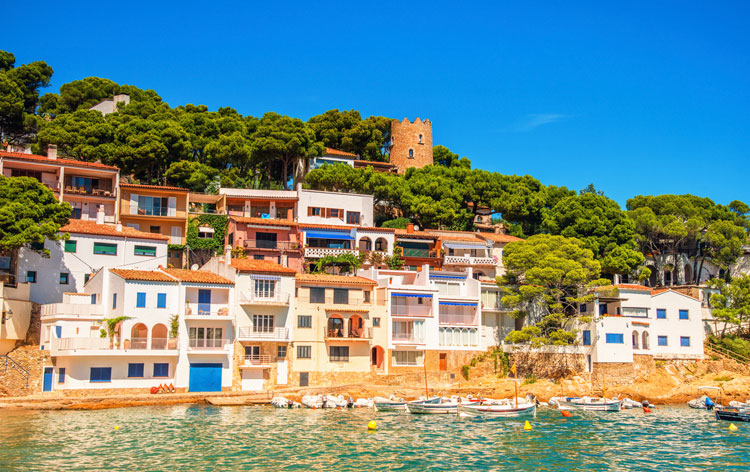 Updated in February 2016
Where the Pyrenees meets the Mediterranean you find Spain's most beautiful coastline. Pine-clad cliffs lead down to quiet little coves, unspoilt fishing villages and sandy beaches. Around each headland is another gorgeous view. This north-eastern region of Spain is seeing a surge in popularity, as it beefs up its reputation as Spain's foodies' paradise, home to the country's highest concentration of Michelin-starred chefs.
With buzzy Barcelona down the road it's idyllic, upmarket Spain that appeals to lovers of Mallorca or France's Languedoc region. Salvador Dalí did his bit to put the region on the map. Born in Figueres, the eccentric artist spent much of his life at his seaside home near the whitewashed town of Cadaqués.
Another huge plus for the Costa Brava is access, Girona Airport is the closest and within an hour from most resorts. But there are more UK flights into Barcelona, 1-2 hours away, depending on where you are. Driving from the UK is perfectly feasible too.
Where to Buy Property in the Costa Brava 
Prices didn't fall dramatically in this area as building has always been strictly controlled, and this is not really a region for those with less than €100k to spend – you can buy properties for this budget, but there just won't be as much choice as elsewhere – and certainly not all the cookie-cutter new-build apartments.
But there are two key buying areas – the most northerly section around the Bay of Roses, part of the Alt Empordà, and an area known as the Golden Triangle, part of the Baix Empordà.
The Bay of Roses 
Bordering the lunar-like Cap de Creus Natural Park at the northern end of the Bay of Roses, life in Roses centres around its sandy beaches, lively town and marina. The hotels that fringe a section of beachfront accommodate its all-inclusive holiday market, so second homeowners tend to head to quieter residential areas, including Canyelles Petites on the coast, or to a hillside community, such as El Grecs, Mas Fumats or Mas Boscà, which offer stunning views across the bay. Apartments starting from around €80,000, while villas can be anything from €300,000 to €1 million-plus.
Roses has its own waterfront community at Santa Margarida but next door to this is Europe's largest residential marina community, Empuriabrava, comprising 24 km of navigable canals lined with waterfront properties. 
A three-bedroom, three-storey 'fisherman' style house with a mooring, is around €330,000.  
In the Pyrenean foothills old farming villages such as Rabós, Palau-Saverdera or Sant Llorenc de la Muga are popular too, but many of the old character properties are sold by Catalans who don't like to advertise.
At the southern end of the Bay of Roses is L'Escala, an old fishing town centred around two bays with a newer residential district at Riells, home to a large beach and L'Escala's marina. A series of sandy coves and a shady walkway through the pines connect the town with the Empúries ruins and ancient village of Sant Martí d'Empúries. Round the headland to the south is Montgó Bay, where some of the area's most desirable villas drip down the hillside – the views alone can sell a property there.
A three-bedroom villa with private pool in Riells might be around €290,000, or in Montgó, a refurbished two-bedroom apartment might be circa €155,000.
The Golden Triangle
The Golden Triangle is formed of the medieval hilltop town of Pals, a few kilometres inland from the beach at Platja de Pals. Along with neighbouring - and equally pretty – Begur, Pals is popular with British buyers looking for a tucked-away villa or character home. The two golf courses are also a draw.
In this area, two-bed apartments start from €150,000 to €250,000 and villas from €250,000 to €500,000, but luxury cliff-side pads will be more.
Snaking southwards from Platja de Pals is a string of idyllic, picture postcard coves, including Sa Riera, Aiguafreda, Sa Tuna, Aiguablava, Tamariu and Llafranc, some not much more than a beach, others more developed with waterfront restaurants. Calella de Palafrugell, the unspoilt coastal resort linked to the town Palafrugell, is especially sought-after.
Apartments in this area typically start from €200,000, with the bulk of villas between €500,000 and €1million, and the most desirable cliff-side properties upwards of this. From here, the coastline opens up a bit with a collection of larger resorts south of Palamós
Other popular locations include Platja d'Aro, Calonge, S'Agaró, Santa Cristina.
Typical two-bedroom apartments in the Platja d'Aro area start from around €170,000. 
Also of note in this region, near Girona, is the PGA Catalunya Resort that combines a solid-gold name in golf (the course is voted the best in Spain) with a property developer with a stellar history — Denis O'Brien, who owns the Algarve's Quinta do Lago resort. The resort continues to evolve, adding sports and lifestyle amenities to its offerings, and you can get a new two-bed property for around €380,000.
Buyers Need to Know
Purchase process – as per Spain.
* ITP (purchase tax) on resale properties is 10 per cent in the region of Catalonia (Catalunya)
* Beware of licencing rules on short term (holiday) rentals, as some areas such as Barcelona, are implementing restrictions.