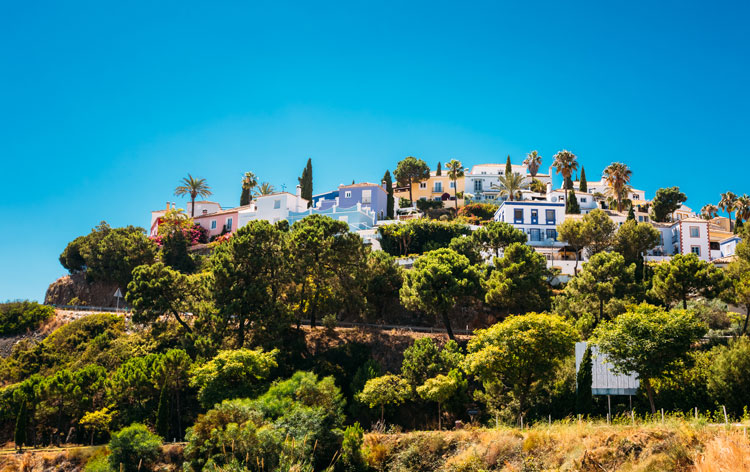 Updated in February 2016
Andalucía has a lot going for it. Whether you want to relax on glorious sandy beaches, commune with nature in gorgeous countryside, marvel at spectacular mountain ranges, or visit towns and cities with rich histories, cultures and cuisines. The meeting point of Europe and Africa, it has something for everyone, a fact not lost on the millions of tourists who visit each year. Or the thousands who decide to buy overseas properties there.
The second largest and southern of Spain's 17 autonomous communities in size, Andalucía also has the highest population – again, testament to the attractiveness of the climate, culture and lifestyle. The area of Andalucía is massive, so potential house hunters should narrow their searches to the provinces, regions, cities and towns before they start looking – here's a simple guide to get you started.
Where to Buy Property in Andalucia
Andalusia is divided into eight provinces: Almería, Cádiz, Córdoba, Granada, Huelva, Jaén, Málaga and Sevilla (the province and not the city of Sevilla which is, perhaps confusingly, Andalucía's capital).
These provinces then split into regions - each with their own specific landscapes and microclimates relating to their geographical locations. For example, the city of Marbella sits in the province of Málaga, which lies in the region of Andalusia. Provinces rather handily share the same names as their capital cities.
Almería
Almería province descends from the Sierra de Gádor Mountains joining 200km of exceptional coastline that borders the Cabo de Gata-Nijar Nature Reserve and boasts long sandy beaches lying on the shores of the Mediterranean. The diversity of the region's landscape makes it an attractive destination for property buyers, especially along the Costa de Almería. Big draw towns include its capital city Almería – famous for its well-preserved Moorish heritage, Mojácar and Vera. See our Almeria guide.
Cádiz
Andalucía's southernmost province, Cádiz has a diverse topography that includes countryside around Jerez de la Frontera, picturesque pueblos blancos (white villages) typical of the territory, and stunning coastline between Tarifa and Sanlúcar de Barrameda. 
It's got a cultural heritage that includes amongst other things a type of flamenco dance originated there – it has a lot to tempt overseas house buyers. Popular places include the city of Cádiz and Chiclana de la Frontera.
The coasts of Cádiz and neighbouring province Huelva are often lumped together and referred to as the Costa de la Luz - "coast of light". Facing the Atlantic Ocean, this region is known for its fine sand beaches and traditional way of life.
Huelva
Located in the west of Andalucía and bordering Portugal, Huelva province offers a variety of beautiful and delicate natural landscapes including those of the Sierra Morena mountain range and its Costa de la Luz encompassing shoreline. Popular destinations include the city of Huelva, the sleepy town of Palos de la Frontera - renowned for being the site where Christopher Columbus set off for America - and Aracena.
Córdoba
Situated in the central north of Andalucía, Córdoba is the capital of Muslim Spain and the province still bears traces of its Iberian, Roman and Muslim past. The land in Córdoba spreads between olive groves and grapevines bathed by the Guadalquivir River. Scattered with signature Andalucían white villages and distinguished towns with well-conserved Baroque architecture, Córdoba also incorporates the mountainous area of the Sierra Morena with its nature trails and varied wildlife.
The province's outstanding beauty, architectural heritage and renowned cuisine (a by-product of its rich agriculture) make it a strong choice for house hunters. Popular places include the city of Córdoba, the town of Priego de Córdoba and Almedinilla.
Granada
The province of Granada is one of the biggest tourist destinations in Andalucía. Located on the banks of the Mediterranean Sea in the heart of the Penibética mountain range, the province offers its visitors so much variety of experience across its coastal, river plain and mountain zones.
Mild and warm summers make it a great destination for beach holidays or for heading out to discover hidden villages in its Alpujarra region. And extremely cold winters make it an ideal place to ski in the stunning Sierra Nevada Mountains. Popular places to search for property here include the city of Granada - famous for its Arabian palace the Alhambra, and the municipality of Montefrío. 
Jaén
Located inland in the northeast of Andalucía, Jaén's large expanses of diverse countryside are dominated by the Moorish and Renaissance architecture and monuments of its cities and villages.
The province offers a landscape of imposing natural beauty, in which two thirds of the cultivable land is taken up by olive groves - Jaén is well renowned for its olive oil. Popular places to focus your overseas house searches include the city of Jaén – with its imposing Castillo de Santa Catalina, Martos and the village of Castillo de Locubín.
Málaga
Situated between the provinces of Granada and Cádiz in the south of the Mediterranean coast, Malaga province is the primary force in the Andalucían tourist industry. Ancient and cosmopolitan, coastal and forested, this beautifully varied province offers so many options for overseas property buyers.
Those favouring historical culture, nature reserves and impressive mountain vistas tend to opt for the beautiful town of Ronda, 100km west of the city of Malaga. Whilst those in search of places along Málaga's 160km of wonderful sun-soaked coastline, usually head to the province's Costa del Sol – choosing any one of its famously desirable centres like: Marbella, Puerto Banús, Mijas, Nerja, Estepona and Benalmádena.
Seville
The largest and most densely populated province in the autonomous community of Andalucía, Sevilla (Seville in English) boasts a diverse natural landscape with river banked and mountainous areas. Situated on the plain of the Guadalquivir River, its capital city Sevilla has a long history of being the commercial and cultural centre of southwestern Spain.
The city's mosaic of different historical influences (it has been under Arab, Jewish and Roman rule) has made it one of the most colourful and popular cities to visit in Spain. Popular search destinations include the capital city of Sevilla, Estepa and Aguadulce.
Buyers Need to Know
Buying costs: resales are subject to property transfer tax:
On the first €400,000 – 8 per cent
     
On €400,001 to €700,000 – 9 per cent
     
On €700,001 and above – 10 per cent