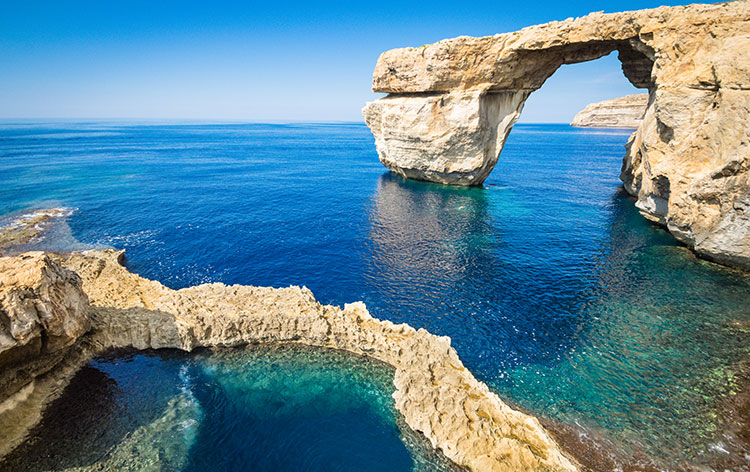 Where to Buy Property in Gozo
Certainly, Gozo's property market reflects different concerns than its larger neighbour. Malta's dense population necessitates a premium on space, while the more thinly populated Gozo means its house prices are more evenly balanced.
While property in the peripheral areas of Malta might not differ from Gozitan comparables, other districts (around Valletta and St. Julians for example) are popular with international buyers.
Purchases in Gozo tend to be purely lifestyle investments. Those with an eye on a healthy rental return here should research tourism hotspots before they buy.
Close to the harbour in the south-east of the island, the adaptation of Fort Chambray (Mgarr) typifies the often sensitive developments found across the two islands. Significantly, it is classed as a Special Designated Area, meaning foreign nationals are free to purchase as many properties here as they see fit.
Originally a large fortification built by the Knights of Malta, a series of villas, maisonettes and apartments now sit within its walls.
There are three phases of this development (the final phase being almost completed). A number of non-nationals have been attracted by this 'old medina' style development, with two and three-bed apartments going for €174,703 (£143,568) and upwards.
Fort Chambray is not the only development in this style in Mgarr. A separate urbanisation in the harbour village also offers attractive properties with modern-style maisonettes at €280,000 (£231,008).
Many Gozitan properties tend to be traditional in appearance, even if newly built. Villas and apartments are a familiar site around coastal areas (Xlendi, Mgarr and Marsalforn for example), while farmhouses (either in need of renovation or ready to move into) are popular throughout the island.
Whether you're keen on a secluded townhouse or central maisonette, Victoria offers a spectrum of property choices. Two-bed town houses, for example, are often sympathetically restored and tend to go for around the €250,000 (£205,970) mark.
Another area popular with foreign buyers is the north-eastern town of Marsalforn.
Largely quieter in the winter, the summer months see crowds of holiday makers enjoying this popular seaside resort. Recently built complexes typical of the area offer apartments on a budget. Gozo Prime Real Estate offers two and three bed apartments from as little as €77,000 (£63,392).
On the popular (and more tranquil) west side of the island, a glance at the village of San Lawrenz shows luxury farmhouses at the high-end of the market. Ready to move into (and designed with the original style in mind), you can expect to pay €600,000 for a typical five-bed farmhouse with a private pool.
Meanwhile, lower-budget farmhouses are available throughout the island - three-bed options start around €150,000.
Regardless of budget though, this unhurried island is a great option for those looking for the quiet life.