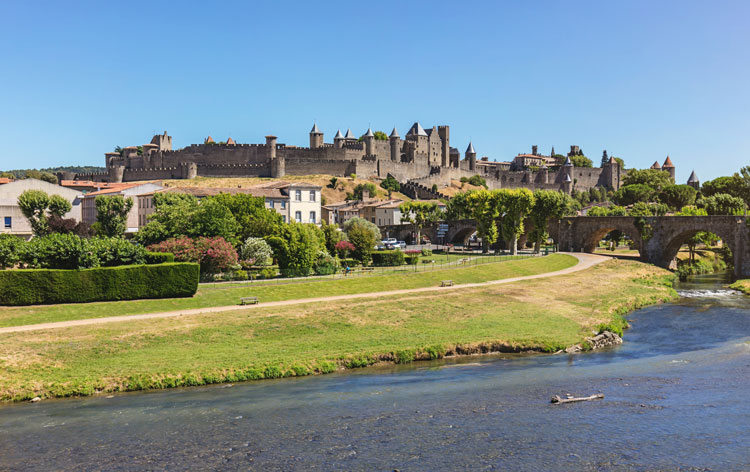 The Languedoc-Roussillon region of southern France has been steadily growing in popularity with overseas buyers. And why not? It's got the southern French climate, fabulous beaches, great wine and plenty of history. Whilst neighbouring Provence has been on the holiday home buyer's radar for around fifty years the Languedoc was always viewed as a bit wilder, a bit of the unknown, and sometimes "the real" France as Provence has become so international in recent years.
Yet it offers a lot more historical sites than Provence, is a hugely diverse region geographically, produces great wine, and offers stunning natural features such as the Camargue and the Canal du Midi.
Most importantly its property is also generally much more affordable than the hot spots of the Cote D'Azur or Provence.
The fastest growing city of France – Montpellier – is also an attraction there, along with the UNESCO World Heritage site of Carcassonne.
But it is impossible to generalize with the region as whilst it's very Catalan at the end that includes the Pyrenees, Mediterranean in the middle, and almost Alpine at its top end. Thus in property-buying terms it's best to divide it into its five parts: Lozere, Gard, Herault, Aude, Pyrenees Orientales.
Where to Buy Property in Languedoc-Roussillon
Lozere
The northern-most department of the Languedoc is also the least-populated and is generally made up of sleepy rural towns based around agriculture and plenty of activities for those in love with outdoors. In topography, it's got more in common with the Massif Central to its north, than the Mediterranean vibe of Herault or Gard or the exotic Catalan Pyrenees-Orientales.
It's got no coastline, no major cities and no wine-producing culture.
It's variously been described as resembling Switzerland, Scotland and Wales and is possibly the least popular department with British buyers, but that is reflected in the property prices: it is more affordable.
Although Mende is the regional hub, there are no real hotspots for buyers but for €100k you can buy a detached village house, or for €250k a fully renovated property with between four and six bedrooms.
Gard
South-east of Lozere is Gard, a wild area of dramatic gorges that shares a border with Provence, has a small tranche of coastline that offers the longest beach in the Languedoc: Espiguette. Its capital is Nimes (boasting a contemporary arts centre designed by Sir Norman Foster) and a reputation for bull-fighting, whilst Uzes is often viewed as the department's most beautiful and sophisticated town.
Given its right-hand neighbour, it is quite Provencal in feel and the Camargue is a natural marshland famed for flamingoes and wild horses.
Property hotspots are headed up with in and around the lovely Uzes where you will need around €400k for a nicely located three/four bed home – although can pay €1m to €2m for a spacious estate with pool and a nice piece of land.
The attractive village of Goudargues – known as Venice Gardoise for its attractive tree-lined waterways running through its centre – is also sought-after and similarly priced to Uzes.
Nimes is similarly priced, if less popular, and pretty Ales – handy for skiing in the Cevennes mountains to the north – has offerings from around €250k for a starter two/three bed home.
Herault
The most dynamic region of the Languedoc, with the buzzy capital of Montpellier, this area offers a beautifully unspoilt interior of vineyards and very pretty villages such as Roquebrun.
The major seaside resorts of Sete and Grande Motte are more popular with the French than holidaying Brits, but Beziers, Pezenas and Lodeve are mini hotspots.
Entry level for a house is around €300k, with a lot more choice for around €500k, yet a good number of wine domains and estate for above €600k.
Montpellier is sought-after but not cheap these days because of the healthy level of domestic and overseas demand. Expect to pay north of €600k for a quality four-bedroom house in a village/suburb to the north of the city, although you can get a small apartment for little more than €200k in some areas of the city.
Aude
The laid-back and genteel Aude is a land of gentle farmland and vines (home of Corbieres and Minervois) that is less rugged than Lozere and full of Cathar ruins.
Its coastline is not its strongpoint, rather the stunning Canal du Midi and the fortified town of Carcassonne; but this, and its other city, Narbonne, is relatively low-key.
Hotspots are these two cities, along with Artigues, Ginestas, Quillan and Minervois and your money generally goes a bit further here than in Herault and Gard.
For example, you could get a small townhouse that needs updating for €70k or a nicely renovated one for double that.
Pyrenees-Orientales
Owned by Spain until 1659, this department has a very Catalan bent, combined with the dramatic landscape of the Pyrenees and Cathar castles.
It's also generally more affordable for property than the Aude, Gard and Herault, and in Perpignan - once a bit rough around the edges but now a vibrant city – you can buy a two-bed apartment for €130k-160k, although you have more choice for €200k.
The most beautiful town is arguably the chic Collioure, a sort of French version of St Ives in Cornwall with its history of attracting famous artists.  Properties get snapped up when they come up for sale and you'll pay a premium, but you can buy a holiday complex apartment in the very French oriented coastal resorts around it - such as Canet - for €100k.