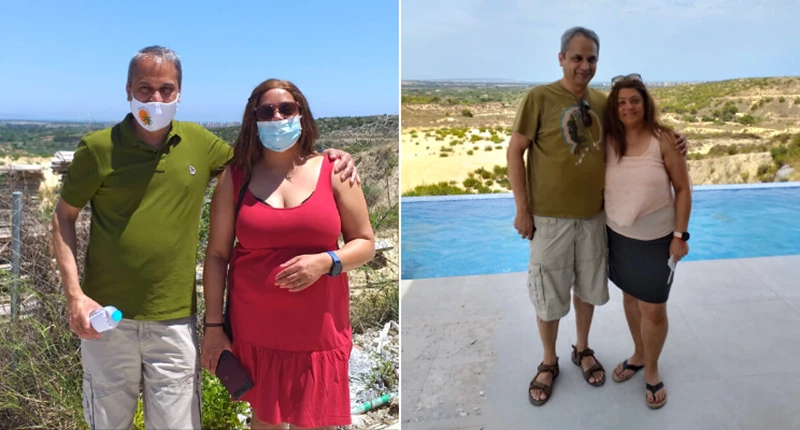 When browsing properties at A Place in the Sun Live at Birmingham's NEC in 2019, Nimisha Patel would have no idea that three years later she would be remote working in a not-quite-built Spanish villa whilst keeping an eye on the builders to complete. But our lives have taken many strange turns in the past 18 months and not all unhappy ones.
"I am sitting here, looking at the most amazing panoramic view of the Mediterranean rather than my home office in Pinner, North London," says Nimisha, 51, who works with her husband Dipen in IT. "I am staying out here for a month so I can monitor the finishing stages and chivvy along the contractors, which has not been easy with the language barrier," she says. 
But it's clear that buying a property in Spain has been an adventure – the sort of new challenge they were after. The couple had fallen in love with the country after holidaying there many times, and with the children (Anya and Dhru) off to university, it was time for a new chapter. "We had been working damn hard and we said let's buy a house," she says. The affordability of the Costa Blanca appealed because they wanted a villa to fit all the family, and when they visited Alicante at the end of 2019, they loved the area yet returned home empty-handed.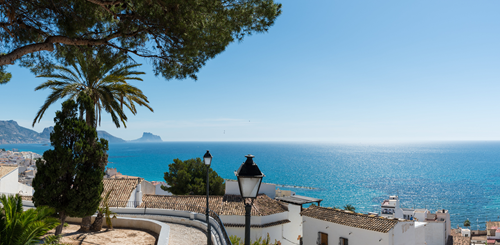 When the pandemic arrived and their search went online-only until they managed to fly out in September 2020 to look at a dozen more properties, including some in La Finca Golf resort in Algorfa. "We were just getting in the car to head home when my son Dhru suggested we had another look at the location we saw in 2019. Another plot was available yet being frontline it was €440,000 and double what we had planned to spend," says Nimisha. "But the view was just too good. Let's get a mortgage!" we thought.
She admits they hadn't realised that they couldn't get a mortgage on an off-plan property. "We panicked as we'd committed but we consolidated some funds from the UK properties we owned and decided to scrimp and save for a year!" She is also full of praise for the estate agent, Alan Dennett at Spanish Homes in the Sun, along with his wife Pauline, and colleague Jake. "If it hadn't been for Alan helping us all along, this journey would have been much harder."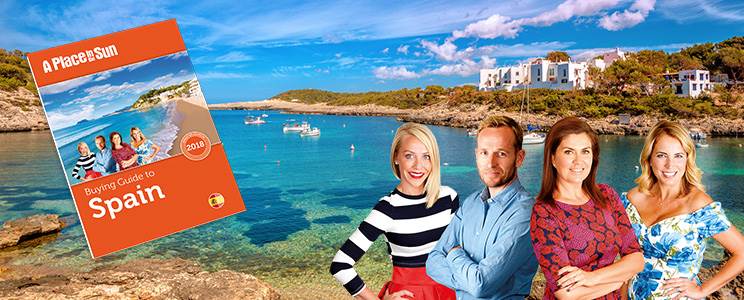 DOWNLOAD OUR SPANISH PROPERTY BUYING GUIDE
The contemporary style three-bedroom, three-bathroom villa sitting on a hill in Ciudad Quesada in the municipality of Rojales has a bar and American pool table on the middle floor, a 'basement as big as an ice rink' and a private infinity swimming pool overlooking the sea, mountains and mostly clear blue skies.
To check on the progress the family have been out three times during the pandemic, one time driving down from Madrid when they were forced to fly back from there. "Dhru (18) has never driven abroad but he did an amazing job when we realised our driving licenses had expired the night before travel," says Nimisha.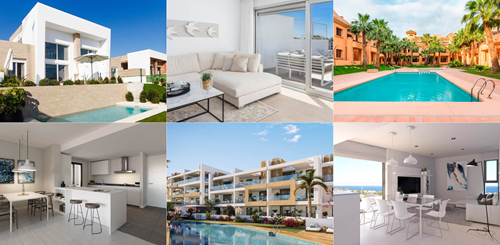 Explore new build properties IN SPAIN
The family will rent out the villa to help cover running costs but in the meantime there are those snagging issues. "The plan that the contractors showed us at the outset did not tally with what was built. We were expecting glass instead of brick in some walls so since then we have been checking really carefully what's been happening," she says. "I would advise that you don't pay the full amount until all the snagging issues have been sorted – and because it means they won't drag their feet so much."
She adds that she has had to translate each snagging resolution before it can be signed off which has also been an added challenge, along with the builders' propensity to leave a mess each time. "But the upside is that I have become good friends with the residents and those working at the villa have introduced me to some more people in the area, and my Spanish is improving!"
Search for properties in the Costa Blanca or read about buying a new-build home.