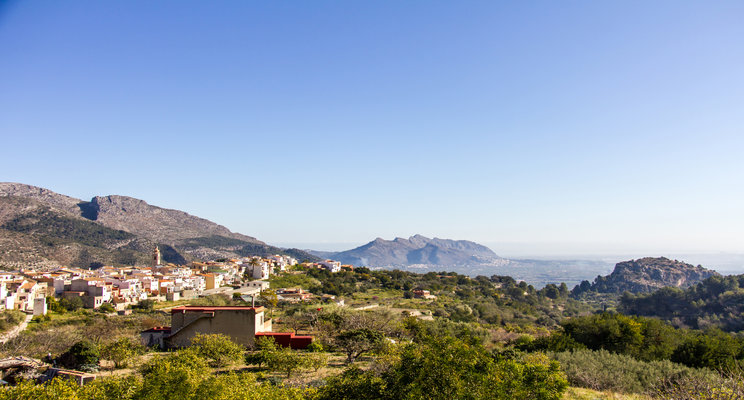 Where are they?
Located within the Valencian Community in the northern part of Spain's famous Costa Blanca, the Jalon and Orba Valleys are home to 14 quaint towns and villages, set against a backdrop of lush and beautiful scenery. Here, rustic streets radiate with an authentic Spanish vibe, traditions are upheld, and siestas are still considered to be an essential part of every day. This is country living at its best, offering gorgeous mountain views and stunning vineyards as far as the eye can see. Rub shoulders with friendly locals and stroll among the olive and citrus groves, knowing that the region's prettiest beaches are right on your doorstep. It's no wonder so many have been charmed by the area's consistently warm climate, slower pace of life, and all together less touristy vibe. If watching the sun set behind the mountains with a glass of vino tinto sounds like your idea of paradise, you're come to the right place. 'True Spain' awaits.
How do I get there?
Both valleys are located approximately 1hr 15 minutes away from Valencia and Alicante airports, and are accessible by car from the AP7 motorway. The short distance from the airport and frequent flights to the area means it couldn't be simpler to make the most of weekend or mini-breaks.
What is there to do?
The numerous towns and villages of the valleys are ripe with boutique shops, cosy bars, and tasty restaurants, not to mention rich with history (the Moors settled here for 500 years and their influence can be felt throughout). The bustling town of Jalon – with its famous blue-domed church, winding streets, and weekly flea market – remains a particular highlight.
Bike-lovers rejoice! The valleys are renowned for their stunning cycle paths, attracting keen cyclists who come year-round to make the most of the hairpin turns, fast mountain descents, and stunning almond blossoms during the springtime. Due to its many courses and resorts, the valleys are also known as a great destination for golfers. Hikers, meanwhile, can spend long days traversing the magnificent and geographically varied mountain trails.
Beach bums will find they are spoilt for choice: a whole range of sun-kissed Blue Flag beaches are located just 15-30 minutes from the valleys. After topping up a tan or going for a dip, visitors can walk the promenade in Calpe, a vibrant seaside town known for its iconic rock, wine and dine in the cosmopolitan port city of Denia with its ancient walls and hilltop castle, or drink a cocktail (or two) in the upmarket costal town of Moraira. Sports enthusiasts can also try their at hand kayaking, paddle-boarding, jet skiing, wind surfing, and horse riding.

DOWNLOAD YOUR SPANISH PROPERTY GUIDE HERE
Culinary pleasures and fabulous fiestas...
If there's one thing that the Jalon and Orba Valleys understand, it's wine. All throughout these valleys you'll find bodegas selling authentic wines of the region (you have to try the Mistela, a favourite amongst locals). Meanwhile, foodies can enjoy an authentic paella or gorge on tapas in one of the many traditional restaurants, or try a three-course 'menu of the day' with prices starting from as low as €9 (including a glass of wine). There are regular weekly markets, drawing people from all over the area, where it's possible to pick up fresh fruit and vegetables, and sample the local delicacies.
A number of traditional fiestas dedicated to various saints – considered to be the souls of the valley's villages – take place throughout the year and are celebrated fervently by locals, and thrive on a combination of three fundamental ideals: religion, social, and play. These notions come together without discrimination, providing the perfect opportunity to get acquainted with the country's ancient customs.
What type of property can I purchase there?
Properties in the Jalon and Orba Valleys come in all shapes and sizes, and there's certain to be something to suit everyone, whether it's a permanent residence or a property with rental potential. Prices for a villa or more traditional country finca start at around €180,000. Anyone looking to fully commit to the local life might also take an interest in a home with its own vineyard – available from around €300,000. Smaller living spaces, such as flats apartments and village townhouses, start at around €80,000, and are often in close vicinity to town centres and local amenities.