Rather than waiting to see what the final act of the Brexit saga brings, the Baxters have just moved to Spain. They have swapped their home in the foothills of the Cairngorms, in Perthshire, for one in the undulating hills of Andalucia and it has not come a moment too soon, according to Tracey, 55.
Search properties in andalucia
"A grey summer two years ago – following on from a grey winter – was the push that started our search for a sunnier home, but the disunity that has stemmed from the Scottish independence referendum [of 2014] made us decide to make the move a permanent one," she says.
"I am English and David is from Northern Ireland, and we found the Scottish nationalism streak quite nasty, even amongst people we knew. Plus the whole Brexit thing was rolling on and on."
The couple, who at the time of writing have been at their new home for six weeks, did not rush into anything. Their first step was buying a mobile home in Mollina, on the Pueblo Fiesta caravan park 45 minutes' drive inland from Malaga.
"We went there six times a year for two years and enjoyed getting to know the area," says Tracey. "We love Andalucia for the history but also the guaranteed sun; and property is much more affordable than in southern France."
With retirement from a private crematoria company looming for David, 65, the couple started looking for a suitable property for a full-time move. "We started looking online but it's quite misleading – you can see homes that are cheap but they might need lots spending on them.
"So we became full-time property hunters and visited in the summer to search ourselves. A friend recommended the agency Inland Andalucia, so we had some properties lined up to see through Paul Barnett there."
Their budget was €120,000 and they were seeking a three-bedroom/two-bathroom property with outside space.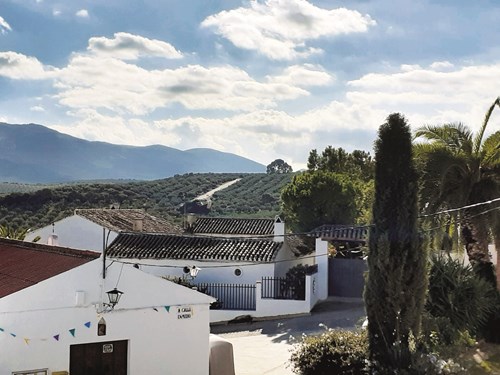 "We did not want the coast but mountains – we wanted Scotland with sun," says Tracey, which meant that their budget was feasible. "But it's quite tricky to find traditional village or town houses with outdoor space – it only tends to be larger properties that come with land.
She agrees that many British buyers want to be within walking distance of a bar or shop, but this was a compromise they had to make and they ended up finding a property 15 minutes away from such amenities, in El Poleo, a village of 33 people.
"It is so pretty, with views across the olives and towards the hills. It's an hour from Cordoba or Granada, and 90 minutes from Malaga and the coast."
Located in the centre of the village, the property is a townhouse and has the room quotas they sought. "It has an old marble staircase, with a beautiful tiled hallway that was done by the previous (English) owner, who it turns out is known to members of my family, which is a quirk of fate."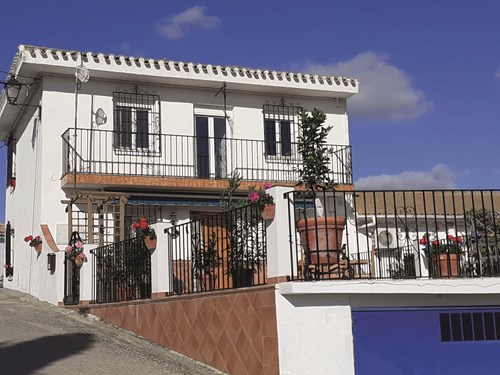 The property had been on the market for two years and had been reduced from €150,000 to €99,000, then to €89,000 and then to €85,000. Rural Spanish properties take much longer to sell than coastal ones due to the reduced pool of buyers.
"We put in a cheeky offer of €75,000, 'take it or leave it' and we got it," Tracey says. "It means we have some spare budget to sink a small swimming pool in the front terrace and build a nice covered terrace at the back."
They completed in September and put their mobile home and Scottish cottage up for sale.
"They both sold within 48 hours so we were homeless for six weeks," Tracey says. "But our new place is gradually becoming a home, having installed a wood burner for the cool winter nights and started Spanish lessons with the local mayor. We have sorted out our residency and feel very happy to be here."