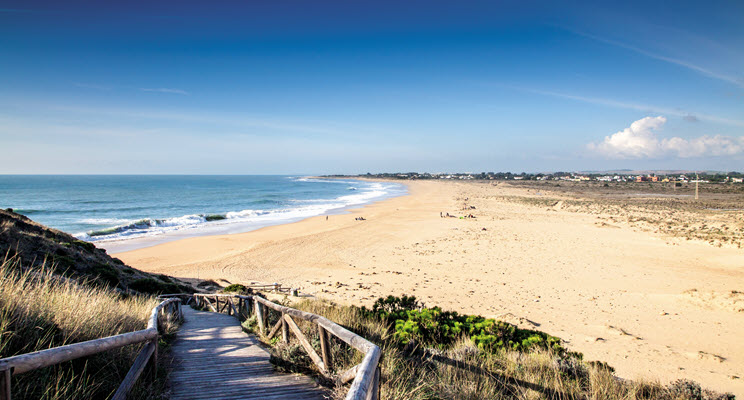 Living close to the border provides easy access to two cultures – some might say the best of both worlds. Southern Iberia offers a great climate but do you choose Portugal or Spain, asks Richard Way.
Why Eastern Algarve?
Low-key beach resorts, a traditional lifestyle and value for money are what attract British (and French) buyers to the easternmost corner of the Algarve.
It's somewhere Portuguese families from Lisbon and Porto like to holiday, without having to rub shoulders with the crowds of foreigners that fill the larger, more international resorts further west. 
"People who enjoy local culture, local food and paying local prices would benefit from the eastern Algarve," said Sarah Gonçalves at Algarve Manta Properties. "While the area has grown over the years, the ban on building high-rise apartments in the Ria Formosa nature reserve area has helped it retain a natural charm."
Angela Worrall at Ideal Homes Portugal added: "It's laid-back and less developed and the people buying there tend to be coming to live."
Faro airport is the main gateway to the area: it is 25 minutes from Tavira and 40 minutes from the bridge over the Guadiana river and the Spanish border.
Where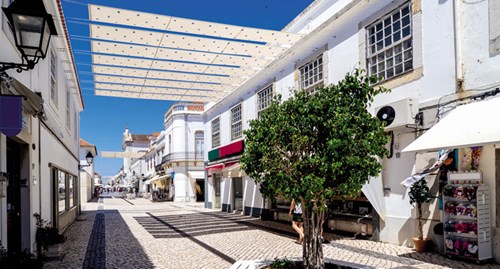 Vila Real de Santo António, located on the banks of the Guadiana, is a gem. "A traditional white town that's predominantly residential, it centres around a lovely big square," said Ms Worrall. "It's especially nice at Christmas when they have markets. And you can get the small ferry across the river to Ayamonte on the Spanish side. People don't realise how different the two countries are. As soon as you get over the border you know you're in Spain. It is nice to go just for a change. I often go across to enjoy different food and culture."
Given the easy access over the border, it's not unusual for boat owners in the Algarve to use marinas on the Spanish side, where mooring fees are typically cheaper.
Next to Vila Real is Monte Gordo, a small, touristy beach resort with a collection of complexes, but for more picturesque options head west a few kilometres. Part of the old town of Vila Nova de Cacela, Manta Rota is "a lovely beach village with 22 kilometres of direct access to Blue Flag beaches and good facilities, including restaurants," said Ms Gonçalves, who offers rental properties there.
"In the Tavira area, two lovely fishing villages are Cabanas and Santa Luzia, the latter being well known for its octopus dishes," said Ms Worrall. "Or closer to Olhão is Fuseta, one of few places in this area where you can walk straight on to a beach without having to get a boat across the lagoon. Of course, Tavira is a lovely old town, suited to year-round living."
Property
Your money still goes farther in the east than in the rest of the Algarve, but prices are catching up. Villas located five-to-ten minutes from the beach are especially popular with buyers relocating there, with prices starting from about €300,000. The equivalents further west might be €400,000.
For a two-bedroom apartment near to the beach, budget from €160,000 to €220,000, depending on whether it is a resale or a new-build. Townhouses are typically between €250,000 and €300,000, depending on location.
"We recently sold a townhouse for €275,000 to a Malaysian client, who bought with a mortgage," said Ms Worrall. "The property is in Cabanas and he plans to rent it out in the summer months and spend time there himself in the winter."
It's even better value in less touristy areas off the coast. "Just to the north of the EN125 main road, for example, in Vila Nova de Cacela, you can find apartments or villas for slightly lower prices," said Ms Gonçalves. "On average, it's €130,000€190,000 for two-bed apartments and between €200,000 and €500,000 for villas, depending on location and whether it comes with land or a pool."
Generally, the east is less developed with fewer large developments. There is demand for small, new complexes, though. "We've recently sold the last in a new villa complex and have a new project near Tavira in the pipeline," said Ms Worrall. Watch this space.
Rentals?
To let any property in Portugal to holidaymakers, by law it must have a rental licence (known as an alojamento local or AL). The eastern Algarve is no exception. To be granted an AL, properties must meet certain health and safety standards.
For maximum occupancy, buy as close to the beach as possible. "If you buy in one of the beach resorts, such as Manta Rota, Altura, Monte Gordo or Cabanas, you should expect good rentals from June to September," said Ms Gonçalves.
"If the property is well equipped for the winter, for example, it has wi-fi, access to foreign TV channels and air-con with a heating function then the out-of-season longer-term bookings are also good. Tavira is very popular for rentals at any time of the year."
Download our free guide to buying a property in Portugal

Why West Andalusia?
Fans of southern Spain who prefer quiet, family-friendly resorts, uncrowded beaches and not being surrounded by other Britons should set their sat-navs to the southwestern corner of Andalusia and the section of the Costa de la Luz (coast of light), where it meets the Portuguese border.
A far cry from the built-up beachfront and crowded expat communities of the Costa del Sol, Andalusia's most famous destination further east, Huelva province, the westernmost point of the region, runs as far as the border at the Guadiana river and is home to untouched expanses of sweeping white beaches and traditional white towns. Tourist development is limited and much of the area is protected natural wetlands, all of which helps to create a peaceful and authentically Spanish vibe. 
"Most of our clients are Spanish, coming from Madrid or Seville," said Miguel Martinez who heads up sales at the Isla Canela resort. "The rest are a mix of nationalities from across Europe, including British. More recently we've even started getting Portuguese buyers, from Porto and Lisbon, mainly because of the prices here: you can't get anything frontline like we offer for €170,000 in Portugal."
The easiest way to reach the western Costa de la Luz is to fly into Faro in Portugal. From there the transfer over the border is a 45-to-50-minute drive. Seville airport is a 1-hour 45-minute drive away and Gibraltar is about three hours away.
Where
Ayamonte is a charming old town with a marina, situated on the banks of the Guadiana opposite Vila Real de Santo António on the Portuguese side.
"People often pop over into Vila Real for the day or for lunch," said Mr Martinez. "Boat trips up the Guadiana river are also popular, as you can explore the pretty inland villages on both sides of the border."
Linked by a causeway to Ayamonte is the Costa de la Luz's most prominent resort, Isla Canela. Purpose-built and occupying a 1,700-hectare island, much of Isla Canela comprises protected salt marshes, while on its southerly ocean-facing side is a stunning seven-kilometre-long stretch of Blue Flag beaches. 
Highlights of the resort, still privately owned, include its own championship golf course with a four-star hotel, a marina with a selection of bars and commercial outlets, and an old fishing community, Punta del Moral, home to excellent restaurants. 
"Isla Canela is still predominantly a holiday destination, but we're attempting to change that and make it more residential," said Mr Martinez. "Part of this involves improving the amenities. Spanish people often come for weekends over the summer, while many foreign owners spend time here during the winter, preferring to rent out their place during the summer months."
Ayamonte's other tourist resort is Costa Esuri, a partially completed urbanisation 10 minutes up river on the Guadiana and 20 minutes from its nearest beach at Isla Canela. Moving east along the coast, another resort that combines golf and unspoilt sweeping beaches is Islantilla at La Antilla. Built among the 27 holes of the championship golf course, 500 metres off the seafront, are small complexes of apartments and townhouses, mostly owned by Spaniards.
Property
Property at Isla Canela is spread across a selection of frontline developments, typically with gated security, communal pools, landscaped gardens and tennis facilities. There are also individual villa plots, including around the golf course.
"Our latest development, which we launched in June, is Los Flamencos," said Mr Martinez. "Comprising around 120 apartments, all with sea views, off-plan prices for a two-bedroom unit start from €170,000."
Another recent, more upmarket development at Isla Canela is Ocean Homes, the first phase of which was completed this summer. "That's already sold out," said Mr Martinez. "Properties are still available for the second phase, due for completion in July 2020 and there is also a third phase planned for 2021. Two-bedrooms start at €220,000. Elsewhere, we are planning on developing three-bedroom villas on plots of around 500 square metres, but we are still confirming prices." 
Recent British clients at Isla Canela include a family from Nottingham who bought a three-bedroom penthouse in the first phase at Ocean Homes. They paid €710,000 and got the keys in July. Another family have bought a two-bedroom apartment in the second phase for €295,000. They live in Marbella and will use it as a second home.
Resale properties on older developments at Isla Canela are available through local agents in Ayamonte. Homes and Fincas has a selection of two and three-bed apartments there, typically priced from €130,000 to €160,000, depending on development and size.
At Costa Esuri, resale two-bed apartments start from around €90,000 and three-bed townhouses range from €120,000 to €170,000, with similar prices at Islantilla. 
Or, if you'd prefer to be more local, opt for a traditional townhome in Ayamonte, with three/four-beds available for about €150,000.
Rentals?
The summer high season is the busiest time for rentals at Isla Canela. "In July and August, you should expect a standard two-bedroom apartment to rent for €900 to €1,000 per week," said Mr Martinez. Holiday lets in Andalusia are regulated according to a regional law introduced in 2016. To let a property to holidaymakers legally, owners must register with Andalusia's tourist department or their local town hall and their property must have all its paperwork in order and meet specified health and safety requirements.
Find out more about purchasing a Spanish property with our free guide below