Christine and Michael Taylor from Doncaster, South Yorkshire picked up the keys to their two-bedroom apartment in Benalmadena on the Costa del Sol in May 2019. Below they share with us how A Place in the Sun found them their dream property whilst saving them thousands of pounds in the process.
Retirees Christine, 66 and Michael, 75, fell in love with the Costa del Sol region after holidaying there for over ten years, and always dreamt of owning a property in Spain. But it was only until recently that they decided to embark on their overseas property venture, following some unfortunate news back in 2013.
"At the age of 60, I was diagnosed with breast cancer which required me to undergo chemotherapy and other treatments for a year and a half. Thankfully I've now fully recovered, but naturally, this has made me view life very differently ever since", says Christine, a former nursing sister for the NHS.
Whilst Christine was receiving care for her condition, the south Yorkshire couple holidayed in a static caravan in Kirkby Lonsdale, Cumbria. This was also ideal for them both whilst they looked after their elderly parents, yet sometimes frustrating because of the UK's unpredictable summer weather.
But when the time came, and after 10 years of visiting Spain's Costa del Sol and watching countless episodes of the A Place in the Sun TV show, the Taylor's started their property search. This began by browsing through properties on aplaceintheun.com which put them in touch with the Spanish estate agent, Affinity Humberts, who were able to find them a range of suitable properties.
But what was their search criteria? "We were ideally looking for a two-bedroom, two-bathroom holiday home (apartment) in Benalmadena Pueblo", said Christine. "Somewhere for myself and Michael to enjoy all-year-round but also a property that our two daughters could use who are 42 and 38. We also knew that it would eventually be an investment for our future generations, too".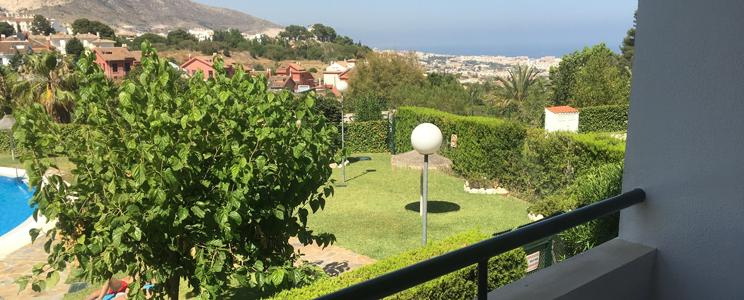 They decided on a complex apartment as they felt that it would be a much safer lock-up-and-leave option as opposed to a villa or townhouse. At the time they weren't too fussed about a communal swimming pool but they're now thankful that they have it at their disposal.
Despite Benalmadena Costa being widely adored by the British for its lively nightclubs and high-rise apartment blocks, the old part of town, Benalmadena Pueblo, offers more tranquillity with white-washed properties, old churches and sea views far enough away from the busy seafront.
"Fortunately, Warren from Affinity Humberts found us 10 properties in the old town that suited our needs and requirements. We opted to arrange our own flights and accommodation to Spain and viewed all 10 in one day which was a bit crazy. Our heads felt very fuzzy at the end of the day!".
It was 0/10 for the Taylors', who were unable to find a property that they could call a home from home. However, a day before they were due to fly back to the UK, they viewed an apartment that although needed a fair bit of renovation, they could picture themselves in.
"When we walked in I instantly disliked the furniture which was included in the asking price, and a wall had to be knocked down in between the dining room and kitchen, which we were willing to do".
"But what really sold it to me was the balcony (pictured above), which had fantastic views of the mountains, sea and swimming pool. I could just picture myself there drinking a glass of wine taking in all the scenery without a care in the world."
It had that much of an impact that they decided to submit an offer of €150,000 to the Spanish sellers when they returned to the UK, which was €22,000 shy of the asking price. This was initially rejected, however, after a week they changed their minds and accepted it on the one condition that the furniture couldn't remain there, which suited Christine perfectly.
So how was the buying process, I asked. "To be honest there weren't any hiccups, despite us not physically being over in Spain or speaking the local language. We handed the power of attorney over to our solicitor who ensured that everything ran smoothly, and all the legal aspects were taken care of. All the relevant documents were signed and then it was time to transfer the funds from Sterling to Euros, which is where A Place in the Sun came back into the fold.
Christine and Michael spoke to the A Place in the Sun Currency team who ensured that they could save money on their currency transfer with a forward contract, which would freeze the Pound-Euro rate to protect themselves against the volatile market at the time around Brexit negotiations.
"We spoke to Simon on the currency team who was very transparent with us throughout the process, which was important as they were handling a large chunk of our cash savings. We were thrilled though as we saved thousands of pounds on fees and on the preferential rate, which was 1.14 at the time. He was in constant communication with us until the transaction had been completed, and by the end, it felt like we knew him personally".
So, what now for Christine and Michael? Despite picking up the keys in May, they've only stayed in the apartment once in June whilst renovation work continued, but they plan to spend more of their summer in Benalmadena going forward. They've just welcomed the arrival of their first grandchild into the world, who they intend on making full use of the property as he grows up.
Concluding our chat, Christine mentioned how easy it was to commute to Benalmadena Pueblo from Malaga airport. "As I and Michael can't drive abroad that means we rely heavily on public transport, which I must say is very reliable. For €4.40 we can get a train and bus from the airport to our apartment via Fuengirola, as we receive a discount because we're retired".
Download our free Costa del Sol property guide below