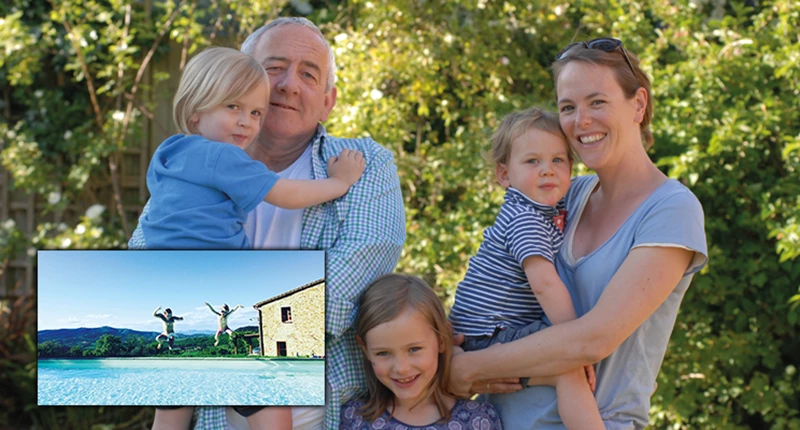 One family love their Italian holiday home so much it is difficult to leave, reports Cathy Hawker.
Amanda and Ian Cherry from west London own Po'Sabile, a special house in Umbria, central Italy. The 500-year-old stone farmhouse, 15 miles from Lake Trasimeno and 25 miles from Perugia airport, has been painstakingly renovated to combine rural flavour with contemporary style (pictured below). Downstairs a generous kitchen leads to a wonderful open-plan layout decorated with jewel-coloured fabrics, while upstairs five ensuite bedrooms look over the gardens and heated pool to an idyllic countryside.
It's all rather different to the couple's first view of the house. In 2006 while on honeymoon in Umbria and day-dreaming, they spotted Po' Sabile as a wreck in an estate agent's window. After some deliberation they bought it, paying about €450,000 with a far more favourable exchange rate than today. 
"Our friends and family thought we were mad because we couldn't really afford it," says Amanda, 41. "We had crazy ideas about doing a 'grand design' but didn't have the skill, money or nerve so the house sat there for seven years, a bit of a white elephant."
Amanda, a human resources director in the City, is no stranger to a challenge. In 2007 she was part of the Scion Sisterhood who became the first all-female dragon boat racing team to cross the English Channel, sharing training sessions with Kate Middleton. Rising to this project, she and Ian resolved to create a dream family home for their three children, Kitty, Zander and Charlie, aged 10, 7 and 5. 
"We were lucky enough to have a team of passionate, hard-working local artisan builders," says Amanda. "We spent a small fortune doing it up so I don't think we have made much money on it, but that was never the intention. Buying it was a decision of the heart and not the head, but the quality of the work speaks for itself."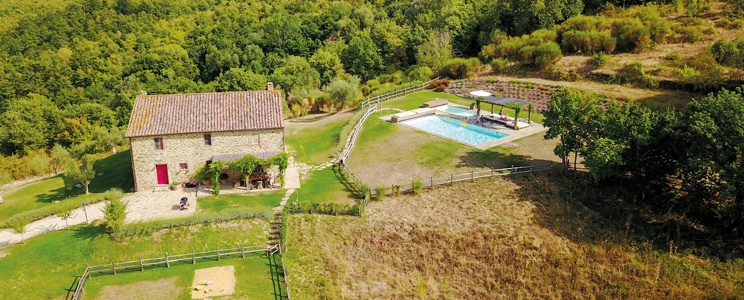 The work took 11 months and the finished house is beautiful and elegant with exposed stone walls, cotta floors and beamed ceilings. This is a house for groups of families and friends: child-friendly, hugely comfortable and contemporary. Amanda and Ian's delightfully quirky design includes an indoor soft-play room for young children and a smaller children's pool beside the large family one. No wonder the family rarely venture far from home.
"It's a terrible admission but Po' Sabile is such a treasure trove we leave it only when we have to," says Amanda. "We go hunting for porcospino [porcupines] in the woods, watch swifts diving and skimming the pool at dusk, pick apples in the hills behind the house, harvest almonds and read books.
"The opportunities for dolce far niente [sweet idleness] are endless – from floating around the pool to enjoying a large glass of local Orvieto classico after a leisurely lunch while watching the clouds roll by and the buzzards soaring over the villages below. The days hazily blend together."
Other articles you might like:
- A 2019 preview of the Italian property market
- Retiring to Italy from the UK - what to know
When friends visit they do head out, perhaps to the duomo [cathedral] in Orvieto or to the nearby water park. The local towns have many favourite restaurants – Amanda tips the fonduta di pecorino [cheese fondue] at Il Gallo nel Pozzo in Panicale and the Fiorentina steak with Norcia truffle sauce at Agriturismo Il Tiro in Bagnaia – and every Saturday they queue for Franco's porchetta van in Tavernelle. As their children get older they plan to spend time windsurfing, sailing and kitesurfing on Lake Trasimeno.
"Buying in Umbria was better value per square metre than Tuscany, but they are very different regions," Amanda says. "You'll pay through the nose for an ice cream or bowl of pasta in the central squares of Siena or Florence but still find great local restaurants in the back streets. Anyway, sitting in the square of a beautiful Italian hill-top town watching the world pass by may well be worth any price. It's probably cheaper and certainly more civilised than Disneyworld." 
Po' Sabile rents well. "We have  23 weeks booked this year, much better than the more usual 12 to 16 weeks other people get locally," says Amanda. "Rather stupidly we forgot to book time for ourselves over the summer, but it is often wonderful weather in April and October so we are happy going then instead."
Download our free essential guide to buying a property in Italy below