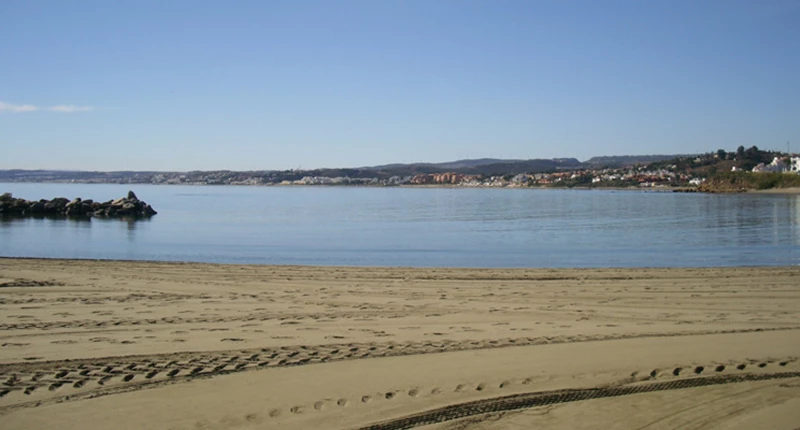 Cathy Hawker looks at an area of the Costa del Sol that has big ambitions and is almost certainly one to watch.
The town of Estepona is well known to value-hunting Brits looking for a home on the Costa del Sol, thanks to a tick-box of positive attributes. Like Marbella, Estepona has a beautiful natural setting with palm trees lining the waterfront, a port and a flower-bedecked Old Town with quaint narrow streets. But compared with Marbella, those beaches and restaurants are less crowded and the coast is less developed.
Estepona is twenty minutes west of Marbella and 15 minutes east of Sotogrande with airports at Malaga, one hour away, and Gibraltar, 40 minutes. The town faces the coast and is backed by the Sierra Bermeja mountains. Drive inland from Estepona for 40 minutes and these mountains provide excellent cycling and hiking paths in a National Park as well as giving distant views to Gibraltar and North Africa.
However, Estepona's greatest attribute could well be its current Mayor who has successfully steered the town through any planning issues. With a business-minded town council, he has demonstrated the value of a proactive and disciplined approach to local government, ensuring building licences are approved correctly and quickly, keeping the town clean and tidy with plenty of green areas and adding to Estepona's long-term ambitions to become a second Marbella.
The end result is that Estepona is booming and prices are rising. Significant international finance companies are investing heavily in the town, cranes are whirling, and super-sized posters advertise new projects. The current population of 70,000 looks set to increase as new homes are built, most aimed at international buyers who come with a budget of around €300,000. "The joy of the Costa del Sol is the variety it offers," says Marc Pritchard of Taylor Wimpey Spain.
"And what Estepona offers is a choice of property with good affordability in an area that's only twenty minutes from Marbella but is clearly cheaper and calmer. You get a lot of house for your money in Estepona."
Property prices can be between 50 and 70 per cent cheaper compared with glamorous Puerto Banús, one reason why Estepona regularly tops web portal Kyero's list of top destinations for British buyers in the region. Boat berths in Estepona's good quality marina are around half the price and so too, on average, is a round of golf: Estepona has six golf courses with a further five 15 minutes away in Sotogrande. Comparing prices of similar – though not identical – new-build three-bedroom townhouses Pritchard points out that one in Marbella would be €700,000, one at La Cala in Mijas is €435,000 and one at Green Golf Estepona is €299,000.
Download our free guide to buying a Costa del Sol property

"Estepona is currently undergoing a transformation and is noticeably different to how it was ten to 15 years ago," confirms Ira Brankovic of Lucas Fox, Savills associate in Spain. "There has been a significant upgrade in infrastructure, local facilities and the overall standard of bars and restaurants to cater to buyers of the new, exclusive properties. It now completes with San Pedro and Marbella Town in demand for property yet still has more competitively priced new properties in central locations."
Figures from MiMove Insights support this, showing that while the average price per square metre for sold properties in Estepona rose 9.4 per cent over the last two years, the town still remains second only to Malaga as the cheapest of the eight Costa del Sol resorts it analyses.
This value has encouraged British buyers to come for many years although they are now being joined by increasing numbers of Scandinavians, says Pritchard. And despite Estepona's very clear popularity with British buyers, it's easy to find authentic Spain. Grab a table at a port-side restaurant to feast on freshly caught fish or black-rice paella or wander the narrow streets of the Old Town where flowers in jaunty colours pop against the whitewashed houses and you'll feel immersed in true Spanish life.
How does this translate into house prices? Homes start from €299,000 at Green Golf Estepona, Taylor Wimpey Spain's project two miles from the beach on the west of Estepona. The project, the first homes due for completion in November 2019, will have 48 two-storey houses overlooking the golf course and facing south or south-west, all with three bedrooms. The first phase of 20 homes will also have private underground parking and all will have generous terraces and share communal gardens and pools.
These are modern, modular and minimalistic in style - what today's buyers want, according to Pritchard.
"The advantage of this area is how peaceful it is," he adds. "The coast can be noisy but at Green Golf Estepona there is no traffic noise while the good views are protected by the golf course in front."
Estepona Facts
Best beach?
Estepona has 17 beaches stretching across  13 miles. Playa de la Rada Beach in Estepona Town is the largest, liveliest, closest to the town centre and certainly one of the best, a Blue Flag winner for its cleanliness with a total of twelve chiringuitos, easy parking and children's play areas. 
My restaurant picks
Restaurante La Pampa, Calle Sevilla in Estepona Old Town is excellent value for money in a winning location. For a typical fish restaurant try Marisquería El Pescador at Avenida España on the Paseo Maritimo and for a blow the budget treat head to Restaurante Robbies at Calle Jubrique in the  Old Town.