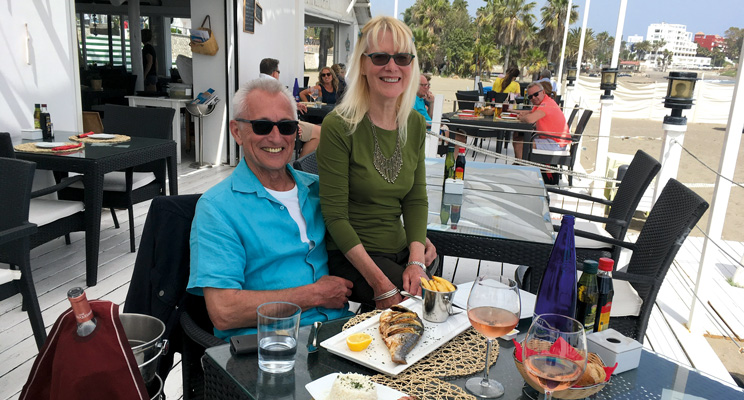 Richard Way meets a couple who have bought a three-bedroom apartment in Estepona, on the Costa del Sol.
Buying a bolt-hole in the Costa del Sol means John and Olwyn Stewart can start looking forward to warmer winters away from the chilly UK. The retired Devon couple got the keys to their three-bedroom apartment in Estepona in April. They first visited the property during a viewing trip a few months earlier, when they decided that it ticked all the right boxes as a second home.
"We chose southern Spain for the warmer climate," said John, 72, when he was back there in September. "Olwyn [aged 69] feels the cold a lot and hates the English winters, so that was one of the main reasons for buying there. We can pop over when things get chilly in the UK."
The Stewarts previously owned a property in France, an experience they drew on when buying abroad for a second time. "We had our French place for about 13 years," said  John. "After selling up three or four years ago, we started to miss not having a bolt-hole, so we decided to look at buying again somewhere warmer.
"Last year we got the ferry to Santander and did a driving tour of Spain, spending a month driving around Andalucia and up to Murcia. Estepona was the type of environment we'd be happy to live in."
Back in England, the Stewarts wasted no time contacting the Estepona-based agency The Spanish Estate Agent. They knew about them through their sister company in France, Beaux Villages Immobilier, who had impressed them when they sold their French property. The couple briefed their agent Chloe Williams on their precise requirements and soon after flew out on their successful viewing trip.
From the get-go, John and Olwyn had been clear about what they wanted from their Spanish apartment. "In France our property had been relatively rural and cut-off, meaning we had to drive everywhere," said John. "So, this time we didn't want to have to rely on a car – we wanted to be able to just walk out of the front door and have everything on our doorstep. Sure enough, our place is literally two minutes' walk to Estepona's port and three minutes to the beach. We're very central, with restaurants,  bars and shops all right there for us."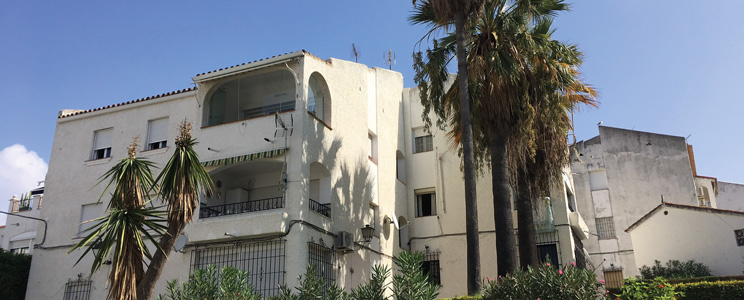 At the same time, they didn't want to be on a typical tourist complex or golf development, preferring to be somewhere with a more local Spanish feel. Their property is in a small block (above), one of about 18 that make up the Ronda en el Mar urbanisation, built in the 1970s supposedly to provide seaside homes for the inhabitants of the town of Ronda.
It also suited them that the property, which cost in the region of €160,000, came furnished, in excellent condition and not in a chain. "It was exactly what we wanted," said John. "We didn't want to move into somewhere and have to start decorating or doing work to it – we did all that in France and didn't want to go down that road again.
"The vendor was in the business of doing up properties, so he had just gutted and refurbished it. So, while the building might be old, the interior of our apartment is quite contemporary. The price included a new kitchen and air conditioning and a nice balcony area."
For the time being, the Stewarts will use their apartment as a second home, visiting for a few weeks at a time, especially in winter. Besides the beach, they enjoy exploring.
"Andalucia is an interesting part of the world," said John. "When we drove down in September, we stopped off in Segovia and Granada, and next week we're driving down to Cádiz and Jerez for a few days. When we came out in June, we flew into Seville and took the train across to Málaga. At Christmas, we plan to fly into Málaga and have a few days in the city. We try and see a little bit of Andalucia each time we're out here. It's not just a case of sitting on the beach all day. Plus, I don't play golf and can think of far better things to do."
John and Olwyn haven't ruled out moving to Spain, but understandably don't feel that the time is right to think about it. "We're not desperate to leave the UK," said John. "And while Brexit didn't put us off buying, right now we couldn't possibly make any decisions about moving out here because there's still too much uncertainty.
Download our free guide to buying a property on the Costa del Sol