Glimpsed from a plane window, the beaches of the Silver Coast persuaded one couple from Durham to buy a custom-built home there.
It was only after glancing out of a plane window and being wowed by the scenery thousands of feet below that Steve and Julie Pallister realised Portugal might, after all, have the perfect spot for their holiday home.
Sure enough, in April 2018 the couple were handed the keys to their new villa, located 50 minutes north of Lisbon on that same stretch of the Silver Coast they had flown over two years before. They had their dream property built from scratch by a local builder, at a total cost of €290,000, including the land.
"On that flght in 2016 we were on our way home from a wedding in the Algarve and we flew up the west coast of Portugal," remembers Julie, a professionally trained chef. "As we passed over we looked out the window and were struck by the beautiful beaches and unspoilt coastline below. We took photos and later worked out we'd flown over the Silver Coast. We already knew the Algarve from family holidays going back 30 years but till that point, we'd never been further north than Lisbon."
Back then the Pallisters, whose home is in Durham, had just begun looking at options for a new holiday home – before that the couple had owned on Turkey's Bodrum Peninsula for ten years, selling it in 2016 after deciding it was time for a change. The second time around, they had decided against the Algarve, preferring somewhere less touristy and where property and day-to-day living costs were more affordable. They had considered Tuscany in Italy, and while they found it beautiful, property there was either too expensive or in need of too much work.
After their aerial discovery of the Silver Coast, Steve and Julie got busy researching the local property market and it wasn't long before they flew out to do viewings with local agent Dylan Herholdt from Portugal Realty, basing themselves in the town of Caldas da Rainha.
"We had our eye on a new turn-key property that was part of a six-unit development near Óbidos," continued Steve, who works in the oil and gas industry. "But when we went to view it we discovered that the builder had plans to grow the development into a small urbanisation. As we wanted to be somewhere less built up, we ruled out that option. We were so impressed by the builder though, we asked if he would build us a house just like the ones on the development if we found a suitable, more secluded plot to put it on, which he agreed to do.
The agent Dylan immediately began scouting around and before the Pallisters returned to the UK, he had found them their perfect 600m2 plot, located in a hamlet called Venda Nova.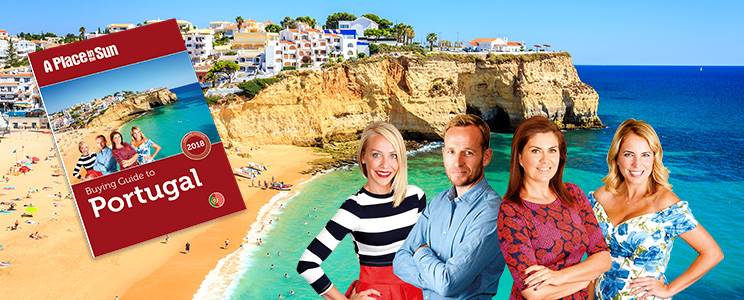 download your free Portugal buying guide here
"There are only about 10 houses there and it feels nice and rural," added Steve. "But we're only 2.5km – or six minutes in the car – from São Martinho do Porto. And the long sandy beach at Salgado is just a 15-minute walk."
They then sat down with the builder and agreed on a price to build their three-bedroom house. They also asked for the car-port to be converted into an extra fourth bedroom with en-suite.
"The entire project, including the 7 x 3.5-metre swimming pool, kitchen, two bathrooms, all white goods, perimeter walls and car-port conversion worked out at around €230,000, or €1,500 per m2.
That includes some upgrades and extras that we opted for, such as tiles, the kitchen fittings, underfloor heating in the bathrooms, a chimney for a wood burner and a pre-installation for air conditioning. We bought the plot separately for circa €60,000. Really, the only thing we've had to buy is furniture."
The builder broke ground in early 2017 and the project took around 16 months to finish."We have a great relationship with our builder, as well as our legal representative," said Steve. "Having just done major building work on our UK home, we can say things are certainly less stressful in Portugal. The workmanship of our builder has been top quality too." 
It seems the couple were destined to look out that plane window two years ago and fall in love with the Silver Coast. "It's slow, peaceful lifestyle is just we wanted," said Julie. "It reminds us of how Britain used to be. The beaches are unspoilt and there are lovely old towns nearby like Caldas Rainha, São Martinho do Porto and Óbidos.
"It's less touristy and more cultural than the Algarve, plus your money goes a lot further here, both in terms of property and day-to-day living. You can still have lunch, beer included, in a local place here for around €5, and the food is always fresh, especially the fish and fruit and veg."
Steve's work takes him abroad a lot but also means he gets long stints off, which is ideal for making regular trips out to Portugal. The couple have a busy few months ahead with children, grandchildren and friends planning visits to the villa – and who could blame them wanting to share their new holiday home!