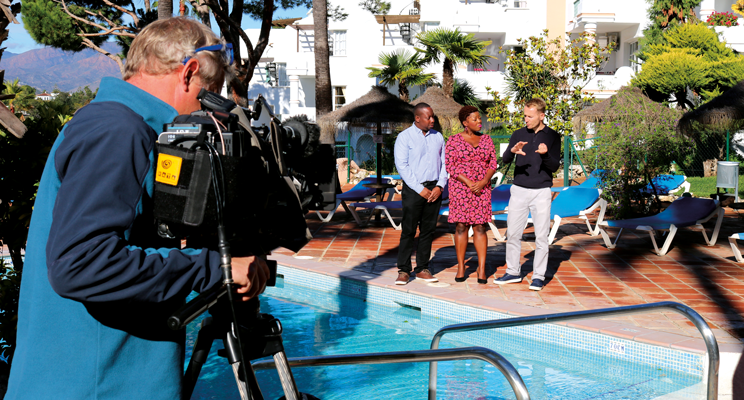 What goes on behind the scenes of a TV shoot when the cameras aren't rolling? James Tee swaps his London PC for the Mijas Costa.
A Place in the Sun TV show has been inspiring and educating hopeful overseas property owners in the UK for more than 18 years and has an impressive success rate of uniting Brits with their dream place abroad.
But as you sit back on the sofa (with a touch of envy?) watching Jonnie or Jasmine adeptly showing another pair of property hunters around a surprisingly affordable property, have you ever wondered what goes on behind the scenes?
Managing digital content on aplaceinthesun.com I had an inkling of the sort of logistics, planning and legwork involved in creating the TV series, but I wanted to see for myself. 
So in October, I joined our property hunters, Maureen, 36 and Richard, 41, from Walsall in the West Midlands, for their TV debut on the Costa del Sol. They were looking for a two-bedroom holiday apartment on Mijas Costa for £130,000 with a little bit of help from Jonnie Irwin.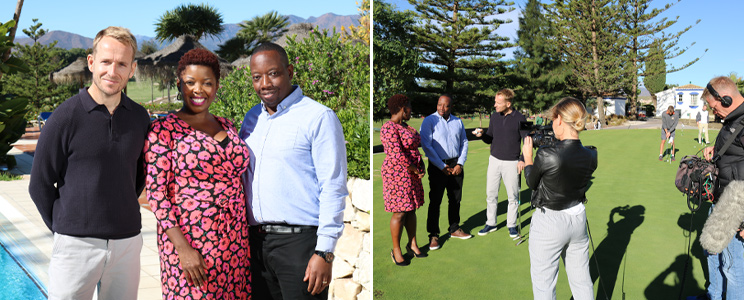 "Mijas Costa ticks all the boxes for us – great food, lively culture, proximity to Málaga airport and properties that cater to our tastes," said the couple, who brought along their daughter and Maureen's mother for support.
It turns out that the couple's call-up came about much earlier than expected. They took a screen test at A Place in the Sun Live! in Birmingham in late September and two days later received a phone call asking if they could fly over to Spain to film. Lucky they were able to drop everything and go.
I joined Richard and Maureen at the fifth and final property of the selection, situated in a popular golf resort.
"So far it's been great. When we arrived on Sunday evening we were taken out for drinks by Jonnie and the crew who ran through what to expect, which instantly made us feel relaxed," said Richard. "I was a bit nervous about filming because I'm quite camera-shy. Using the correct body language on camera was the hardest part to grasp, but now we're pretty used to it."
Some people might think that going on the show is an excuse for a free holiday, but this is far from the truth, according to Maureen. "It's a full five-day schedule where you're out the door at 9am sharp every morning and can be quite hectic when things are out of your control, like the weather. It rained a lot yesterday, so we had to get everything wrapped up asap before the heavens opened! Feeling like you might get blown off the balcony of a property wasn't part of the script."

After that, the couple were glad to have the afternoon off to consider their options before the final-decision chat on the Friday.
When I got some time to chat with the crew, I learnt about the hard work that goes on to create the series, with four episodes often being shot back to back in different countries.
It also takes two weeks of extensive research by the team at Freeform Productions to source suitable properties for the house hunters – one in their office in Hertfordshire and the other on location.
Maureen and Richard, like all the guests of the show, weren't given any information about the featured properties until they literally walked through the front doors, so what you see on screen is 100 per cent genuine.
Jonas, the cameraman, told me that it takes between four and five days to film an episode, with at least three hours allocated to each property and additional time filming on the complexes and in nearby towns. Locations for the chats have to be selected, in this case, a luxurious hotel overlooking the coastline.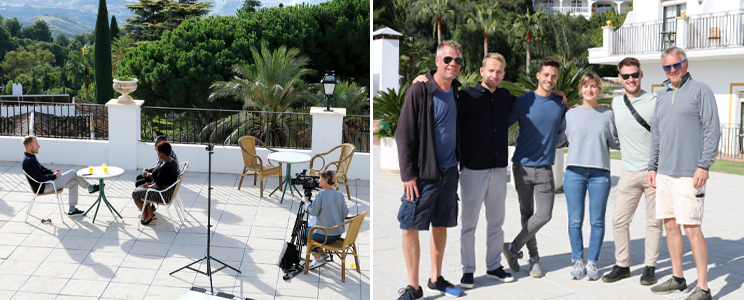 Over tapas in Fuengirola, I caught up with the show's longest-serving male presenter, Jonnie Irwin, and asked him if the show had changed over the years.  "I guess we now focus on more affordable budgets and try to portray more about the house hunters' backstories and why they're looking to buy outside the UK. The show has to remain aspirational but also, most importantly, achievable."
His ideal type of property hunter is someone who wants to buy something. People often ask us: 'What type of people are you looking for?' Or sometimes people claim that they're not quite the right fit for the show, which I completely disagree with. We're looking for people with serious intentions of buying from  all walks of life and in all different shapes and sizes."
You're probably wondering whether Maureen and Richard found that all-important property. I'm afraid we can't reveal that until the show goes on air.  So stay tuned...
If you want to make your dream of owning a place in the sun a reality, the TV show is recruiting now for house hunters, especially those wanting to move to the Costa del Sol and the Canary Islands.

To apply please visit the website aplaceinthesun.com/tv-show/appear-on-the-tv-show or email [email protected]