Large holiday resorts are scarce on Spain's most northern Costa, where prices tend to be higher for property hunters. But here local homeowner Richard Way provides a taste of the Spanish region.
Overlooking the Bay of Roses, it wasn't just the striking natural scenery, romantic historical setting and superb amenities that attracted the high-profile couple. They worked out that the surrounding pine woods created some welcome privacy and helped protect their exclusive party from the prying paps.
It's what you need when your guest list includes one of the world's richest men and a list of international VIPs said to have included the Obamas, Will Smith, Beyoncé and Salma Hayek.
The local Catalan food would have been another draw for Kimbal, himself a restaurateur with a passion for sustainable farm-to-table cuisine. Hostel Empúries, which formed part of the wedding 'campus' and accommodated some of the guests, champions locally and own-produced organic products – Kimbal discovered this during a discreet stay there a few years back.
For property-hunters with a similar taste for the Costa Brava, here's a pick of some exciting buying spots.
Cadaqués and the Bay of Roses
Picture-postcard Cadaqués, nestled in a bay and surrounded by the dramatic landscape of the Cap Creus natural park, combines exclusivity with an arty-boho feel. Surreal artist Salvador Dalí, a local boy born in Figueres, lived much of his life in neighbouring Port Lligat. Consequently, if you fancy a character home in the centre, be prepared to put up with crowds of tourists, especially in the summer.
"Cadaqués, very close to Barcelona and France, is one of the most famous towns on the Costa Brava," said Frank Stefes at Engel & Völkers Cadaqués. "Prices of luxury homes range between €1.5million and €3million. The most requested apartments are priced between €400,000 and €600,000 and the first beach-line is also most sought-after by both Spanish and foreign buyers.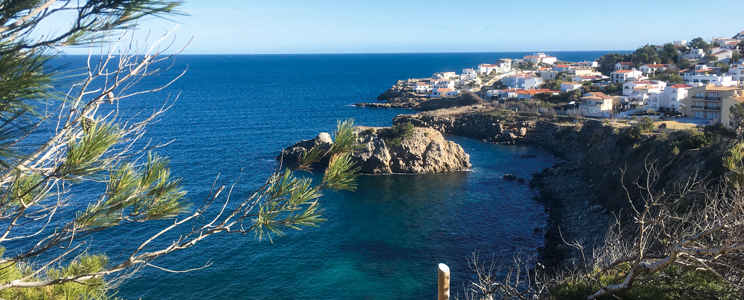 Following the rugged coast south to the Bay of Roses brings you to Roses, a larger, more developed destination. With its large beach, busy seafront, water park, marina and nearby sky-diving at the marina community of Empuriabrava, it's especially attractive to families and active types. Quieter residential areas away from the town include the mountain of Puig Rom on the edge of the town or the hillside communities of Mas Fumats or Mas Boscà a short drive inland.
"With south orientation, Roses is popular with buyers and foreigners because it offers many activities all year round," commented Francesc Prats Viñas, Managing Partner of Engel & Völkers Roses. "The main buying areas are Canyelles beach and Almadrava beach, but also the mountain of Puig Rom. Another important area is Santa Margarita Marina, with private harbours and houses with private boat moorings. Prices range from approximately €2,000 to €5,000m2, depending on proximity to the sea.
Directly across the Bay of Roses is L'Escala, which includes the community of Sant Martí d'Empúries. Sant Martí itself is a small community, where its historical status restricts development and means property there rarely becomes available.
In L'Escala, the charming old town focuses around two bays and the traditional village houses there belong predominantly to locals. Most foreigners purchase in the newer more seasonal area of Riells, home to a large beach, lively strip and the town's marina. Most of the area's most desirable properties are at the southern perimeter of town, on a headland overlooking the bay of Montgó and across to a natural park.
The Begur, the better! 
The rugged coastline after which the Costa Brava is named is most impressive between Begur, considered the region's jewel in the crown, and Palamós. Here, pine-clad headlands shelter a string of cosy resorts set around small sandy coves, where impressive villas built into the hillside look directly over the sea.
Sought-after spots include Sa Riera, D'Aiguafreda, Sa Tuna, Aiguablava, Tamariu, Llafranc and Calella de Palafrugell. If immediate access to the beach isn't a priority, the olive-carpeted countryside around Begur and Pals, both bijou medieval towns just five minutes inland, is dotted with detached villas. "Detached villas with a sea view are what everyone would like but for that, you're looking at €500,000-plus," said Louisa Grundon at Property Care International (PCI), which covers from just north of Begur down to Calonge.
Ms Grundon's recent sales to Britons include a two-bedroom apartment for €130,000 in Pals and a three-bedroom house in Tamariu for €600,000. 
Unsure on how to buy a property in Spain? Download our free guide below!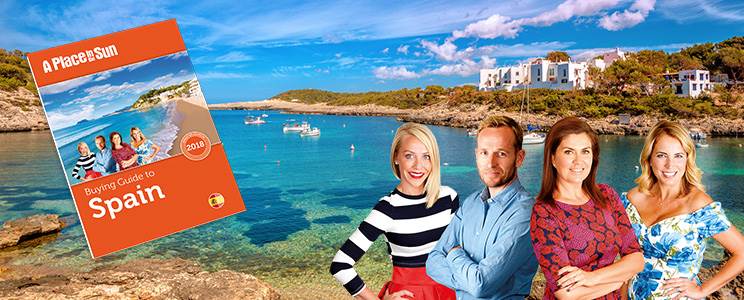 DOWNLOAD OUR FREE GUIDE TO BUYING A PROPERTY IN SPAIN
She highlights that the area is very international and because different nationalities prefer to visit at different times of the year, communities never tend to get too busy with some owners preferring to visit in the quieter months. "Our typical clients are in their forties or older, and tend to be families," she said. "Most of them holiday here for a number of years before deciding to buy, so they know the area very well. There are very few impulse purchases here."
Another local agent Francesco Aloisi at Inmo Aloisi, who recently sold a two-bedroom seafront apartment with communal pool for €250,000, notes that while the most requested properties in the Begur-Pals area are front-line to the sea, a renovated old farmhouse (known as  a 'mas') located just inland can be even more exclusive because of the privacy it offers.
Mr Aloisi highlights that the market isn't just resales, with plots for self-build also popular – if pricey. However, Inmo Aloisi, which manages build projects for clients, recently launched an unusually affordable option.
"Projects on large plots with large five-bedroom villas are often worth €2million-plus in the Begur area," said Mr Aloisi. "But we are managing a new project called Mas Mato that comprises five plots, each with permission for a quality four-bedroom three-bathroom split-level villa.
Total price for a plot and construction is €920,000, excluding any taxes and furniture, although we are prepared to negotiate a discount or the inclusion of extras with the first sale. The plots are in an elevated position with sea views, 15 minutes' walk from Begur town and a similar distance from the beach at Sa Riera. The rear elevations with the living/kitchen areas and infinity pools are south-facing so will get sun all day." The payment structure for buyers at Mas Mato will include up to nine stage payments, depending on the contract. The builder can only draw the next payment, which are bank guaranteed, once the preceding build stage has been signed off by the approved architect. "For potential tax savings, we offer the option to defer the initial payment of the plot with a bank guarantee," added Mr Aloisi.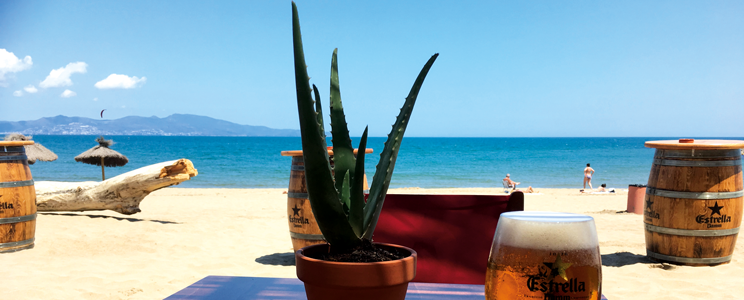 "No construction is allowed during the three summer months here, so build time is estimated at a year to 18 months, depending on start time. With projects like this, we provide clients will regular fortnightly updates."
Calonge and Lloret
Further south near Palamós is Calonge, another medieval town just inland and with small communities popular with Brits. Its beach area a couple of kilometres away is Sant Antoni de Calonge and predominantly high-rise apartment blocks.
"We tend to sell more in the hilltop communities around Calonge town, such as Mas Pere or Mas Ambros," said Ms Grundon at PCI. "Properties here are all villas, most with sea views, and used as second homes or owned by expats. Prices start at around €300,000." 
Closer still to Barcelona is Lloret de Mar, the Costa Brava's largest holiday resort which helped put the north-east of Spain on the tourism map in the 1960s. These days, away from the hotels and busy seafront, the hills around the resort are dotted with luxury villas with to-die-for sea views.