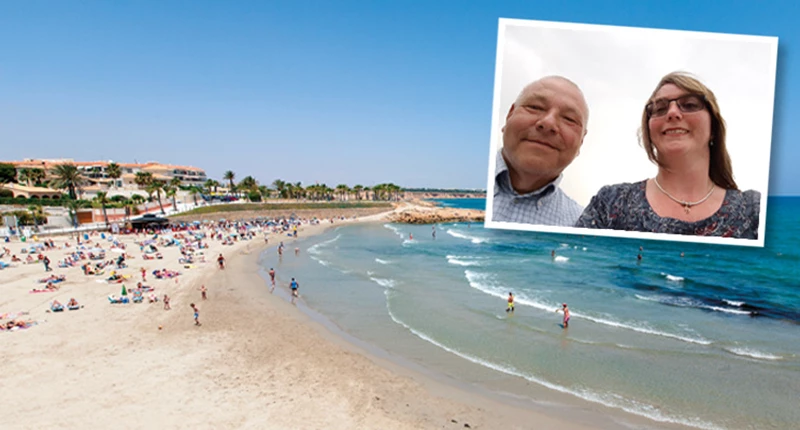 Richard Way meets a couple who chose to buy in Playa Flamenca on the Costa Blanca despite uncertainty over Brexit.
Pete and Claire Janysz were especially pleased to complete on their Costa Blanca home, given that their first attempt to buy in Spain was derailed by the EU referendum two years earlier.
The couple got the keys to their apartment in Playa Flamenca in August and planned to have sold up in the UK and to be living in the Spanish sunshine by November.
"We have buyers for our bungalow in Blackburn," Pete said in October 2018 "I'm 60 and retired from the brewing industry with a private pension and Claire, who is 46, has handed in her notice from her job as a pharmacy technician. We're in a good place financially, with no mortgages on either property."
The Janyszes, regulars to the A Place in the Sun Live exhibition, had been pondering a move to Spain for ten years. Their chosen area was Orihuela Costa in the southern part of the Costa Blanca, which they knew from holidays. In 2016, they made significant steps to realising their dream but their timing was unfortunate.
"Around April-May, we did a viewing trip, found a property and paid a deposit for it," Pete recounted. "But we weren't due to complete until after the EU referendum in June. We were advised that the UK wasn't likely to vote for Brexit so we shouldn't change any currency until after the vote when the pound was expected to strengthen.
"Obviously, this turned out to be the wrong call. The pound dropped drastically and the cost of our property went up by £20,000 overnight. Unfortunately, this meant we had to pull out of the purchase."
Undeterred, this May the couple returned to the Costa Blanca to search for a Spanish home. They hit the jackpot with the third property shown to them by the local estate agency HomeEspaña.
"As soon as we saw it we knew it was perfect," said Claire. "The location was ideal and it came furnished, which we really wanted. Not only was the furniture good quality but it was to our taste. When we compared it to other similar properties, we saw it had a realistic price. So before flying back to the UK, we agreed to the €89,950 purchase price and paid a deposit."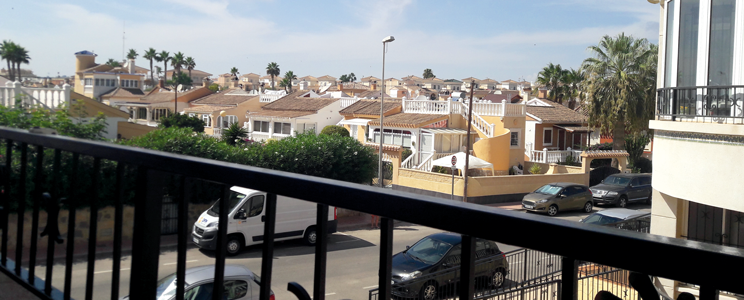 The Janyszes' apartment has three bedrooms, one bathroom, an open-plan living/dining area, separate kitchen, utility area and a large balcony. They have access to a communal pool and are just 20 minutes' walk from the beach.
"We overlook a road with people passing by, so we can sit and people-watch," said Pete. "We did look at a two-bedroom apartment in the same complex, which came with a sea view and was a little bit cheaper. But we thought there's a chance that one day they'll build on the land in front and you'd lose your sea view. We went for the three-bedroom one so we'd know what we were getting for the long term."
For Pete and Claire, one of the key attractions of Playa Flamenca was its flatness and being able to walk everywhere. They also like being close to La Zenia Boulevard shopping centre. "We've had enough of driving in the UK," said Pete. "If we decide to go somewhere further afield in Spain, we can just hire a car.
Looking ahead, Pete and Claire are determined not to let Brexit spoil their new life in Spain. "I imagine that many British expats who were used to the stronger pound have been struggling since the Brexit vote," said Pete. "But we feel that if we manage to live okay when the pound is low, then we're on to a winner. At the moment, we're basing the rate on 1:1 and I think the only way the pound is likely to go is up. Actually, even with the exchange rate the way it is, prices in Spain still seem cheap compared to the UK."
All being well, the couple's grand plan involves purchasing a second property in the Costa Blanca. "Further down the line, we'd like to buy a house for ourselves to live in so we can rent out the apartment for some income. I might look at starting a small business, but first we need to acclimatise and check we're happy there."
After their traumatic experience trying to buy a property during the Brexit vote, who could blame them for taking things one step at a time.
Download our essential guide to buying a property on the Costa Blanca below