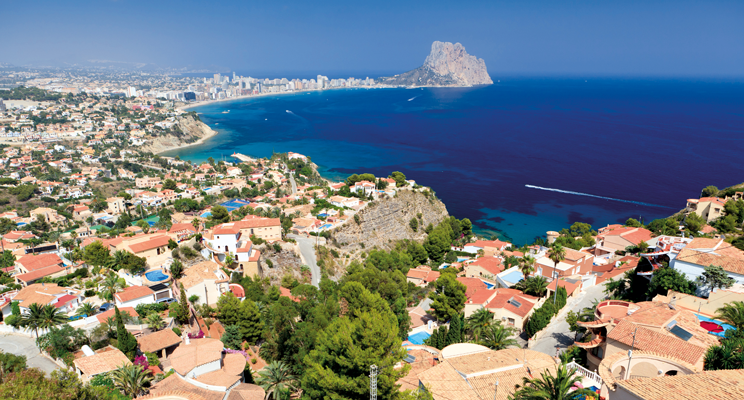 Richard Way provides a guide to the popular spots of our favourite Costa, from Dénia to the southern Orihuela.
One of few destinations that consistently offers the complete second-home package, the Costa Blanca is spearheading the recovery of Spain's coastal property market.
The number of homes sold in Alicante, home to the Costa Blanca, rose by 39 per cent in March 2017 compared with last year, according to Spain's Office for National Statistics, making it one of Spain's busiest provinces in terms of sales. While British buyers are thinner on the ground post the Brexit vote, they remain key: during the second half of last year, Britons accounted for more property purchases in the Valencia community, which includes Alicante, than any other group of foreigners.
Tourism levels there are hitting new highs too. A record number of passengers passed through Alicante airport in 2016, which was 16 per cent up on the previous year. Boasting resorts and property to suit all tastes, countless Blue Flag beaches and easy access from the UK, the Costa Blanca divides into two distinct halves.
The northern section tends to be more expensive than the southern stretch, with fewer large-scale new developments, but every location is different and each section has its own hotspots. From north to south, you're never far from the convenient AP-7 motorway: we outline the key buying areas.
Go North!
Dénia
The most northerly resort in the Costa Blanca, Dénia's lively town centre, port with ferry services to the Balearics and 15 kilometres of sandy beaches make it  a major year-round hub. It's an hour from two airports, Valencia to the north and Alicante to the south.
"Enough Spaniards and expats live in Dénia, so it doesn't go quiet in the winter like other resorts," said Clare Johnston from HomeEspaña's Dénia office. "Typical spends here are €100,000/€170,000 for an apartment, €130,000/€200,000 for a townhouse and €220,000/€450,000 for a villa.
"We recently helped a British couple buy a semi-detached villa in the town centre for €260,000. They already owned an apartment in central Dénia, which we're selling, but they have grandchildren now so wanted to upgrade to a larger property within walking distance of everything."
Aside from the more cultural town centre, Ms Johnston highlights the Las Marinas beach area as being popular with buyers who want a lettable holiday home. Property is more affordable at the far end of this stretch, around the beaches at Les Deveses and Els Molins.
Jávea
Often referred to as the "jewel of the Costa Blanca", trendy Jávea sits on a plain around a bay also in the shadow of Montgó mountain. It has a charming old town, a bustling port and a newer, livelier beach area called Arenal.
"Most people want to be within walking distance of Arenal and its bars and restaurants," said Anthony Pugh at Javea Home Finders. "But it's not easy finding somewhere close right now and property is often too expensive. Otherwise, popular urbanisations in elevated areas with sea views include Cap Martí, Tosalet, Cap de la Nau and Balcón al Mar to the south of the resort. Then at the northern end, on a hill overlooking the port and southfacing, is the very desirable area of La Corona, with million-euro villas."
Mr Pugh adds that holiday apartments in Jávea are in short supply, having become attractive investments for Europeans who let them to holidaymakers, although there are increasing numbers of new-build projects due for completion next year. Apartments starts from around €180,000 for a resale, less if there is no pool, and €220,000 for a new-build.
"Typical clients, who are approaching retirement and downsizing in the UK, want a three-bed, two-bath villa with a pool," said Mr Pugh. "Prices for these start at €250,000-€300,000."
Moraira
This former fishing village has grown into a pretty beach resort, where low-density communities slope down pine-clad hillsides to the seafront.
"Our British buyers spend between €100,000 and €3,000,000," said Chris Garwood at Select Villas of Moraira. "Most want well-maintained, modern(ised) properties with sea views and a pool, within a walk of amenities. Within ten minutes of the resort are the areas of Benissa Costa, Cumbre del Sol, Los Molinos and Les Fonts, where you can find many super properties at around 10-20 per cent less than in Moraira itself."
Typical buyers are a couple who bought a modern four-bedroom villa with a pool, large garage area and outdoor space. "They're in their early fifties and opted for early retirement in the sunshine," said Mr Garwood. "They agreed a price of €465,000 for their property, which is 15-20 minutes' walk from the village." 
Some of the more desirable properties in Moraira and Jávea are constructed by Font Moraira, a company that develops villas for clients on carefully selected plots, as well as building small boutique developments.
"Near the coast, our constructions typically range between €500,000 and €4,000,000," said Steve Limb at Font Moraira. "We also offer resales which will fit many of our clients' desired budgets, although under €200,000 may have to be further inland. The type of property is usually a villa, with three or more bedrooms, a pool and bar/barbecue area.
Calpe and Altea
The imposing Peñon de Ifach rock splits Calpe into two beachfronts, each fringed with high-rise apartment blocks, hotels and restaurants. To the north-east is Levante beach, ending at the sought-after La Calalga and Bassetes urbanisations; then there is the more central Arenal beach, which runs alongside the town centre and ends at the fishing port and marina. Urbanisations close to Arenal beach include Tosal, Borumbot and La Canuta.
Just north of central Calpe, Marisol Park, one of the oldest developments, is popular for its proximity to the beach, marina and old town. Frontline twobedroom apartments in Calpe start from around €150,000, and less for those near the centre or off the front. 
Altea, just south of Calpe, is a smaller resort based around a whitewashed town, known for its winding streets and arts and culture scene. Apartments in the pretty old town or villas in the hills are especially popular. A landmark development on the northern edge of Altea, close to the Altea golf club (formerly known as the Don Cayo golf club) is Altea Hills, comprising luxury villas and apartments.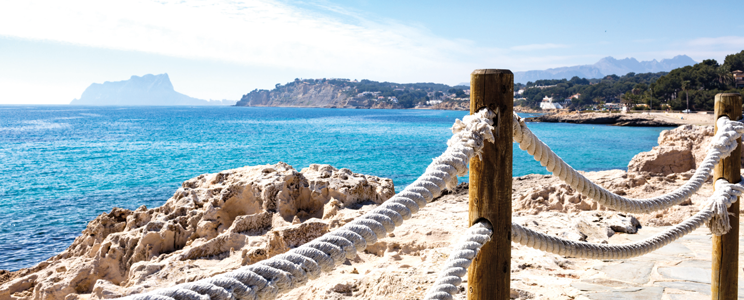 Go South!
Quesada and Benijófar
Just north of Torrevieja and a few kilometres inland from the coast at Campomar is the expanding town of Quesada, which comprises a collection of urbanisations and remains a hotspot for expats.
"Prices there range from €50,000 to €1million," said Sophie Rodriguez at Casas Manuel. "Typical two-bed apartments start at €70,000 for a resale or €154,000 for a new-build. We've just sold a four-bedroom quad there [four attached villas in a cube] for €147,000 to a British family who are relocating. There is a lot of new-build happening too, but with Quesada getting so big some buyers now prefer neighbouring villages that still have a Spanish feel. For example, we're selling new three-bed, two-bath villas with private pools on the edge of Benijófar for €229,000."
Paul Newton at Keysol also highlights Quesada as a key area for his British clients; a typical recent sale there was a ground-floor bungalow with a private pool bought for €168,000 by a family as a holiday home.
According to Ms Rodriguez, another trend is for buyers to choose an older villa to redevelop or refurbish rather than a newer property, as these tend to have smaller plots.
Orihuela Costa
The most densely developed part of the Costa Blanca, Orihuela Costa comprises a string of connecting resorts and residential communities that run south from Torrevieja. These include Punta Prima, Playa Flamenca, La Zenia, Villamartín and Los Dolses, Cabo Roig and Campoamor.
What attracts most buyers there is the choice of affordable property combined with close proximity to every type of amenity, clean beaches, the popular strip with its lively night life and La Zenia Boulevard shopping mall. Access from the UK is easy thanks to nearby airports at Alicante and Murcia-San Javier.  For golfers, there are four courses all within 10-15 minutes of each other, at Las Colinas, Campoamor, Las Ramblas and Villamartín.
Prices are rising but remain noticeably less than in the northern Costa Blanca, as Ian Comaskey at the agency Comaskey reported: "Demand is big for this region and people are coming not to bang walls or kick tyres, they are coming to Spain to buy property.
"Quite incredibly, we sold a property in Cabo Roig for €70,000 recently. We have one for under €60,000 in Playa Flamenca and one in La Zenia for €75,000." Ms Rodriguez added: "The market here is moving very fast at the moment and there are an increasing number of new-build developments. It's difficult to find a two-bedroom apartment for less than €80,000 now."
Pilar de la Horadada
A more traditional option could be Pilar de la Horadada, the most southerly resort in the Costa Blanca, that combines a quiet old town with beaches and a marina at Torre de la Horadada.
"We're seeing growing interest in the Pilar area," said Kieran Byrne at HomeEspaña. "It's a quieter, more Spanish alternative to the main resorts of Orihuela Costa, which are still only ten minutes away, and you're also closer to the Mar Menor and La Manga, which some people like. We have an increasing number of modern, new-build properties coming to market there, many a short walk from the beach."
Typical two-bedroom apartments in Pilar de la Horadada start at about €90,000 for a resale and €120,000 for a new-build, or €130,000 for a resale townhouse.
search for a property sale on the costa Blanca
Download our brand new Costa Blanca property guide